April 13, 2010
0

found this helpful
Top Comment
I saw on Thrifty Fun that you can freeze egg yolks so after making the cake, I put each yolk into a section of an ice tray and froze them. After frozen, I put them in a ziplock bag.
To test them for cooking, I took out 2 and placed them in the refrigerator the night before cooking breakfast the next morning so they could thaw.
For breakfast, I mixed them with 3 eggs and scrambled them. They were very good. These yolks will not be wasted.
Also, this cake freezes well. I sliced it into individual servings and wrapped each piece in seram wrap, placed them in a zip lock bag and put it in the freezer. This keeps me from devouring half the cake in one day.
June 2, 2010
0

found this helpful
Frozen eggs yolks are also good poached. Let them thaw and then drop them into some simmering water for a couple of minutes. Delicious.
March 22, 2014
0

found this helpful
I was just wondering if I had posted this recipe and saw that I have so now I'm just sharing a photo of it. If you like Angel Food Cake, this is a good recipe.
Editor's Note: We added the cake photo to the main recipe.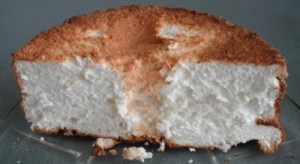 August 14, 2014
0

found this helpful
To poach individual frozen egg yolks, you don't have to thaw them. Bring some water to boiling, then reduce the heat. Drop the frozen egg yolk into the hot water and simmer for 2-3 minutes, depending on how done you like them.
Add salt and pepper to taste. I don't know how good they are for you but they surely are tasty.