By Elizabeth (Guest Post)
December 27, 2008
0

found this helpful
I am very sad that you lost your Shasta. I lost my cat Anthony this year also and miss him very much. He was part of our family like your Shasta must have been. We had to have him put down as he had a brain tumor and I cried and cried. He now rests in a special place in our back yard.
Here is a picture of Anthony, on the left, with his mate.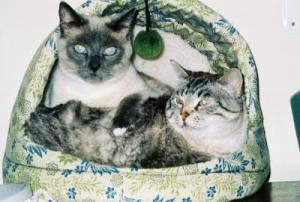 January 5, 2009
0

found this helpful
Oh, it's so sad when you lose a beloved furry friend, isn't it? I remember crying so hard when I was 8 years old, because some stupid kid with a BB gun shot and killed my kitty, Whiskers. And it gets no easier when, as an adult, you lose a furbaby. :-(
January 5, 2009
0

found this helpful
wow...that would have been a great pic, Shasta riding on mum's shoulder....thanx for sharing her pic.
Elizabeth, thanx for the pic of Anthony.
it is so very hard losing a furkid...the pain never goes away, it just gets a bit easier 2 handle.
i lost a dog in '96 n there isn't a day goes by that i don't think about her.
January 11, 2009
0

found this helpful
Thank you for sharing Shasta with us. I had to laugh
as my beloved AllieMae used to hide in the tree and the
first I realized it was when, I took a photo of
my husb in front of tree and when I got the photos back
she was in a couple of pictures! I wonder do they really
think they are hidden? I am sure she was a sweetie.
January 30, 2009
0

found this helpful
Thanks for sharing Shasta with us. We lost our lab mix dog, Suzie, Just before Christmas; she had a large tumor in her chest. I, too, cried and cried, and still cry every day. She was my Best Girl.