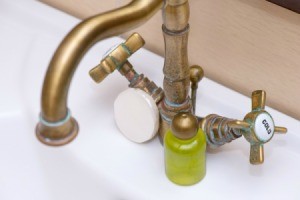 I have a turquoise green calcium stain in my bathtub from a dripping faucet that dripped for a long time before I moved in. The landlord replaced the washer to stop the drip, but told me the stain cannot be removed. Any ideas on how to remove or make it look any better?
By gayle from Rochester, NY
Answers
December 19, 2009
1

found this helpful
Best Answer
Heat vinegar in the microwave and pour it on. It will surprise you with the results.
December 20, 2009
0

found this helpful
Best Answer
If vinegar doesn't do the trick, try CLR.
September 9, 2016
1

found this helpful
Best Answer
We tried them all. Finally saw the peroxide notice. It worked. I've tried 10 other things. So excited!
Answer

this Question
Three years ago a stain appeared in my shower. It's a blue-green stain coming from the shower handle to the drain, a streak. Does anyone know how to fix it?
By Casey D. from Trenton, ME
Answers
June 13, 2011
0

found this helpful
Nope, sounds like copper in your pipes. Copper turns blue green when aging, a LOT of pipes are copper. Try something that take copper stains out but you'd also might want to check with a plumber as to why it's leaking!
A plumbers wife
June 13, 2011
1

found this helpful
The bluegreen color is not lime (that is white); it is likely copper, but the copper may have stained the lime deposit. I suspect that you can remove this with vinegar or CLR. I have some stains like this from a dripping tap. You may have a bit of a drip from your shower. I have never had a copper stain without having a lime deposit as well. I wouldn't bother trying the baking soda. Baking soda will not dissolve a lime deposit as an acid like vinegar will. Little or no scrubbing should be required, just spray on vinegar, or soak a paper towel in vinegar, and lay it on the stain for 10 to 15 minutes. It should dissolve right off.
June 16, 2011
0

found this helpful
If the above suggestions don't work, I have discovered Lime Away toilet bowl cleaner gel is my miracle for all things in a shower or sink. Use with caution. Sometimes it discolors metal and then other times it does not. And of course it works great in the toilet!
September 23, 2017
0

found this helpful
Not sure what kind of stain it is, but Lime A-Way will get it out very easily.
September 23, 2017
0

found this helpful
My shower was seriously stained with copper s thick coating on every wall and I found scrubbing with salt was the best
October 4, 2017
0

found this helpful
Whink removes this stain.
January 9, 2018
0

found this helpful
The best is to use 30% citric acid 30% citric salt, both found at bulk food store, to 1 liter of water. spray on and leave for a few minutes then wipe off. This picks up the oxidized copper.
July 27, 2018
0

found this helpful
Magic Eraser gets rid of it instantly
Read More

Answers