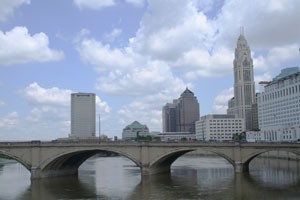 Destination
Columbus, Ohio, USA
Free Things To Do
When visiting Columbus, you'll find many things to do for free, including watching Shakespeare in the Park. Over 20 years ago, Shakespeare in the Park was born and you can enjoy the entertainment at Schiller Park during the summer months.
You'll also want to visit Columbus' Park of Roses at Whetstone Park. Here you'll find one of the largest rose gardens in the US and most evenings in the summer there is music entertainment.
There are also many parks to enjoy while you are in the area and many have well-designed playgrounds and picnic areas for you and the family to enjoy.
Low Cost Things To Do
The Columbus Zoo & Aquarium (614-645-3550) is a place for kids of all ages and for a relatively low-cost. From the Siberian Tiger to the Red Panda, you'll be able to experience the wonder of wildlife at the zoo.
The COSI-Center Of Science and Industry (614-228-2900) is a place where you can experience the wonders of science. The admission price varies, depending on what you wish to experience. From a Star Wars exhibit to an optical illusion show, there is something for everyone to enjoy with over 300 different exhibits.
Night Life
The nightlife in Columbus is an active one and there are many places to take in. The following are some places you'll want to visit when in the area:At the Blues Station (614-884-BLUE) you'll find Jazz Jam Night and Open Acoustic Mic nights entertaining and some of the most entertaining Blues singers of today. The Lounge at BrownStone (614-222-3005) is another hot spot where you'll find Jazz performances and if you like a wide variety of music, you'll want to stop by The Basement at Fat Eddie's (614-461-5483) where many local bands play.
If comedy is what you like, a quick visit to the Funny Bone Comedy Club and Café (614-471-5653) is in order. Past comedians include Drew Carey, Brett Butler, Chris Rock, and Ellen Degeneres.
Just For Kids
Columbus is the city for kids as there are many playgrounds and areas for kids to enjoy themselves. The Ballantrae Fountains is a 20-acre park with statues of dancing hares watching over fountains of water for kids to dance and play in. Or you can watch your kids enjoy the swings, slides, and tunnels at Delong Playground at Rhodes Park.
Looking for more entertainment for your kids? Go to the Mall at Tuttle Crossing Play Area. Here, you'll find the collaboration between COSI and the mall to be an atmosphere of space-themed fun for the kids. The best things about the parks and playgrounds of Columbus is they are great for providing free fun for your kids.
Seasonal Information
As Columbus has four very distinct seasons, activity can be enjoyed year round. From snowmobiling to fishing and hiking to skiing, there is no time of year that you can't enjoy the outdoors in Columbus. You'll also find an array of entertainment is available during all seasons.
Inexpensive Lodging
Best Western Clarmont Inn & Suites (614-228-6511)
Americas Best Value Inn North (614-431-3670)
Econo Lodge (614-274-8581)
Interesting Facts or History
Columbus is the state capital of Ohio.The Banana Split ice cream was first created in Columbus.
Chamber of Commerce Contact Information
Columbus Chamber of Commerce
37 N. High St.
Columbus, OH 43215
(614-221-1321)