Mini Papier-Mache Pinatas are great for birthday parties. Thrifty parents and children will both love this craft idea. They are fun to create and can save a ton, as the store purchased Pinatas can be expensive. As an added bonus, is you can choose the theme and the loot. Think Nemo, Thomas the Train, Barbie, My Little Pony etc.
Materials
balloons (small in size)
craft paint brush
latex gloves
glue
tissue paper, newsprint, origami paper, it's your choice
flour/water paste or glue/water
ribbon and other items to decorate with
string and label for pull string (to break open Pinatas)
loot to stuff the pinatas with
Instructions
Blow up balloons to desired size and tear paper into strips. Prepare flour/water paste (I didn't measure, just went by looking at the thickened texture). Paint paste on balloon/paper and apply strips of paper to build layers. Cover balloon in 4 layers of paper to build strength. Leave top of pinata, around lip of balloon open, this allows room to add loot.
Once the pinatas are dry, decorate with balloon in place. Use ribbon, stickers, etc. Deflate balloon when dry by cutting small hole using scissors. Stuff pinatas with loot. Place pull string in place and seal hole with more paper/paste.
You are done!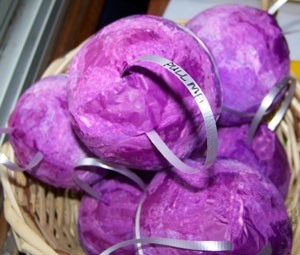 Hints:
Wear latex gloves the dyes in the tissue paper will stain your hands.
Use hair dryer sparingly, to help dry between layers, too much heat will expand balloon
Source: This great idea was borrowed from the following wonderful website:
By Lisa from Halifax, NS