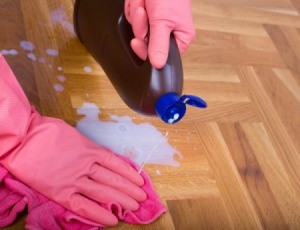 Okay, floors are coming along. I cleaned with an equal solution of vinegar and water and you wouldn't believe the way it cut the dirt!

Now - to wax or not to wax. There is no shine on the hardwood floors now and it was suggested that they need to be waxed. Any recommendations for what sort of wax to use on hardwood floors?
Cindy
Answers

May 18, 2005
0

found this helpful
Best Answer
I've always had good luck with Johnson's floor wax. It comes in a yellow can, looks like car wax can. You can find it at almost any store in the cleaners aisle. I would not suggest using any type of liquid wax base, such as mop and glo or future. You will get a bad build up that's very hard to get rid of.
By Shirl (Guest Post)
May 31, 2005
0

found this helpful
Best Answer
I use Lemon oil, it moisturizes the wood as well as shine it
By Lisad (Guest Post)
June 15, 2005
0

found this helpful
Best Answer
We have Bruce hardwood floors with a very rustic look. Clean first with Murphy's Oil soap (lots of elbo' grease involved here.) Next douse generously with that expensive lemon oil. You can actually clean very well with lemon oil and a terry cloth, but for high traffic, you need to cheat with a "cleaner." Spread the lemon oil heavily and evenly...buy the store brand, compare, most are the same. Let this soak into the wood for an hour or 2. Rub with that elbo' grease, with the grain, until your rag looks filthy! Change Rags as often as neeeded. (Lemon oil is flamable.) Now although your floor looks good now, lemon oil won't last. You have to seal it with a good wax that won't gum up your floor.
I used to use the liquid Johnson's floor wax, but can't find it in the stores any longer. Now we've tried the paste, but are not as pleased with the "shine" or the amount of work it takes to put down and then polish. The protection is good, and the dirt seems to be repelled well with the paste. Check your manufacturer (brand) website, or the sites of others like Bruce to get some good (nonhazardous) cleaners and polishers. Whatever you do, do not clean with soap and water. You don't want to "raise" the wood...Murphy's does a bit.
If all else fails, don't ditch your wood floor for something trendy. Stick with it. Some people polyurithane their floors and they look great.
By ldysalt. (Guest Post)
June 19, 2005
0

found this helpful
Best Answer
Use hot tea to make your floors shine (no sugar)
By minymont (Guest Post)
November 22, 2005
0

found this helpful
Best Answer
Have used Holloway House Professional, Quick Fix, Quick Shine and Pure Wax for many years on our hardwood floors (think 15 yrs) we even have hardwood in bathroom. have never stripped it just add more layers. looks good no build up look. Can buy it most anywhere for a few cents under $5.00 for 27 fl.oz. I never plan on being without it
* try it in an out of way spot for own satisfaction
By Kim (Guest Post)
April 2, 2008
0

found this helpful
Best Answer
Johnson's paste wax is awesome! But you need to buff really really well in circular motions. And let the paste wax dry some before you attempt to buff it, or you are defeating the purpose of even putting it on the floor.The more you buff the more it will shine. Trust me .Johnson's paste wax is the best out there in my opinion.

February 7, 2010
0

found this helpful
Best Answer
I used gym floor finish on my hardwood floors. I bought it at a janitor supply business. It is like a poly product. I used a lambs wool pad to apply it. I suppose you could make a mop for it by using a microfiber cloth tied on a stick.
Lambswool pad was not cheap and cannot be reused. Apply in a figure eight like you would apply finish to a floor. My floor has looked great for over 15 years and I just use Murphys oil soap to clean it periodically. Hope this helps.
Answer

this Question
How do I apply wax to a gym floor?
By Rob C.
Answers

(Guest)
Gold Post Medal for All Time! 846 Posts
October 18, 2011
0

found this helpful
Best Answer
It's going to depend on whether it's vinyl, laminate or wood. I would call around to a few experts for their advice instead of answers from non-professionals here. If you use the wrong products or apply incorrectly on the wrong type of flooring you risk ruining the flooring or, worse yet, too slippery of a surface that could be a potential lawsuit.
Answer

this Question