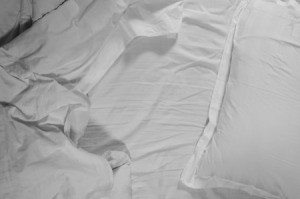 I need suggestions on how to plump up or smooth out the lumps and "ditches" on my pillow top mattress. It was an expensive mattress and we turned it frequently but I am still embarrassed by the way it looks during the day. No matter what kind of comforter or bedspread I use the bumps and dips still show.
Challey
Answers

April 26, 2006
0

found this helpful
Best Answer
It is typical for all mattresses to settle. The more you pay for a mattress, the less settling you should have. They settle not because of weak springs as many may think, but rather because of the padding touching the springs settles into the springs, thus causing low areas. There isnt anything you can do about this, it is just the nature of the beast....
I typically spend $800-1000 for a mattress and find it virtually unusable after 5 or 6 years. Two years ago, I spent $2200 on a top-of-the-line pillow top and there isnt a dip anywhere yet. Also, it is just as comfortable as the day it was delivered.
If you want to beat the dips, next time you go mattress shopping, buy the most expensive spring set you can afford.... If you can buy a name brand companys top mattress, you wont be sorry... AND, be sure to buy a no-flipper......
Jim in Jax

Jess
Silver Post Medal for All Time! 267 Posts
March 27, 2008
0

found this helpful
Best Answer
Hi, I bought my queen size pillowtop mattress from our local department store about 4 years ago. It was a Spring Air and was maybe $600 or so on sale with the box springs. It is still in great condition. We rotate it front to back every couple of months. I think I would buy a Spring Air again, especially hearing the stories here.
May 9, 2017
0

found this helpful
Best Answer
Pillow top mattresses are made to fail within the first three years. You have a 2 inch dip in the middle? The "claims adjuster"come in, pulls the mattress off the bed, he and his assistant shake it, move it around, shake it some more and put it back on the box spring. The dip is gone, not even a half inch dip on it per their (after shaking it) opinion which is, of course, per the factory, perfect so the claim is denied. You get in bed that night and within an hour the crater is back. Surprise, surprise!
I fought that scam for the last 20 years buying a new more expensive mattress every 2-3 years only to have the same results. Has anyone else heard the saying "the definition of stupidity is doing the same thing over and over again and expecting different results"? Ok, I was stupid! So I purchased a 100% pure (key word pure) latex mattress. I have slept on it for 6 years and, guess what, it is as perfect as the first time I slept on it! I have 3 crushed vertebrae in my lower back and the first morning after sleeping on my latex mattress I awoke, and after 30 years of pain, I was totally and completely pain free!
By Carol in PA (Guest Post)
April 2, 2006
0

found this helpful
A furniture store owner once told me that you need to buy a new mattress every 10 years no matter what grade of mattress you buy. To me, it sounds like you need a new mattress. (sigh) Also, dont forget to not only turn your mattress, but every three weeks, rotate it as well.
Just twist it so the foot is now the head and the head the foot.. then the next time... completely turn the mattress over...
Read More

Answers