August 14, 2007
0

found this helpful
Am thinking rocks from creek beds - but then you'd be near poisonous water snakes.
How about paintings of Inukshuks on bark?
August 14, 2007
0

found this helpful
I've seen them made from ice and they are beautiful so glass should work well.
I made one based on a clay pot suggestion.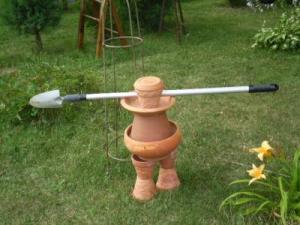 August 14, 2007
0

found this helpful
You could make one out of driftwood (legs) and them make the upper parts out of glass/shells...
By Corrie Rowe (Guest Post)
August 14, 2007
0

found this helpful
What about getting REAL creative and making them out of hypertufa. There are instructions all over the net for making it.
August 15, 2007
0

found this helpful
That is very thoughtful of you to want to do this for your Canuk in-laws.
Inukshiks have "migrated" to the south of Canada and are quite common all the hi-ways & bi-ways, but always a nice treat to see.
Not to be given away, only to mark the way...
Since you're in CA, why not make one from something unique to where you are now living.
Just a Canuk who been North & please to see the Inuit culture coming to all of us.
D.
September 28, 2007
0

found this helpful
Toni-
Take a short ride up to Building Resources in San Francisco, plenty of materials including beach glass, stone scraps, tile samples, etc. It's just off 3rd St near Cesar Chavez St.
Directions on their website: http://buildingresources.org
Another great place, near there, open Tues-Sat is SCRAP (Scroungers Center for Recyclable Art Parts) http://scrap-sf.org
All kinds of craft and art supplies (cash only and just take $40 the first time or you'll go nuts!)
Stan in San Francisco
By Nancy James (Guest Post)
August 20, 2008
0

found this helpful
We make & sell Inukshuks of all sizes. The most popular are
the one's made with stone and I cannot help you with the materials you are look for but I just wanted to let you know that we have written 3 children's books about Inukshuks along with an activity book.
These will be marketed on the Internet withing the next few weeks. If you would like some more info on these please Email me at njames3 AT cogeco.ca. Please let me know how you make out with what you are looking for. Thanks Nancy James