August 2, 2010
0

found this helpful
Those things are probably the seeds. If you let them drop they will make new plants. as far as the ants go try some cinnamon. I understand that ants don't like it.

August 2, 2010
0

found this helpful
I think they are aphid eggs. We had like raised bumps turn up overnight on the buds of our hibicus tree along with the ants. The ants eat the aphids and the garden center says don't get rid of the ants but I can't stand to see them swarming!

August 4, 2010
0

found this helpful
They are bulbils. You may pick them off and pot them up, eventually forming new plants, or just simply drop them at the base of the plants where they will grow.

August 5, 2010
0

found this helpful
I have always heard it called scale and if I remember correctly you mix a mild solution of soapy water and pour through the soil. White tuffs of cotton looking insects are also a problem with lilies. Alcohol on a cotton swab will kill them.

Catherine
Bronze Feedback Medal for All Time! 131 Feedbacks
August 6, 2010
0

found this helpful
It is a scale insect called : coccoidea
This is a recipe to get rid of them :
Add one tea spoon linseed oil soap + one tea spoon wood alcool + one tea spoon soja oil to 1 liter of water. Shake and put one drop on each insect, wait 20 minutes and treat again. The next day spray water on the plant to rinse the product.
Do not kill the ants, use them as spies. There is a symbiotic relationship between coccoidea and ants.
Coccoidea produce a sticky substance known as honeydew which the ants "eat". So if you see the ants come back you know you can look for the coccoidea to treat them again.
Treat quickly as the scales insects weakened the plant and under damp conditions the honeydew can be taken over by a black fungus known as sooty mold.
As a long term preventive treatment, simply spray water on your plant as Coccoidea likes a dry atmosphere. When there are only a few you can easily get rid of them with just a tooth pick but you need to check on the internet coccoidea images as their appearance vary according to gender and stage of the development.

June 4, 2015
0

found this helpful
Zoom in on the picture where the leaves connect to the stem Those are the bulbs.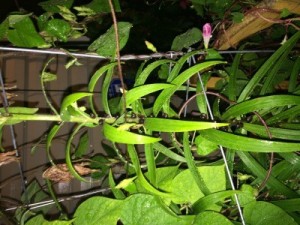 July 12, 2017
0

found this helpful
I think the little pumps are new little seed or bulbs, I have no ants no lillie bugs 8 foot lillies.
The mature ones seem to have these bumps.
Mine don't get hurt in any way 5 years and going
I wounder advise cutting them off, but when the stem is finished run your hand up and let them fall on the ground that's what I do