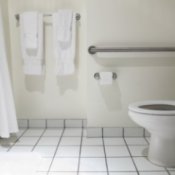 I have ceramic tile floors, off-white grout and a little boy with bad aim. The grout has become heavily stained and I'm having trouble cleaning it. I have tried plain water, vinegar, oxy clean, and bleach without good results.
Mamarox from Fort Worth, TX
Answers
By Jean in GA (Guest Post)
January 18, 2006
0

found this helpful
I have the very same problem, only I have 2 kids (21 and 17). I am very interested in the responses. I have lived in my home for 20 years, so my grout has seen alot of hand scrubbing with a lot of different cleaning products and have sealed my bathroom grout well lets just say I keep a gallon can on hand now. I still hate to use their bathroom. I get it clean, smelling fresh and sealed again, and before you know it, one of them uses the bathroom again. Will watch for what others have to say.
By Dede Payne (Guest Post)
January 18, 2006
0

found this helpful
Have you tried soaking a cotton ball in bleach and just laying it on the stain for 15-30 minutes. That is the only thing I can think of at the moment.
By darrellg in Oklahoma (Guest Post)
January 18, 2006
0

found this helpful
try using ammonia I don't know if it will get stains out but will help with urine odor. good luck.
By Marianne (Guest Post)
January 19, 2006
0

found this helpful
Try MR. Clean Magic sponge. It seems to work wonders on removing almost any stain! I too have a 6 yr. old who occasionally misses and this works for me (however the stain hasn't been there a long time).
By alex (Guest Post)
January 19, 2006
2

found this helpful
A commercial cleaner I use called Kaboom works really well. Spray, let set about 30 seconds, then wipe off with a damp cloth, sponge, whatever. It even continues to work after it's wiped up.
It's best to clean around the toilet at least once a week. If yo u get it clean to your satisfaction, apply grout sealer when dry so that future clean ups are a snap.c

Kelly
Bronze Feedback Medal for All Time! 233 Feedbacks
January 20, 2006
0

found this helpful
The best thing I have used is pine-sol for cleaning up around the white grout, and deoderizing. Bleach just seems to make the smell worse, and does not go away! I mop at least twice a week between my husband and 4 year old, plus the new whizzer in training is crawling...so he likes to watch the big guys!
By Anne (Guest Post)
March 7, 2008
0

found this helpful
I just tried the Kaboom that was posted by Alex. It worked great! Thanks Alex!

October 5, 2008
1

found this helpful
Home depot makes a grout cleaner in a large orange bottle, it's amazing. Spray on, wait 2 minutes and wipe clean. It's also excellent at cleaning tiles with texture or divets.
After cleaning though, you would want to seal the grout, with a grout sealant to prevent the problem from reoccuring!
Read More

Answers