By Jess (Guest Post)
March 15, 2007
0

found this helpful
I save my old teabags, dry them out, and then put them in a large glass jar. When I need a pick me up, I immerse the used tea bag in hot water, and then place on my eyes for a spa like treatment.
By debbie in SC (Guest Post)
March 16, 2007
0

found this helpful
once cool, you can tear open the bags, dump onto a plate and spread out, let dry, and then dump on the ground around any acid loving plant such as evergreens, roses, rhodendrun, azealas, pines, even in the garden, etc. also good are crushed, rinsed, dried egg shells. both add essential nurients to the soil. plants just love them and will say thank you with healther foliage and flowering in no time. biodegradable, non-toxic, free and recycling. who could ask for more?
March 16, 2007
0

found this helpful
Are you artistic? There is a website that has art made with coffee grounds.
perhaps the same could be done with tea leaves in the bags.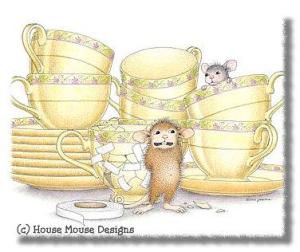 March 17, 2007
0

found this helpful
For potpouri, I simmer whole cloves, cinnamon, etc on the stove. A small pot lasts for a few weeks and I keep adding to it....orange peels, used tea bags, etc!
January 21, 2018
0

found this helpful
Before brewed, you can put peppermint tea bags in your cupboards to keep the spider population down.