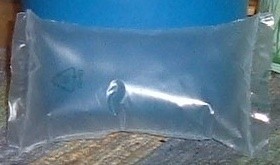 I am hoping against hope someday to make a doll house. My scale is 1 inch to 1 foot. Today, I was cleaning and found this pillow of air for shipping. It looked so much like a pillow, I just had to share an idea.
If your doll house plans do not include things being played with, you can cover this with fabric or lace and no one would know it's not a real pillow. And if something happens that as you're sewing it, you pop it, you can simply make a slit in it and stuff it or just stuff the new fabric pillow with batting, old nylons, plastic bags, or tissue paper. It's 2.5 by 5 inches and perfect for a twin or double bed.
Enjoy!
By Sandra from Salem OR
I recently bought another computer. It shipped in a very strong inflated plastic 'pouch' about the size of a standard pillow. It is so strong, I can sit on it without it bursting.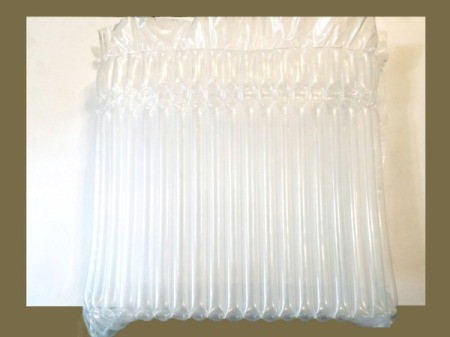 As it is so durable, I would like to find a use for it rather than put it on the trash. Any ideas, y'all?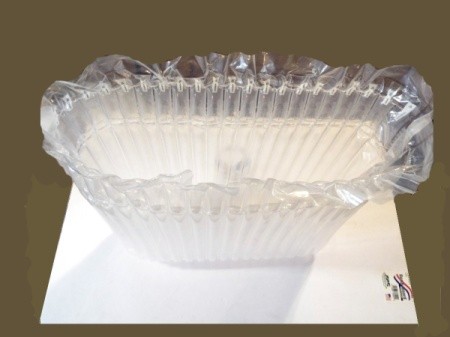 Answers
February 22, 2017
0

found this helpful
The bottom picture of this post reminds me of a rectangular shaped bowl with ruffles. In that shape, it could be lined with paper doilies and used for tea cookies, or finger foods for a child's tea party. You could punch a hole on each end and tie a small assortment of colorful ribbons, tied in a knot at the hole allowing ribbons to flow on the table.
February 22, 2017
0

found this helpful
The bottom picture of this packing material on this post could be used as a serving Bowl for a child's tea party, paper doilies could be placed within the bowl and then small finger foods or cookies could be added, a hole could be punched in Each Side of the plastic bowl and an assortment of colorful ribbons could be tied at the hall and the ribbons flow on each side which would be a pretty addition to a child's tea party setup. For an adult party, I could be lined with a napkin and chips could be put in it or cookies or any other finger food that would be appropriate for adults. Ravens could also be tied on each side of the plastic Bowl that would be suitable for the occasion.
February 22, 2017
0

found this helpful
Thanks, Jodi,
When it comes to perspective, I'm not yet good with a camera. The two pictures are of the same piece.
Hard to tell in the picture, the pouch is as deep as a standard pillow slip. And it would not stand on end without support.
February 22, 2017
0

found this helpful
yOU COULD JUST TUCK IT AWAY INCASE YOU HAD TO SHIP SOMETHING BREAKABLE
February 22, 2017
0

found this helpful
I save all of that stuff. When my daughter moved, she used it for her glassware and other breakable items.
February 23, 2017
0

found this helpful
I guess if I had it I would probably look for something to store in it until I needed a super safe shipping container.
But then I might just think about my deck and find a way to make it into an unusual pot for some of my trailing plants. Drainage holes, rocks in bottom? - oh well, that's where my mind goes.
Let us know what you decide to do - we'll be waiting...
February 26, 2017
0

found this helpful
I wonder if it's watertight. If so , how about a swimming aid?
Or would it do as a cushion if you covered it?
Marg from England.
February 26, 2017
0

found this helpful
I always save stuff like this, usually so as to ship things myself for when i sell things online. Or as others said it is helpful for when you are moving and have to protect things.
Insofar as 'fun' things to do with it, you could always make a dog or cat bed if you have pets, or a weird pillow, by sewing a cover onto it, or save it for going camping - it sounds like it would be fun to sleep on.
I would definitely keep it! I have a closet full of things like this
February 27, 2017
0

found this helpful
Hey, Marg!
Yes, it's watertight until/unless it is punctured. Right now, I'm using it as a lumbar support. I may stuff it with those grocery bags I was talking about and then cover it with heavy duty fabric and then put it back on the chair. It's pretty comfy.
December 8, 2018
0

found this helpful
Not safe for a swimming aid.
Answer

this Question

...