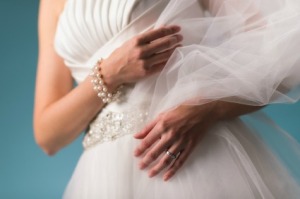 I have a dilemma. It is Monday. My daughter is getting married on Saturday. I somehow got what appears to be two tiny spots of blood (possibly from a pin prick) on my dress. The dress is a mint green (100% polyester). Any suggestions on how to get these spots out without marking the dress?
Beverly from , Pottsville, PA
Answers
By Linda Smith (Guest Post)
June 27, 2008
2

found this helpful
I submitted an idea for removing blood from clothing and it was printed on ThriftyFun.com. First, put a white cloth on the underside of the dress then drop peroxide on the spot. Then dab with another white cloth and continue until the stain is gone. You might try the peroxide on an area for testing to make sure the color of the dress is not affected. I pre-treat with peroxide before laundering clothes. I have not had any problems with color damage and the blood stains are gone.
By (Guest Post)
June 28, 2008
0

found this helpful
If the peroxide doesn't work, try awesome sold at dollar tree or stores like it. Spray a little on spot and use trigger sprayed to scrape the stain out! It always works. I use awesome on everything!
By Emma. (Guest Post)
July 3, 2008
0

found this helpful
I got blood on my prom dress somehow, and somebody advised me to spit on the stain. I did and the blood came out straight away. Try it, it honestly works even on dried blood :) x
July 6, 2008
0

found this helpful
Try household ammonia, I use the sudsing kind. It took out ANY blood I got on fabrics with no trouble. In this case, dip a Qtip in it, dab on the spots or spot. Let sit for about 1/2 an hour. Rinse with soapy water just on the spots, then clear a couple of times. Blot and allow to dry.
By miller24 (Guest Post)
August 26, 2008
0

found this helpful
The spit tactic works I just did it on my own dress with blood and it came right now no problems.
April 1, 2016
0

found this helpful
Just dab it with cod water, it worked for me
April 3, 2018
0

found this helpful
Thank you so much. I am working on a quilt as a fund raiser and I pricked my finger and got blood on the satin material. The peroxide took the blood right out. Thank you again and God Bless you.
Answer

this Question