Don't throw out that leaking bird bath! Make it into your own work of art. And that old chipped plate, you didn't know what to do with, can adorn your masterpiece.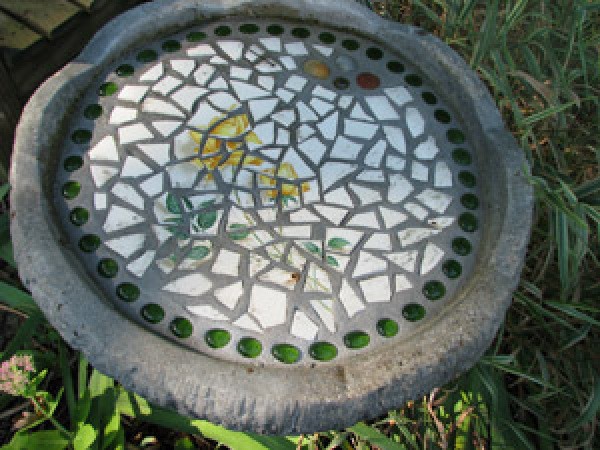 My piece is in memory of my Irish grandmother, Kay. I had a few of her old yellow rose plates which I fondly remember having meals on as a child, which also brings back memories of staying with her on summer vacation.
I added shells to my work, in memory of all the days we played in the sand on the Jersey shore. The green glass marbles are for her Emerald Isle (as she called her Ireland). I hope this project can fill you with fond memories and get your creative juices flowing.
If you have never worked with cement, you might want to start with a smaller project first, like a stepping stone. This will give you a feel of working with cement and the sharp pieces you'll be pushing into the cement. This is my 1st larger piece and I'm still learning, it's not perfect, but it fills my garden with memories.
Approximate Time: 3-4 hours
Supplies:
cement birdbath top
8 lb.box stepping stone mix
2-3 old plates
water
bucket and stirrer
trowel
old towel
hammer
safety glasses
a few bath towels
shells
green glass accent marbles
paper towels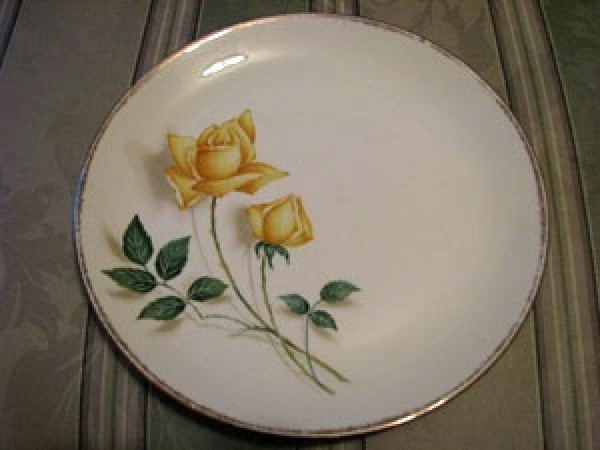 Instructions:
Put on those ugly safety glasses. With the plate wrapped in the towel, on the floor, hammer the plate. Break into 1 to 2 inch pieces. Lift towel to check what's happening and how much more or less you have to hammer. If there's a pattern, try to keep it in order. (I misplaced a couple pieces and it was hard to find were they went in the pattern). Be careful, these pieces are sharp. Place the pattern of broken pieces on a tray, so they will be ready to put onto the cement. Have all your decorating pieces ready before you mix the cement.
Place towels under the birdbath top to keep it from wobbling, and make it level. You'll be leaving it in place for a few days to dry so make sure it's not out in the weather or in the way. (I did mine on my covered porch.)
In your bucket, mix the cement with water following package directions. (You should be outdoors when doing this.) Pour the cement into the birdbath, you should have about 1 inch thickness. Spread with trowel, wiggle (if you will!) the trowel and work the cement so it settles and no air bubbles are present. Smooth the top. At this point you can rinse your bucket and trowel.
Get right back to your cement (you have about an hour, before the cement starts to thicken/harden) and start with the patterned pieces of your plate first. Push each piece into the cement, just level with cement. Continue with each piece, keeping the pattern in proper order, placing them about 1/4 to 1/2 inch apart. Once your done with the patterned portion, it gets easier because you can now randomly place the solid color pieces all around. If you're putting shells in, select the spot and push in. The green glass marbles were placed around the circumference, and pushed in.
You'll want to wipe off the excess cement that is on each piece. A few damp paper towels will do, but don't push too hard. You might need to wipe the haze off in a day, with a damp rag.
You're done! Leave in place for a few days (3-5 days, depending on the weather).
If you have muscles (it's heavy), place your dried masterpiece on the bird bath pedestal. Or just lay it in your garden and let the memories embrace you!