March 2, 2009
0

found this helpful
I know there are many ways to knit an afghan, and admittedly some techniques are "new", but in my opinion no afghan is "modern". Sorry, no offense, I have several and love them, but I think in order to get a "modern" look out of one you must use modern colors and textures. Stick to the "in" fashion colors and go soft when choosing a yarn. Granny's scratchy afghan stays in the closet and the fleece blankie is out all year long.
By (Guest Post)
March 2, 2009
0

found this helpful
Lion Brand Yarns website, www.lionbrand.com, has patterns that include the newer colors and textures without the granny sqaure. The patterns are free but you do have to register.
March 2, 2009
0

found this helpful
I don't know the names of these types of stitches, but my friend at work made this afghan for me for my wedding. It is soft and solid cream. She told me that the stitches were a little more complicated and that even her granddaughters weren't getting one like mine. I love it!!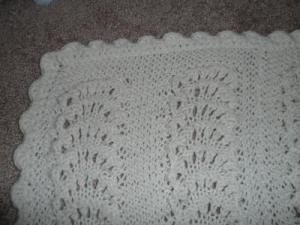 By Teresa (Guest Post)
March 2, 2009
0

found this helpful
I have to disagree with previous poster, it is possible to have a modern afghan because many afghan patterns are very geometric and that is a principle of modern design that is very common. Keeping the colors simple and contrasty will help. You didn't mention whether you wanted crochet or knit patterns so I found both.
Log cabin blankets are getting very poplular with knitters and crocheters:
knit:
http://www.janu _a_log_cabin.php
crochet:
http://www.coat rochet+Throw.htm
Since I'm a knitter and not a crocheter I know of more knitting patterns:
http://www.knit lizardridge.html
Also if you have some money to spend on a pattern, time, talent and patience these are amazing "mathematical" afghans, both crochet and knit: http://www.wool ghans/index.html
March 5, 2009
0

found this helpful
I have one almost finished right now. It is made in jewel tones and some fuzzy yarn. There are color bands all the way across, and the colors are randomly distributed. It is 5'x5.5' and extra warm. I have had so much fun making it! It's like having a party!