October 17, 2007
0

found this helpful
Thank you very much, these are close. But this one had rolled oats and brown sugar in the crust. Mmmmm! The recipes you sent me are like something I used to make called "Dump Cake" and its very good, add cherry and pineapple filling and top with brown sugar & a little flour.
Thanks again!
By Roberta (Guest Post)
October 17, 2007
0

found this helpful
allrecipes.com/.../Detail.aspx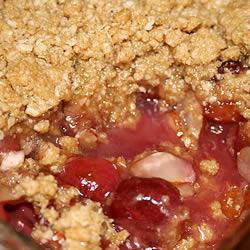 By lizhart (Guest Post)
October 17, 2007
0

found this helpful
That's it! Thank you!

October 18, 2007
0

found this helpful
now my question for you all:
Ever heard of cherry yum-yum? I vaguely remember it from a foster home I was in, but I was too young to pay attention to what it was. I remember they used cherry pie filling and it had (maybe) cream cheese in it?

February 22, 2011
0

found this helpful
I grew up in the Belmont County area and this is the recipe my family used.
Cherry Goody
1 cup brown sugar
1 1/2 cup flour
1/2 teaspoon baking soda
1 cup Quaker quick oats
3/4 cup softened butter or oleo
1 can cherry pie filling
Mix all the dry ingredients together and then mix in the butter using a fork. Put 1/2 of this mixture into a 9 x 9 pan. Press it down firmly. Put the cherry pie filling on top . Sprinkle the other 1/2 of oat mixture on top evenly. Bake at 350 for 40 minutes of until golden brown. We always served it with vanilla ice cream.

June 17, 2022
0

found this helpful
Harry from Holloway and Flushing Ohio. I have the recipe.
vannestharry@gmail.com and I will email it to you.