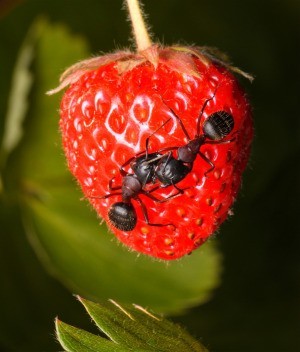 How do I get rid of ants? I wish to get rid of the ants outside before they find the way inside. I really hate them on my strawberry plants. The plants are right next to the sidewalk and deck and the little fellas/gals are coming closer and closer to the door way.
Please understand I know they need to eat just like us but I work hard on having a few strawberry plants, which are NOT the ever bearing type. With my disabilities I can't stand having them crawl up my leg and I do not feel them until they are just about at my knees. They were all over my Humming bird feeder and I had to move the feeder a few times. The thing about that was I couldn't figure out how they were getting to the feeder in it's first location. There were so many I couldn't even start to count them all.
Do you know if ants have a GOOD purpose? I am just wondering about that. For some reason this year the ants are really bad and we don't seem to have any humming birds at all. There is also the wasp catcher which only catches those hardy little ants.
Thanks for your time!
Lia from Revelstoke, BC Canada
Answers
By GTIChick (Guest Post)
June 22, 2007
0

found this helpful
Try diatomaceous earth. I was having problems with pillbugs on my strawberries, and the guy at the nursery recommended it, instead of poisons. It is made up of finely ground up fossils, and the sharp edges cut up the insects and also dry them out, but it is harmless to pets and kids.
I've been having really good luck with it on my berries and other plants, some of which had ants crawling around.
By evelyn (Guest Post)
June 25, 2007
0

found this helpful
sprinkle borax around and they will take it to their hill,if you can find the hill sprinkle it there.
By Lynda (Guest Post)
June 25, 2007
0

found this helpful
Sugar ants are attracted to the sugar in what ever is around. No, they don't bother a thing, except they can eat the fruit we grow. They are for cleaning up the environment. I'd not hate them, but to control them I'd sprinkle used coffee grounds around each hill, or buy Amdro, to kill the queen. Ants are something God says to observe and consider how hard they work and continually work. He made them for a good purpose, but gave us permission to "subdue" (control) them. I hope this helps? Don't use pest spray. Good luck and God bless you. : )

June 25, 2007
0

found this helpful
I've always had good luck by spraying around my foundation and walkways with Lemon Joy and water - for some reason Joy works better than any other lemon dish soap. Add enough Joy so that you have some suds that remain after spraying.
By Kim Ch in WA (Guest Post)
June 25, 2007
1

found this helpful
I can think of one good thing, they are held up as example in Proverbs Ch 6 as an example of industriousness.
Sounds like your strawberries are going into a big barrel next year for a container, one that has sticky paper on the sides! I know you don't want to put sickening chemicals into your garden dirt, and they will find their way around any netting, so putting distance between them and those fragrant berries might help.
Mine are in a salvaged bathtub, and they are kinda cute that way. Wish you the best!
By Mythi (Guest Post)
June 25, 2007
0

found this helpful
Sprinkle aspertame around the deck and sidewalk. Ants hate it.
By (Guest Post)
June 25, 2007
0

found this helpful
Or you could try my lateral thinking approach which worked for me. One summer streams of ants were coming in at the door of my balcony (second floor apartment) and making straight for my cat food dishes, I stood the cats dishes in water, I tried this and that, but still they came. SO... I wondered if the ants had their OWN dish of food out on the balcony would they bother coming inside? I tried it out, with saucers of sweet stuff, jam, honey, mixed with a little water, other things that I thought might be ant
Delectables. It worked! They stayed on the balcony feeding from 'their' food source and didn't come inside!.
By PAtti (Guest Post)
June 28, 2007
0

found this helpful
GO to Diatect.com - they have what you need and it is 100 % safe for you and pets. You can read up on it there. Your problem is solved and you can enjoy again. It works inside and out in rain or not ! Take care and BE HAppy.

June 29, 2007
0

found this helpful
" Thank you everyone! With all the suggestions I think I have my problem licked. " HappyWonder a.k.a Lia
By Lila (Guest Post)
June 30, 2007
0

found this helpful
I have had trouble with my strawberries for the last two years and found it may be because of ants, so I use diacetomous earth and sprinkle it on the plant, it is used for the filters on swimming pools

July 20, 2007
0

found this helpful
could find nothing about white flies on my plants but very helpful with ant help.""""
Answer

this Question

I have two pots on our deck with strawberries planted in them. The ants have taken over the pots. I have used Sevin dust, but they are still there. Is there anything I can put on them that won't kill the berries or me?
Answers

likekinds
Gold Post Medal for All Time! 523 Posts
April 14, 2016
0

found this helpful
This happens to me a lot, with pots on the ground, deck, porch, anywhere. If the pots are not so heavy that they can be lifted, put them in a larger container. The larger container doesn't have to be large enough that you can submerge the strawberry pots in water, though this is quicker. If the larger container will hold a couple inches of water, this is OK. Leave the strawberry pots in the water overnight, allowing the water to wick up to the top of the strawberry pots.
The ants will flee, carrying as many eggs with them as they can salvage.
This will not hurt the strawberries, it will be good for them. After you set the pots in the water, water thoroughly from above, as well. This will help the dirt in the pots to settle and fill in pockets made by the ants.
If you have the terra cotta strawberry pots with solid bottoms and holes up the sides, you would probably need to submerge the whole pot.
Answer

this Question