I really need some info on the cross breed of the Snoodle (Schnoodle). The breeders all say great things, but they are of course selling these babies for a living. Please let me know if you have first hand experience with this mix.
Terri
Answers:
Temperment of Schnoodles
I found a site about Schoodles. They are a cross between a Poodle and Schnauzer. allschnoodles.com
They sound like they are active, but with good temperament. When getting any animal, make sure you aren't supporting a puppy mill, people who breed lots of puppies for profit and don't really care for their dogs.

They look very cute!
Susan at ThriftyFun (12/09/2004)

By ThriftyFun
Temperment of Schnoodles
I had a Schnoodle for years. Her name was Snazzy. She was the best tempered dog. She was great with our 4 kids. My husband rescued her from the firing range on an army base where we lived at the time, where someone had dropped her off. She was very intelligent and never had many medical problems. She was a good watch dog and very protective of the kids. Very sweet doggie! (12/10/2004)

By Jean Donahue
Temperment of Schnoodles
Schnoodles are wonderful dogs, but really act more like children. Our first baby was a Schnoodle, and she was not only very smart, but loyal and loving as well. When our daughter was born, if I, or my husband, did not hear her at the first whimper in the middle of the night, Bugs, our Schnoodle, would come on the run to wake us up and let us know that Amanda was waking up. If I were ever to have the chance to get another Schnoodle, I'd jump on it in a second! (12/10/2004)
By Jen Shepherd
Temperment of Schnoodles
I have a Schnoodle that I rescued at 3 months old. I grew up with dogs and have always had dogs, and she is by far the best dog I have ever owned. She is extremely clever and easy to train. She is obedient and loyal. She is very affectionate, so if you are fussy about being licked I would not recommend this breed. Schnoodles get along very well with other dogs and children. My Schnoodle is not yappy and is not overly active. Although the breeders are trying to make a sale, a Schnoodle really is one of the best dogs out there. (12/21/2004)

By Mirynne
Temperment of Schnoodles
Schnoodles are wonderful dogs. I currently own one that is 11 years old and looking for another one. They are great with kids and know how to calm down and be home alone. They aren't mean like the poodle breed can get. I have pet allergies, but the Schnoodles don't bug me at all. You will need to be willing to get them groomed. (01/08/2005)
By
Temperment of Schnoodles
We have a one year old miniature Schnoodle his name is Basil and he is wonderful. Very smart, too smart some days, happy, loving, fairly easy to train, is capable of wrapping you around his paw. We are so happy with him that we are going to get another so he has company. He also fits through the cat door which makes going to the bathroom really easy. (01/09/2005)

By Helen
Temperment of Schnoodles
I recently purchased a Schnoodle named Lexi. She is the friendliest dog I know. I have been around a couple different breeds of dogs, and I would have to say that Lexi's personality best resembles that of a Poodle's. She is gentle and fun loving. Definitely, a people person. I have a 9 year old son, and Lexi loves us all equally. I hope that this helps you in making your decision about this breed. (02/27/2005)
By Kayce
Temperment of Schnoodles
I have a Schnoodle and he is my first dog. He is four years old, and I wouldn't trade him for the world. I will say, however, that if you have other dogs, make sure that you socialize them while the Schnoodle is young. We have a Dobie and we have to keep them separated or they fight. The Schnoodle is the instigator. I just picked up my Schnoodle form the vet hospital (13 stitches). They are very cocky, and will sometimes get themselves into situations that they can't handle. But get one. They are great and adorable. Mine is. (11/11/2005)

By Roni4946
Temperment of Schnoodles
We got our Schnoodle at 9 weeks. He was extremely easy to train. He is very smart and won the obedience prize at the puppy class. He has a silly personality, and wants to be a big part of the family. Do not get one if you aren't going to be home a lot. They want lots of love and attention. Our elementary school age kids love him, and he has been very gentle with them. He loves to lick, and will get excited with guests. Try teddybearschnoodles.com
Good luck! (01/14/2006)

By Paul W
Temperment of Schnoodles
After hearing some great things about the Schnoodle breed, I finally decided to pick one up. I've had her now for 3 weeks and found that she's a highly intelligent and trainable pup. I live in a condo and found no problems training her in fact when she needs to go, she would paw at you until you take her out. I have her in a crate during the day when I'm at work and just let her loose at night (no surprises in the morning yet). She doesn't bark, she rarely whines and just enjoys the company of people. She can also keep herself occupied with her blanket and chew toy for hours.
I would definitely recommend this breed to anyone. (05/11/2006)

By Hank and Pepper
Temperment of Schnoodles
They are terrific and nothing, but terrific. Mine is nearly a year old now and I am almost 60 years old and this is one of the best dogs I have ever had. She just loves everything and yet at the same time is a little protective. She loves kids to no end. (04/16/2007)
By Linda C
Temperment of Schnoodles
I have a 1 year old 7 lb Schnoodle named Bailey. He has been the best dog I have ever had. He was easier to train than my expensive Coton de Tulear and has a laid back personality. Very smart and a loving dog who just loves people. Wonderful non-shedding dog. (06/07/2007)

By Nancy
Temperment of Schnoodles
I adopted "Blue", my 3 yr old Schnoodle last year. I have had dogs in the past, but must say, none were like Blue. He is that one dog that everyone loves, even the people that don't like dogs. He is loving, funny, great with kids and much like a kid himself. He loves to be held, and will stay there in your arms like a baby. My biggest fear is losing him. Even with his tag, his infectious, loving personality scares me, because if found, they won't want to return him! (08/03/2007)

By Lori
Temperment of Schnoodles
I have Giant Schnoodle named Javier. He is so cute and so big with an even bigger personality. He's easy to train, but smart enough to know when your not paying attention. Hes a lot of fun and remains very active, he'll be two in November 07. He is one of the most vocal dogs I have ever met. He has many different barks and uses all of them depending on situation, this had been a hard habit to break. He's good with kids, but sometimes he can be a little pushy and because of his size I fear he may scare or accidentally hurt someone in a rush of excitement. All in all, he's the best dog I have ever had. I love him too much. (10/25/2007)

By Erin
Temperment of Schnoodles
We got Benjamin, our toy Schnoodle in April of 06' and he will be a year old at the end of January. I have to say he is the best dog I've ever had. I have never had a pet with such a special personality. He's smart, playful, cuddly and loving, everything you'd want from a dog. I would recommend this breed to anyone looking for a fantastic addition to their family. My only advice is when picking a puppy, watch the whole litter interact. I definitely picked Benjamin based on personality first. (01/13/2008)

By Rachel
Temperment of Schnoodles
I love my Schnoddle. I rescued Dylan from a shelter. He is smart, and so very lovable. He is great with all of my granddogs including my son's English Bulldog. He goes everywhere with me. I travel in the car alot and he goes right along with me. What a blessing he is. (02/08/2008)

By bbills1025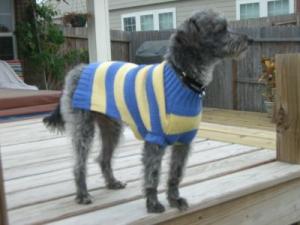 Temperment of Schnoodles
I love my Shnoodle, Emma, she is the best dog I've ever had. My husband hated small dogs and now he is crazier about her that I am. She is very smart, potty trained in about 2 weeks, really lazy though, and knows all of her toys and even where they go when she is not using them. Doesn't leave my side, very lovable, every time my husband comes from work she acts like he's been away for years! (03/23/2008)

By Kelly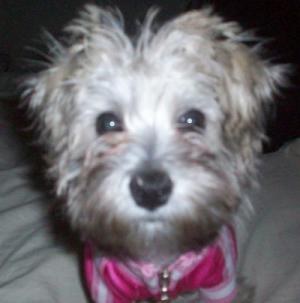 Temperment of Schnoodles
We have had the pleasure of adopting two Schnoodles. Our first one was with us for 13 years and after she passed on, we adopted a second. They do not shed, have a very happy disposition, and will adjust themselves quite easily to your lifestyle. They are full of personality and soul. I would highly recommend this breed. (08/01/2008)

By Dan
Temperment of Schnoodles
I have had a Schnoodle for 4 years and he has a wonderful temperament. The only negative about the breed that I have seen is that they do not share well with other animals. If it is his toy, it is his! and so is the other dog's toy his. He is quite possessive, however if I know another dog is coming over, I remove his toys. If one gets a treat, they all do, just like children. He is extremely smart, loving and very affectionate so his one bad "behavior" does not a bad dog make. (08/11/2008)

By Trudy
Temperment of Schnoodles
I have recently adopted a Schnoodle pup back in March of 2008. So far, she has been an angel. But there are set-backs.

Medical wise, these dogs are high maintenance. Schnauzer's have ear hair issues and in order to avoid perpetual infection, I have to a) get the ear hair plucked out every month and b) clean her ears out with an ear cleaning solution every time she comes in contact with water. So far, even with these measurements, she has had an ear infection every month!

She also has serious anxiety and abandonment issues. If I leave the room with multiple other people playing with her, she starts on a barking spree. She cries, whines, and paws until I come back. Great side to this, I can walk her with no leash, as she would never stray from my side.

At first I thought these were issues directly related to my own Schnoodle, but I've talked to many others and these same problems are relevant. My vet has been extremely helpful in coming up with routines to avoid the ear infections. I would nip that in the bud as soon as possible.

As for attitude, I could not ask for a better dog. She is extremely loving, calm, friendly, and well-mannered. She was housebroken in a matter of days! She's never aggressive towards other dogs or kids (although I heard this is something she will develop in the coming years). I'm very satisfied. (09/01/2008)

By Rosemary
Temperment of Schnoodles
I have had Bella for about 2 months now. She is the smartest dog I have ever had or meet. Sometimes she even acts like person, its almost scary. Schnoodles have a lot of energy and need lots of playtime. Leaving them in a cage while at work for hours on end is not fair to this breed. Bella's coat is beautiful and does not shed, but needs consistent brushing so she does not get mats. When it comes to people and other dogs she loves both and I have not had any issues other then her being too happy and scaring other dogs. (09/12/2008)

By Tman789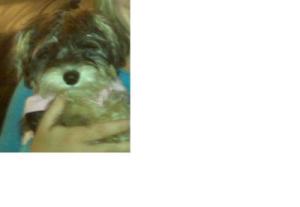 Temperment of Schnoodles
I have a 10 month old Schnoodle who is the best dog I've ever owned. She is smart, playful, and easy going. Sometimes she tries to be a guard dog when she hears a loud noise, but is easily calmed down. She is great with little kids and the elderly and timid, but friendly with other dogs.
The only problem I have with her is that her anal glands need expressing about once a month, but the vet taught me to do it myself and is easily done. She is not shy and will let you do anything to her. Recently she was bitten by another dog and I had to put peroxide on the wounds, when she saw the bottle she would come running, sit at my feet and stick her head up in the air for me to put it on. I have never had any kind of ear problems with her either. Getting a Schnoodle is the best idea ever. (11/17/2008)

By Megan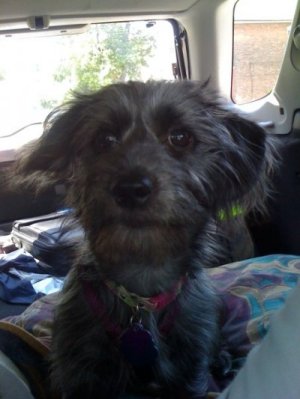 Temperment of Schnoodles
"Buddy" came to live with us when he was 4 months old. That was over a year ago. He is popular with the neighborhood kids as he's very gentle. He loves people, especially women. He walks well on a leash and could walk for hours or a few minutes. He's happy either way. I have to mention that he loves to "noodle" in the snow. Very smart although head strong at times.
Easy to love and spoil as you can tell by his picture. (01/23/2009)

By Suzy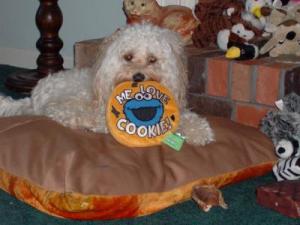 Temperment of Schnoodles
Four and a half years ago we purchased a Giant Schnoodle to train for a therapy dog. Reggie is now 120 pounds and we are registered Delta Society Pet Partners. He is a people magnet. Gentle, intuitive, loyal, funny, opinionated, and adorable. He was a challenge to train, but worth every moment of it!
(02/16/2010)

By Judy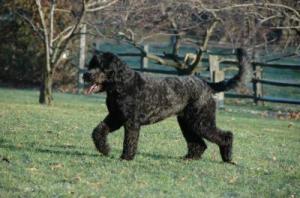 Comments
Read More

Comments