Children love making these sculptures and you can add more fun by encouraging them to make up a story using their efforts. The possibilities are endless.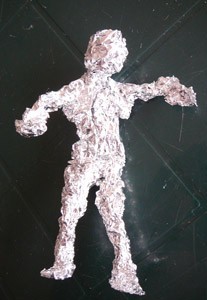 Instructions for a figure: Using a square of foil, tear two slits one third down the foil which will be the arms and head, then one slit one third up which will be the two legs. Scrunch the middle part which will be the body then the legs arms and head into shape.
Instructions for animal/dog: Same again except two slits at the bottom for the two legs and the tail.
Warning! This can be addictive, I happen to know!
Comments
March 24, 2009
0

found this helpful
Good one, I love crafts with unlimited endpoints, that go wherever someone's imagination goes.
March 27, 2009
0

found this helpful
These are nice let's see some animals.
July 28, 2011
0

found this helpful
Did this years ago when I was a kid in elementary school art class ! Aluminum foil was the base. On top of that we wrapped strips of torn newspaper that had been dipped in a half and half mixture of Elmer's Glue and water. After drying we painted with craft paint followed by spray sealer. These sculptures can be as large as you have time, talent and courage for! They last forever!