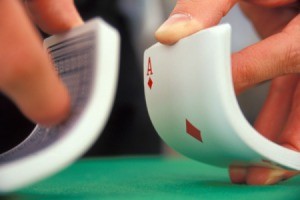 Does anyone know some card games for 6-8 people, anything except poker? We have lots of board games but Grandma and Grandpa prefer to play cards, actually so do I.
PICO from St. Paul, Alberta
Answers
By redhairangel (Guest Post)
October 9, 2007
0

found this helpful
Best Answer
Hand and Foot is a great card game....you will need 2 decks of cards for each person though. Go to www.pagat.com/.../handfoot.html for instructions!

October 9, 2007
0

found this helpful
Best Answer
How about UNO, SkipBo, Crazy Eight both can be played by 6-8 people. Go online and search for card games. There should be tons of things out there.
Julie Naples

October 9, 2007
2

found this helpful
Best Answer
A greart game for up 8 or 10 is "Cancellation Hearts" Here are the rules:
Cancellation Hearts is for seven to ten players. This version uses two decks. All the cards are dealt out. There is no passing and the queen of spades may be laid on the first trick. The first trick also takes the cards left over from the first deal. The reason that the game is called "Cancellation Hearts" is that when two like cards are played they cancel each other out for the purpose of taking the trick.
Thus, a trick where two Aces of the same suit are played, they will cancel each other out so that the next highest card takes the trick. This is a fun variation when you have a large number of people who want to play a game at the same table.
Even children quite young can play this.
By Guest (Guest Post)
October 9, 2007
0

found this helpful
Phase 10 is a fun rummy-type card game easy to learn. You can pick up a pack for under $10 at any discount store
Read More

Answers