I know this is far away still, but I always start early with the kids' birthday parties. My daughter's 3rd birthday is in early January. I'm looking for some fun, unique theme ideas. We just had a fabulous "Cubs" party for my son (it was a huge success). I want to do something equally as fun for my daughter.
I'm sick of the princess/pink theme, so any ideas would be appreciated. Also, most of the other guests (children) are older than her, so game ideas that would work for both little ones and 2nd grade and up would be awesome. Thanks in advance.

By Danielle from IL

Answers:
3 Year Old Birthday Party Themes
This site has lots of birthday party themes and games for different ages, you can mix and match.

http://www.celebrating-birthdays.com/themes/third-bday-themes.shtml (07/02/2009)

By Fortunately
3 Year Old Birthday Party Themes
A friend of mine did an Alice in Wonderland for her daughter's 2nd birthday party. Which a lot of her 6 year old sister's friends attended. She had a mad hatter's tea party theme. I made her cake for it and that also was the tea party. She even had a friend who sews make an adorable "Alice" dress. (07/06/2009)

By jeri johnson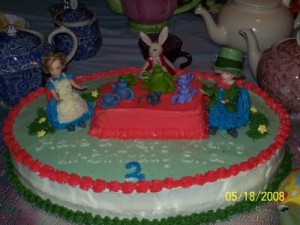 3 Year Old Birthday Party Themes
I heard on this morning's CBS Early Show, "Hello Kitty" is popular with every age group - from the tiniest girl to the adult. (07/09/2009)

3 Year Old Birthday Party Themes
Tykes on Trikes is a fun birthday theme. Kids bring their trikes and decorate with balloons and crepe paper. You have a trike parade, races etc. And because it is outside, not such a mess to clean inside. Cake(s) can be in the shapes of traffic signs. (07/09/2009)

By kmcb59
3 Year Old Birthday Party Themes
Since the party is in January, maybe do a snow theme serve white food like angel food cake or marshmallows. Or do a luau theme. Dollar tree has a lot of those decorations this time of year. (07/10/2009)

By Michele
3 Year Old Birthday Party Themes
I was wondering about a circus theme. This would be fun for all ages. Since you have lots of time before then, you could learn how to make balloon animals, and entertain the kids with that, and each could have at least one to take home. You can buy boxes of the long balloons with directions on how to make the animals in them in craft stores and assorted places. I used to do this for my kids' parties. You could also do face-painting-- so that all the kids would be clowns.
My oldest son used to have lots of older friends come to his parties, and I just let the older girls organize the games. They loved it, and because they were experienced party goers, they knew what they liked--musical chairs, pin the tail on the donkey, and so on. Have a little talk with some of these older kids that will be coming, and find out what is "in" for kids.

I also used to make decorated cakes -- sheet cakes made into various things like rockets and flowers and cars. You can get books that show you how to do this. Again, since you have lots of time, you can do some research. It is very easy to turn a cake mix and some icing into something really neat. You do not have to spend a lot of money on cake decorations, ice cream cakes, having someone else do it!
Depending on your child, perhaps some sort of crafty thing would be good. Some 3 year olds are up for something like making play-doh animals, but others would be better with active games. (07/14/2009)

By Louise B.