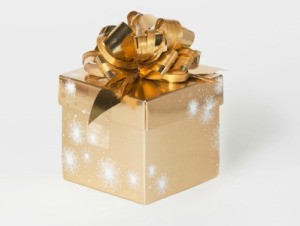 A 50th anniversary is a very important occasion, so you will want to choose a special gift. This is a guide about 50th anniversary gift ideas.
Ad
---
Questions
Here are questions related to 50th Anniversary Gift Ideas.
I have 4 siblings and we're trying to decide what to do for our parent's 50th anniversary. We've gone from giving them a cruise, to a trip to Japan, to a party at the local Sheraton hotel, to a measly Chinese restaurant dinner and a gift certificate. We cannot seem to agree and we all have differing budgets, not to mention having to pay for travel, hotel and car rental expenses for some of us - not in lieu of, but in addition to the celebration expenses.

Granted, some of us are "talking" more by email than we ever had, but it's also bringing up hard feelings, having to veto some ideas. We have at least 5 to 6 months to go, but I'm glad we started talking now! Any ideas?

I'm in NV, one sis is in CA, the other sis in NY and 2 brothers in WA state, which is where our parents live. I'd appreciate any ideas! Thanks so much, love this column.

Sheila

Editor's Note: This request was published in 2000. We are working on bringing older data into our database.
Ad
---
---
Most Recent Answer

By Lane (Guest Post)05/12/2008
My parents 50th anniversary is coming up soon, also. My brother and I (and our families) plan to give them a family portrait for an anniversary gift. It's impossible to think that our families could all go to a studio. Therefore, the photographer plans to come out to our family farm to take the portrait. It will be a casual picture. Everyone dressed in jeans and a white shirt or khakis and white. Just another idea for you.
What is an classy, but inexpensive gift for a 50th wedding anniversary for a cousin? Something besides a picture frame.
By Sandra from Coal Creek, CO
Ad
---
---
Most Recent Answer

By Cheryl Watkins M.10/26/2013
What we did for my friends parents 50th was get 50 cent pieces from the year they married to their 50th year & put them on a piece of cardboard than we put a number 50 in the middle with the gold dollars. Put it in a picture frame with glass over it. It was heavy but beautiful all the same. Only 1 of the 50 cent piece cost us a few dollars to buy because it had never been in circulation but still didn't look out of place & the gold dollars we got at the bank. If you want you could make it with pennies & dimes but since it was a very special time & we wanted to use the gold dollars & the 50 cent pieces. So hope that gives you another idea & it can mean alot because it's made from the heart. Good Luck on whatever you decide.
We need tips for our 50th wedding anniversary. Perhaps a nice getaway or bed and breakfast, but something that is really special.
By blessedlady from San Bernardino, CA
---
Most Recent Answer

By Pamela [4]10/19/2009
You don't say if money is an object, so let's just assume you don't want to spend too much. Are you still in touch with the couple who knew you when..? If so, invite them to join you for dinner. You pick up the tab. If you aren't close to them perhaps you can invite other couples who have been married for 5, 10, 20, etc. years and they can join you for dinner. It will make for interesting conversation for sure. Ask people to recall when they first met, bring photo, etc.
Solutions: 50th Anniversary Gift Ideas
Do you have knowledge about this guide topic? Feel free to share a solution!
Archives
Thrifty Fun has been around so long that many of our pages have been reset several times. Archives are older versions of the page and the feedback that was provided then.
My parents will soon celebrate their 50th Wedding Anniversary, any suggestions for a gift?
Countrygirl2828
---
RE: 50th Anniversary Gifts
I'm Canadian so not sure if this may be applicable to you if you're an American. I contacted my in-laws federal M.P. and he went to task ensuring that every government head from local to the Queen's representative (Queen herself only sends greetings if over 60 years, I believe) sent them either a letter or a signed certificate congratulating them on their 50 years of marriage. For the most part, they were tickled pink. Of course some of the congrats were from the "wrong political party". Ha!
After 50 years together what can you buy, they have for most part everything they want/need. Give them more attention, phone calls, and visits, that's what they'll really appreciation. Cheers. (09/19/2008)
By Doreen
RE: 50th Anniversary Gifts
I gave my grandparents a photo album that I had everyone sign with a message by their pictures, including friends they winter with and people they attend church with, they seemed to love it as they show everyone that comes to their house. I worked on it for almost a year, but you can send out pages now and have them mail them back directly to your parents if time is short. (09/19/2008)
By Peg
RE: 50th Anniversary Gifts
What about a weekend getaway? If they went on a honey moon maybe send them to wherever they honeymooned! Gift cards to favorite restaurants.
Congratulations to them for staying together! They deserve a tribute for staying committed. (09/19/2008)
By velsgal from MO
RE: 50th Anniversary Gifts
A public show of congratulations is wonderful, if they are that kind of parents. Some are not. If they are, gather your pennies and see how much it would cost for a "then and now" photo in the paper. There are also some gift places on this site: http://www.google.com/search?hl=enandq=fake+newspapersandaq=fandoq=.
It is one where you can have a newspaper made up to display them on the front page and what was happening that day in the world, or write your own stories about your births, etc. If you can, order two so they can display one side and then the other if they choose to frame them.
Family photos are never a mistake. If you know someone who does scrapbooking, have them make a wedding album with scraps of the dress or keepsakes, etc. If someone is a poet, have them write one about your parents, and either include it in the book or have it professionally framed
If you all can't afford a trip to a nice place far off, perhaps a nice dinner cruise close, or a train ride with a dinner theatre, a tour of the local wineries, or a local event that they always wanted to attend.
And yes, time is the most important thing to give them. You have been truly blessed to have parents who loved each other that long, then tell them how much that has meant to you. That is gift enough. (09/19/2008)
RE: 50th Anniversary Gifts
If you can't think of anything else, give them fifty of the gold color one dollar coins, available from any bank. Put them is a gold decorative box. They can use them for anything like dining in a restaurant, or whatever. (09/19/2008)
RE: 50th Anniversary Gifts
For my parents we had a big party, all of us kids chipped in and we rented a local hall. My nephew took a bunch of old pictures and made a slide show of my parents from the time that they went to their high school prom together all the way through today. It had us kids, their grandkids and greatgrandkids and it was set to music. The hall that we rented had a big screen TV in it and we played the CD on it. Everyone ooed an yawed all evening. We also had pictures of them everywhere. Best of all is we kept it all a surprise until they walked in the door. This was over a year ago, I still catch my mom watching that CD and looking at all the pictures they brought home that now cover the walls of their home. (09/20/2008)
By angbeth
RE: 50th Anniversary Gifts
We gave our parents a pendulum wall clock with a name plate on it saying their first names and 50th Wedding Anniversary and the date. They both loved it! They have taken that clock with them, moving to 3 different states, now. (09/23/2008)
By Lynda
I will be going to California in September for a family reunion and at the same time I would like to surprise my in laws with something special for their 50th anniversary. I am limited to what I can do as I don't have access to stores there and what I can bring. Besides photo albums, do you have any ideas that would make their anniversary a special event along with the reunion?
By Josie from Grand Junction, CO
---
RE: 50th Anniversary Gifts
On my parent's 40th Anniversary we children made up a photo album starting with pictures of my parents as children and we made up captions. For example we said "There once was a girl named Emily and a boy named Art". Then on the next page we showed a picture of their engagement and said "And then they met and got engaged". Then pictures of their wedding, etc. Then pictures of each child and their marriages and their children. My parents and everyone loved it. (06/15/2010)
By AvaElizabeth
RE: 50th Anniversary Gifts
This is what I did for my brother's 50th anniversary. In a dollar store I found tall gold gift bags, gold foil, and gold "Easter" grass. I got from the bank 50 of the gold Sacajawea dollar coins. I wrapped each coin individually with the gold foil. Then I put the grass and wrapped coins alternating them in the gold bag. They had to go through the whole bag to find the coins, and unwrap them to spend them. It was family and a fun gift. I hope you may find some use of this suggestion. (06/17/2010)
By knitter926
RE: 50th Anniversary Gifts
http://www.google.com/search?hl=enandsource=hpandq=fake+newspapers
This is a lot of fun. You can custom make a fake newspaper, featuring all they have done together over the last 50 years. I have suggested this a lot, and I always tell people if they can, get two. That way, if they want to display each side of the page, they don't have to have a large copy made. You can put things in there like their wedding, births, civic awards, jobs, travel, and all that they are in a newspaper form. Check it out and see if you can do this for them. They would love it! (06/17/2010)
RE: 50th Anniversary Gifts
Get family members to send you photos and frame them for table decorations, any year will do. The more the merrier. Good luck. (06/22/2010)
By 2oma