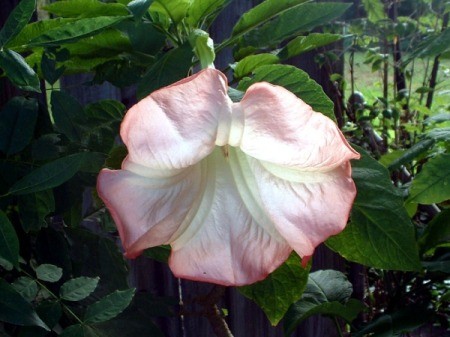 Photo Description
Mr Brugmansia says 'Good Morning'. I discovered this beauty at sunrise and wanted to share it with everyone.
Photo Location
North Carolina
August 14, 2013
0

found this helpful
Top Comment
DeBushe,
What with Brugmansia being grown in many parks and public gardens. Your alert should be taken seriously. An excerpt from Wikipedia notes:
"All parts of Brugmansia are poisonous, with the seeds and leaves being especially dangerous. Brugmansia are rich in Scopolamine (hyoscine), hyoscyamine, and several other tropane alkaloids. Effects of ingestion can include paralysis of smooth muscles, confusion, tachycardia, dry mouth, diarrhea, migraine headaches, visual and auditory hallucinations, mydriasis, rapid onset cycloplegia, and death."