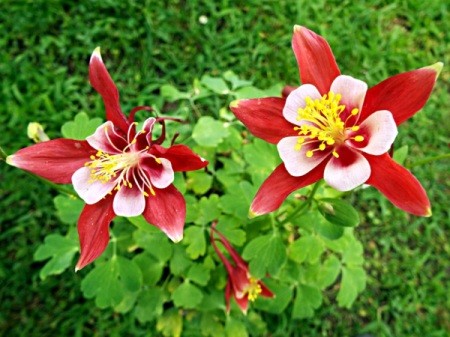 Photo Description
I have always admired this flower, but for some reason, I have never grown it. There's something about its name I find very pleasant, Aquilegia. I like the way it rolls off the tongue. I even like its common name 'columbine'. And the lesser used common names 'Granny's Bonnet' and 'Granny's Nightcap' will do in a rush.
I learned from Wikipedia that "The common name 'columbine' comes from the Latin for "dove", due to the resemblance of the inverted flower to five doves clustered together". I find that analogy very special.
Aquilegia is a long lived perennial in the buttercup family 'Ranunculaceae'. It is quite hardy and almost care free. I like that, too. Is there anything I don't like about this flower? Well, not the flower, itself.
I bought this at markdown. It was not in bloom and it was the last one they had. I am not a red person. I prefer cooler shades. Aquilegia comes in some beautiful self and bi tone cool shades. Now that I am initiated, I will add more colors to this collection I've started.
Even yellow? Yes, even yellow!
Add your voice! Click below to comment. ThriftyFun is powered by your wisdom!
July 11, 2017
0

found this helpful
Yellow!! Now you're talking!
I'm not familiar with this flower but if it comes in yellow then I might get interested.
Names and history of flowers are just as interesting as any old history book - well - more so to me..
This one sounds like it has been around a long time and must have been a "Granny" favorite.
July 16, 2017
0

found this helpful
Columbines are my most favorite flower to grow. it's a hardy plant, doesn't complain about conditions much and gives you a more than fair share of beauty. It comes pretty much in all colors and combinations. The one you have pictured is probably the most common but there are so many - i love my purple ones. i hope you fall in love with them.
Add your voice! Click below to comment. ThriftyFun is powered by your wisdom!