Dove Photos
Photos
Share on ThriftyFunCheck out these photos. Click at right to share your own photo in this guide.

Photo Description
I managed to catch these two turtle doves in a tree in our backyard. They were enjoying the sun and didn't even notice me. They looked so peaceful and calm, as if nothing could ever disturb them.
Photo Location
Waverley, Pretoria
July 22, 2005
1

found this helpful
My husband climbed up in one of our backyard trees to hang some windchimes for me and discovered these precious baby doves. Aren't all of God's babies beautiful!
Leanne


Photo Description
We always had a lot of doves sitting in the trees on our river bank. One day a log drifted down the river and parked itself in front of my yard. The doves found this very interesting and went to investigate. They look like they are having fun!
Photo Location
Chiloquin, Oregon
A pair of doves made a nest under the roof of our veranda. It has been incredible, watching them from day 1 when they started to build the nest, seeing mom sitting on the eggs and eventually, the first time we saw her bringing food to feed the little ones. I took the photo this morning when the mom flew off to find food.

Read More...
We feed all the birds year round and have many doves. They love to enjoy a bath too. That is our old water pump from years ago, just as added interest to our yard.
The bath tub is a bottom of a hot water tank that we cut off. It works perfectly and is the right depth of water for birds and bees!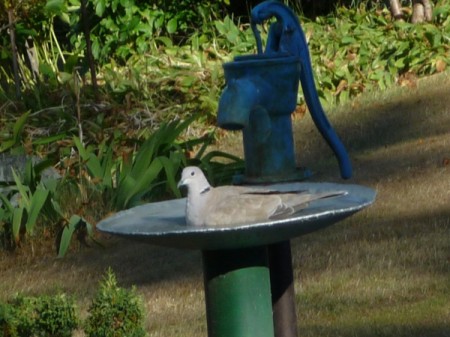 September 11, 2008
0

found this helpful
This is Dovely (a cross of Dove and Lovely). She is five years old and a Dove. After visiting a friend, I heard this cooing sound come from the laundry room. When I asked my friend what the sound was, my friend said "oh that's bird".

Read More...
I found this beautiful dove sitting on the fence next door to our house. It was the first one I have ever seen with a pink chest. So beautiful, and he trilled for me.

Read More...
I think this is a dove, but I'm not for sure. I thought it was so pretty in the tree.

August 7, 2017
0

found this helpful
This very common bird is found from southern Canada to central Mexico. They are recognizable from their soft prolonged cooing that has a distinctly mournful sound.
This page contains mourning dove photos.

Related Content