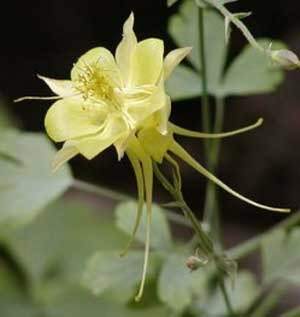 Botanical Name:
Aquilegia
Life Cycle:
perennial
Planting Time:
early spring or early summer
Height:
dwarf types 10" to 12", full-sized types 2' to 3'
Exposure:
full sun to partial shade (afternoon shade in warmer climates)
Soil:
average, well-drained soil
Hardiness:
zones
3 to 8
Bloom Time:
summer
Flower:
delicate flowers in a variety of colors
Foliage:
green
Propagation:
seeds
Suggested Use:
beds, shade beds, borders, pots and hummingbird gardens
Growing Hints:
Sow seeds in pots or directly into the ground in early spring to early summer. Seeds need light to germinate so do not cover them with soil, but press them lightly into the surface of the soil. Plants tend to die out in 3 to 4 years. Avoid this by collecting seeds from mature plants for scattering or transplant self-sown seedlings. Full grown plants have deep tap roots and don't transplant well.
Interesting Facts:
Hummingbirds love columbine. Little white spaghetti-like tunnels on the leaves of your columbine indicate you have an infestation of leaf miners-a common columbine pest. Treat plants by picking off diseased leaves or cutting badly infested plants to the ground. Toss infected leaves and plants in the garbage-do not compost.