Baby (Kitten)
Baby Age is now 2 years old. Baby was given to us on 5/20/2011. She loves to play with her laser toys for fun. Our pup Vader passed 5/10/2010 and we believe that on 5/20/2011 Vader led our friend Mike to this kitten now named Baby alone in a field next to his house and he gave her to us.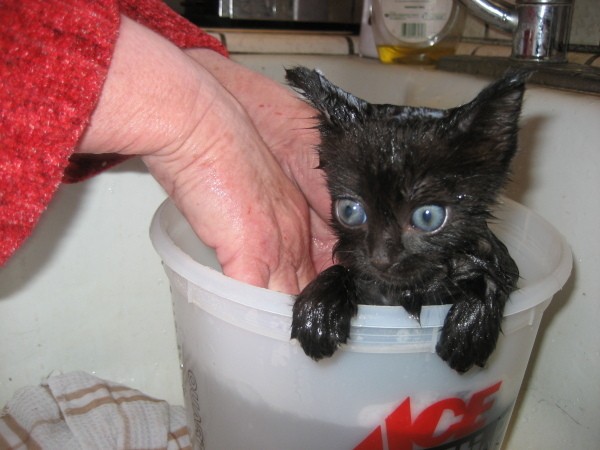 By Tangzmom from Hollister, CA
Feedback
Read feedback for this post below. Click here to post feedback.

09/25/2012
Thank you all for such kind words. Here is a picture of Tos now and I can't believe she is so big. You will all be happy to know that she still likes baths.

09/19/2012
Great topic Chris. Good to keep us all on our toes. Their are so many things to learn, and easy to get lost in one and foregt the others.For me it is still getting up to speed with the digital age. The two big areas for me are editing/post processing, ie quickly and well, and marketing/visibility starting with a real website.

I bought a template New Years day, figured I wouldn't stall anymore and kick off the new year with a bang. So easy to procrastinate and wait to do one thing before doing the next (ie organize photos and design site-obviously a never ending process- instead of jumping in with a domain and a template). I want to put my energy into getting this up and running, and work on getting shoots processed quickly.

The creative part is always part of what I do, but good to revisit that and come up with new ways to make photos exciting. Love the extra light in your photos. It really picks up the saturation and gives extra kick to what could be a partially drab situation. Lighting is everything, well ok, not everything but so much of what makes a photograph stand out to me.

By
09/16/2012
She's adorable! I love her blue eyes! Best wishes for many happy years with your kitty pal!

By
09/13/2012
What a cute baby! and so good. My cat would be hanging from the drapes instead of sitting quietly for a bath. Bless you for making a home for this little one.
Post Feedback
Add your voice to the conversation.
Related Guides
Related Posts