Cheese Topped Tomatoes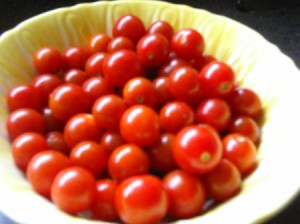 When cherry tomatoes and grape tomatoes begin to ripen in the garden, they do so at an amazingly fast pace. As an alternative to just adding these tomatoes to a salad, I cook them and serve them as a side dish. The recipe can be expanded to provide as many servings as you need to feed your family.
Ingredients:
1 cup of grape or cherry tomatoes, washed and dried
2 Tbsp olive oil
garlic salt, to taste
pepper, to taste
1/4 to 1/2 cup shredded Mozzarella or Pepper Jack cheese
finely chopped fresh herbs or 1/2 tsp. salt-free herb seasoning

Directions:

In small frying pan, add oil and tomatoes. Cook about 5 minutes, until tomato skin begins to crack open. Stir lightly or roll tomatoes around in pan while cooking.

Remove tomatoes from pan with a strainer so that oil remains in the pan.

Place tomatoes in a glass bowl. Add garlic salt, pepper, fresh herbs, or herb seasoning mixture. Stir gently.

Sprinkle cheese over hot tomatoes and serve.

Cooking Time:

5 to 8 Minutes

By VeronicaHB
Feedback
Read feedback for this post below. Click here to post feedback.
Post Feedback
Add your voice to the conversation.