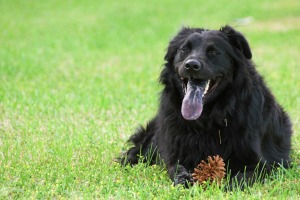 These wonderful mixed bred dogs can be a great companions. This page contains chow chow mix photos.
Ad
---
Questions
Here are questions related to Chow Chow Mix Photos.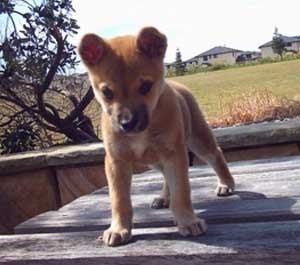 This is my 2 and half month old PAPAYA. Please somebody tell me what kind of dog he is.

Thank you!
Kina from Tuggerah
Solutions: Chow Chow Mix Photos
Do you have knowledge about this guide topic? Feel free to share a solution!
Photos
Below are photos related to this guide.
Gentle Benjamin Louis Stephens was 18 years old. He was a Chow and Golden Retriever. I got Gentle Ben from a shelter in Pennsylvania; he was a 4 week old beaten puppy and his name was B.D for Battered Dog which we, of course, changed.
Benny was a amazing boy, my best friend he will always be. I wanted to share with everyone what a great boy he was and is. Ben was born in '95 and has been through all my ups and downs life has given me. I have given a lot to him, but he in return has given me so much more. I had to put him to sleep on February 4, 2011 (the day before my birthday). He was old and in pain and his quality of life was getting bad. As much as it hurt I had to let him go for I am not a selfish person.
I stayed the whole time with him while his journey ended. I laid him on the floor on the blankets and sat and petted him while he got a shot to put him to sleep. I could not bear him going through this alone as I did not want the last person in his life for him to see was a doctor. He went to sleep and I closed his eyes for him as my eyes were full of tears and running down my face. It is a very sad thing to go through when you lose a loved one.
So, I just wanted to share with you the memory of Gentle Ben a wonderful boy. RIP Gentle Benjamin Louis Stephens you will be missed dearly. I love you always and forever. Mommy.
By Sandra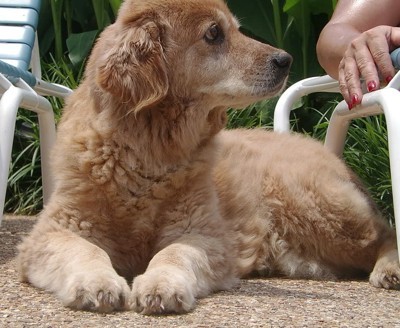 Big Bear is 4 years old. Bear is a mixed breed of chow chow and black lab. Bear adopted us 3 years ago. He was allowed to run loose, and became our porch watcher. When his family moved, we invited him to join our family.
Bear loves to play tug of war and gives great "Bear hugs!" Bear was neglected and abused at the beginning of his life. He now gives as much love as he receives. He is a welcomed member of our family and there's never a moment when we aren't protected by him. He's usually laid back, but will jump to attention at the slightest alert.
By Cathy from MI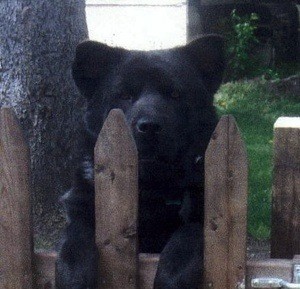 My Chow/Golden Retriever mix is 9 months old. Cinnamon was found at a shelter by a family friend after coming from an abusive home. Our friend became no longer able to take care of her. The shelter told our friend that if Cinnamon returned there, she would be put to sleep, so we took her in and have loved her ever since. She is the most playful and affectionate dog. She's well behaved and loves children.
By Joshua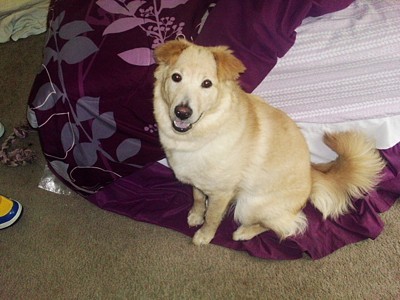 Harley was a 12 year old golden/collie/chow mix. I got her in September 1997. I found her on the side of the road. She loved to go for rides with her head out the window, and she very much loved chasing squirrels. I had her since she was a pup. I have never had a best friend like I had with Harley, we did everything together.
She was very protective of my 4 year old daughter. They loved each other so much. Over the years, she developed cataracts and went blind and had cushings and diabetes. I had to give her shots twice a day. She was a survivor.
You might think that I lost her due to her illness, but actually I lost her due to a freak accident. I had her cremated Aug 18 2009. She sits on a mantel with her death certificate and bookmarks with her paw print and a clipping of her fur. I miss her so much. See you in Heaven, Harley.
By Robin from Whiteland, IN
Kiam is about 9 weeks old. She is a Chow chow Terrier mix. :) I got her Aug. 13, 2010. She likes to bite everyone's foot or hand. She's very playful and intelligent. She loves to eat a lot.
By Eula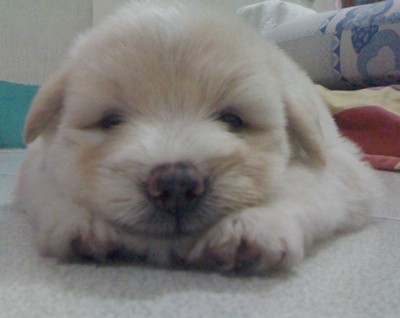 Boo is our 5 year old Chow/Lab mix. This dog wandered in my yard about 6 months after our 14 year old dog passed away. We posted flyers trying to find the owner, and tried to give him away after no one claimed him.
He likes to play catch. He has many toys, but he has one favorite white ball that he loves for us to throw or kick and he catches it. He lost that particular ball for a few days, and really missed it.
This dog "found" us when we were grieving for our other dog. I tried so hard not to fall "in love" with him. He had beady little eyes, but those eyes saw way down to my heart and I gave in. We think our dog that passed made it to heaven and told God how lonesome we'd be, and to send us another companion, not a replacement, but another one to love. He does some things sometimes that remind me of my late dog, and he warms my heart. He thinks he's the size of a Maltese! We do believe he was sent to us for a reason.
By Denise from GA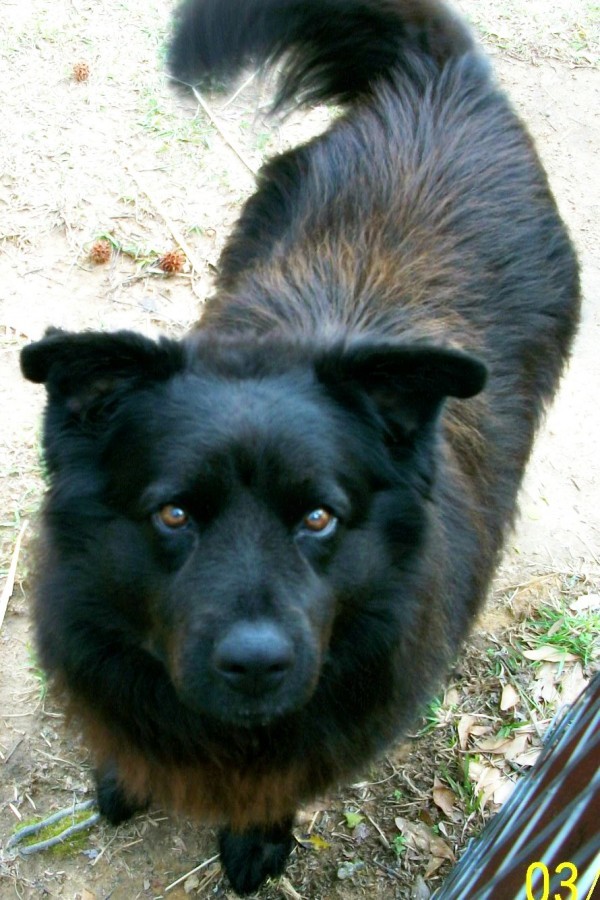 Dozer is 11 years young. Dozer is a Chow-Shepard. I got him from a Shelter Adoption. He likes to grab a toy of his choice, sneek up behind me and nudges his head between my knees while I am standing, like peek-a-boo Mom, I want you to play with me with this toy. If I spread my stance, he walks right between my legs and turns around, like "Mom I want you to play with me with this." It is so funny.
He has the most beautiful coloring of fur. I turns Red in the summer and is fluffy like a chow but is shorter in length. He also obeys by a snap of a finger! Pretty darn good for a 95 lb. (puppy)
By Marty from Valparaiso, IN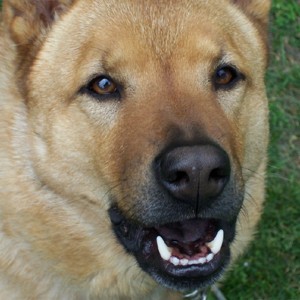 Lacey is a 9 year old Rottie/Chow mix. I got her for Christmas from my son. She likes to go to the beach and chase the fishes. She loves to dig holes and lay in them to get cool.
By Donna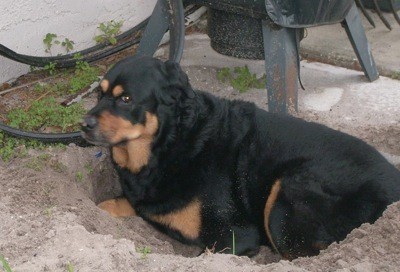 Maggie Mae is one of ThriftyFun's Mascots. Although the TF's mascot family is growing, she was one of the first! Maggie is about 8 years old and a Chow Chow mix. My mom got her through the Northwest Chow Rescue in 2004.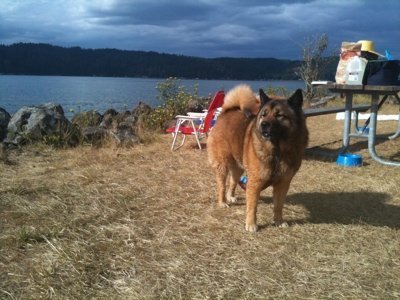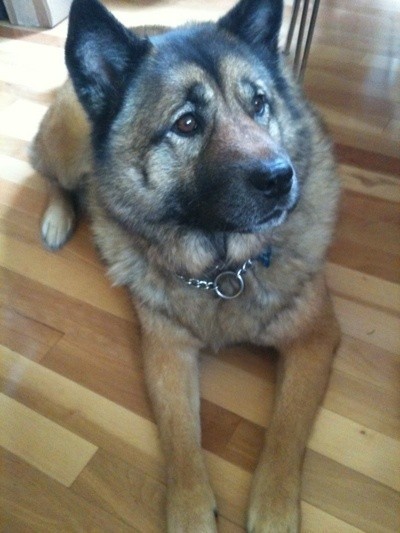 Maggie goes to the ThriftyFun office everyday along with her sidekick Rocco. This is her favorite part of the day, along with going home (or maybe it is just the car ride). Maggie is a very sweet dog. When you get a treat out she promptly does every trick she knows just hoping one of them will get her the treat!
By Stella
Here are some of the ThriftyFun Office Assistants. Billie Holiday is a long haired black diva that thinks everything in the house belongs to her. Billie is 8 years old. She likes to walk in front of my computer screen while I'm trying to get the newsletters out. She's hard to see through. Fluff, fluff, purr, purr.
Maggie is a Chow mix that was rescued from an Animal Shelter in Oregon. She had been tied to the fence outside the shelter so no one had any history about her. She had been spayed so someone did care about her at one time. The vet figured she was between one and two when we got her last July and probably had a full blood chow mom and a mixed up dad. She's a sweetie, rarely barks, has good manners and loves to follow the cats around.
Susan from ThriftyFun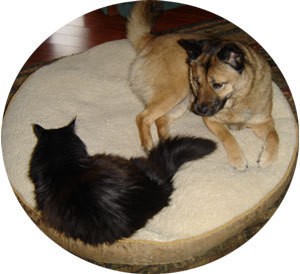 Sara is a one and a half year old dog. I'm not sure what breed she is. She looks like a chow and...? I got Sara while stopping at a yard sale in a somewhat bad area, when I got out of the car, I heard a puppy crying.
I saw a man carrying Sara, he had her little legs bent, and he had a gun over his shoulder. All I could do was ask the guy "What are you doing" (I'm like that, explains me often being in trouble but all is well.) He said "I'm gonna kill this dog, I warned her enough." All I could do was tell the man "Let me have her." He said yes and when he let the puppy go, she ran directly to me and I swear she was smiling.
Wow, was my family surprised to see this pretty little girl come up the driveway with me. At first sight they thought she looked more a bear cub than a dog.
My little boy named this dog Sara. He named her for Sara from the Bible because he didn't want Sara to ever look back. Sara blesses our family and we love her very much. Sara always welcomes us with a hug. Sara loves to love. I find it so amazing that animals give far more than they ever take.
By Maryjo from Salem, WV
Bruno is 10 years old and Loosey is 10 months old. Bruno is a Rottie/Chow mix, and Loosey is a Great Pyrenees/Burmese Mountain mix. Loosey is going to be a big girl, already 130 pounds! Both were rescues