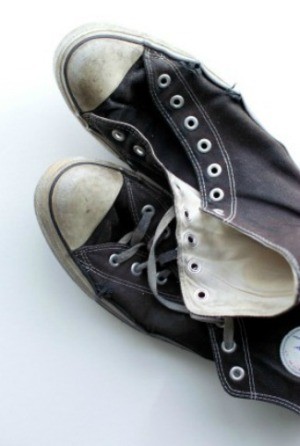 Having your canvas shoes bright and clean keeps them looking good. This guide is about cleaning canvas sneakers.
Ad
---
Solutions: Cleaning Canvas Sneakers
Read and rate the best solutions below by giving them a "thumbs up".
Clean canvas shoes with rug shampoo. Use a toothbrush to get into tight places and around trim.
By duckie-do from Cortez, CO
I can't stand having dirty sneakers. I used to use white shoe polish but it smells, takes a while to dry and can stain. I've found that using a Mr. Clean magic erase block (or similar store brand erase block) works wonderful at whitening even the oldest dingy sneakers. I tried using bleach on one shoe and the erase block on the other and I was surprised to find the shoe I used the erase block on looked much better.
By Rachel from Port Orchard, WA
A great way to clean canvas sneakers is to lay them on an old towel on top of the washer. Spray them with foamy carpet cleaner (you can get it for $1 at the dollar store) inside and out. Let them sit for a couple of hours, then throw them into the washer. Wash them in warm water with regular laundry detergent. They'll come out much whiter again.

By Momof1 from Wilkesboro, NC
Give a "thumbs up" to the solution that worked the best! Do you have a better solution? Click here to share it!
Questions
Here are questions related to Cleaning Canvas Sneakers.
How do you clean white canvas sneakers?
By Gayle from Rochester, NY
Archives
Thrifty Fun has been around so long that many of our pages have been reset several times. Archives are older versions of the page and the comments that were provided then.
Does anyone have any ideas for how I can clean a pair of beige colored canvas espadrilles? Many thanks for helping me savage these shoes I love to wear.
By mom23boys from Queens, NY
Feedback:
RE: Cleaning Canvas Shoes
Try an ''oxy" wash using a tooth brush to clean it with. Stay away from anything soapy, it will attract dirt. If they are really bad you may have to repeat it. (07/09/2009)

By tarlo
RE: Cleaning Canvas Shoes
Place them in a nylon mesh zippered bag, wash in bucket of Clear Dawn, warm, not hot, water, TINY amt. bleach, Borax, let sit overnight, after scrubbing gently the dirtiest spots with an old toothbrush. Next day, rinse 15 minutes in cool water, and drip dry in bag on outside sunny clothesline, shoe insides facing sun! Do this once every month and you'll have nice shoes! God bless. : ) (07/09/2009)

By lyndagayle62
RE: Cleaning Canvas Shoes
I have washed canvas shoes, flip flops, and terry cloth flip flop slippers in my washing machine using the delicate cycle and a mild detergent, such as Woolite. (07/11/2009)

By Maryeileen
RE: Cleaning Canvas Shoes
I keep a large old pillowcase just for the purpose of washing canvas (or synthetic) shoes, handbags, caps, soft toys, etc. just pop them in, fasten with a safety pin and wash in the washing machine on a cold wash with a gentle cycle. Sometimes I use two pillowcases full of stuff so with one cycle I wash a lot! (07/12/2009)

By cett
RE: Cleaning Canvas Shoes
I always spray all my light colored "fabric" shoes with a Scotch guard type product. You can then practically wipe them clean. I also do the same for the neck/collar of raincoats and the like. Saves in the long run. Won't help with your problem now but might help prevent happening in the future. (01/11/2010)

By banty
How do I remove a clay mud stain from my white shoes? My brother was wearing them and got them dirty. The shoes are "Rabens." I put them in the wash, but only half the mud came out. Should I try bleach?
By Taylor from NSW
Feedback:
RE: Cleaning Canvas Shoes
Try using Mr. Clean Magic Eraser for your shoes. Good luck. (07/17/2010)

By Judsy222
RE: Cleaning Canvas Shoes
I have had great results using borax and washing soda (not baking soda) in with the regular laundry soap you use when doing the laundry. You might need to soak them in the wash for awhile after adding your water and cleaning agents. It should help. Just follow the directions on the borax and washing soda boxes. Both can be found in the laundry section of your grocery store or warehouse store. (07/17/2010)

By duckie-do
I have a pair of white canvas shoes. What would be the best way to clean them in order to remove all the dirt? Would they be safe in the washing machine ?
By Beth from Buffalo
Feedback:
RE: Cleaning Canvas Shoes
I don't like putting shoes in washing machines, too scared they'll wind up mangled. I recommend getting a bucket of hot water with a mild dish soap in it and using either a nail brush or a toothbrush to scrub them. If your shoes are white and u have some stubborn spots I recommend using the Bleach Pen; it's inexpensive and it does wonders!

When you're all done actually cleaning the shoes, put some paper towels in the shoe to help keep their shape and help them dry faster and then set them out to dry! (09/04/2010)

RE: Cleaning Canvas Shoes
If you're talking about tennis shoes, I put mine in the washer all the time and have for many, many years. Never had a problem. I don't, however, put them in the dryer. I let them air dry. (09/04/2010)

By Cricketnc
RE: Cleaning Canvas Shoes
I always put my canvas shoes in the washer. I put them in with my towels so they don't bang all around. I do not put them in the dryer, air dry only. After, make sure you spray them with canvas protector. I purchase it at Payless for $5 a can and I use it on all my canvas items. Hope this helps (09/04/2010)

RE: Cleaning Canvas Shoes
When I was young people used white shoe polish on canvas shoes to keep them white. (09/04/2010)

By redhatterb