Cleaning Cookie Sheets and Bakeware
Aluminum ccookie sheets and other types of bakeware can be frustrating to clean, especially the baked on grease and cooking sprays. This is guide about cleaning cookie sheets and bakeware.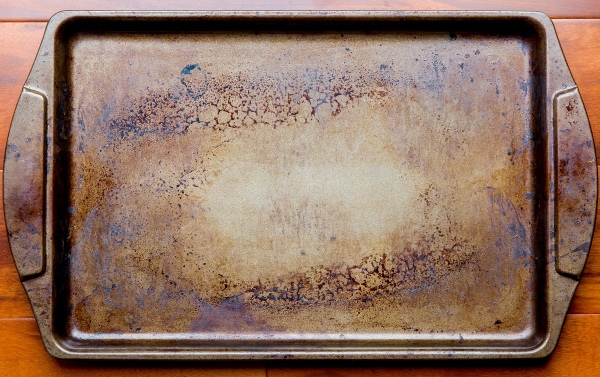 Filter

: All Articles
Sort

: Relevance
Put the old cookie sheet in the sink add a little water and add some baking soda and peroxide. Leave it soak for about 1 hour and the grime should wipe right off.
By coville123 from brockville, ontario
I have two young boys and a very busy life, I found keeping nonstick foil on my cookie sheets and storing them in the oven to be both a money and time saver. I have two cookie sheets; one large and one smaller one. I store them lined with nonstick foil at all times in the oven.
I take them out to preheat the oven and then put whatever I am cooking directly on them and this saves on time since they are always ready to go, space in my cabinets and since I can just re-use them without washing, or remove the foil if it is dirty, and then not have to wash the cookie sheet. This tip saves money and time.
By Cheryllynn from Smithsburg, MD
How do you get off cooked on grease from the new ceramic bakeware and off of Corningware bakeware? I do not use a cooking or baking spray on these, but the grease always seem to fly and bakes on the rim and the outside of the pans. I won't use the Corningware since my hubby thinks they should be spotless and I cannot get them clean!
Thanks.
By Mary from Hamilton, ON
January 30, 2011
0

found this helpful
Best Answer
Just a thought, I had the same thing happen to me and I soaked the dish in some hot water with laundry softener in it. I let it soak and after an hour, I was able to pretty much just wipe it away. I have also used Goo Gone and sometimes that works. Good luck!
January 31, 2011
0

found this helpful
Best Answer
Make a solution of powdered dishwasher detergent and hot water. Use a cup in a sink or dish pan, and soak the pan overnight. Use a nylon scrubby to remove the grease easily.
January 31, 2011
0

found this helpful
Best Answer
Soak in a sink with water and bleach several hours or overnight. I always clean my Corning Ware and Corelle dishes this way. Easy.
May 14, 2016
0

found this helpful
The nylon scrubby is key or one of those softer green Scotch Brite pads. Soaking a bit beforehand helps. My Corningware is 50 years old and looks good as new. Barkeepers Friend is a gentle scouring powder which an be helpful on these surfaces.
I have heard that you can put your cookie sheets in your self-cleaning oven with no problem and they come out as good as new. Is this really safe? My pans have a lot of black residue on them from constant use and my new oven gets really hot when it cleans. I do not want a flash fire in my oven when I clean!

Thanks for your help,
Marion from Ontario, Canada
By guest (Guest Post)
Flag
April 10, 2006
0

found this helpful
Best Answer
Try either SOS pads, which will work best, or else Comet in the powder formula. Both have worked great for me!
April 11, 2006
0

found this helpful
Best Answer
EZ Off oven cleaner
By guest (Guest Post)
Flag
December 14, 2008
0

found this helpful
Best Answer
I took the chance and cleaned mine in my self-cleaning oven. It worked way better than I hoped. It is almost entirely spotless. I didn't feel like there was anything at risk by doing this and the cookie sheet is still in great shape.
March 8, 2015
0

found this helpful
Putting all metal cookie sheets in a self cleaning oven really does work and it does nothing to the oven. The oven heats at temperatures so high that it literally turns anything to ash. That includes all the build up on the cookies sheets. It is perfectly safe and so much easier than any other method.
I just burnt my grandmother's new cookie sheets while baking cookies. How can I clean them?
By MaKenzie from Norwood, MA
April 30, 2010
0

found this helpful
Best Answer
Make a paste of 1/4 cup baking soda, 1/2 cup salt, and 1/4 cup dish soap (Dawn would be good). Scrub and scrub and it will come off.
January 8, 2011
0

found this helpful
Best Answer
Brillo doesn't rust! Leave it on the sink, in the sink, in a dish; they don't rust. The pads in the pink box next to the SOS. You can use them for days and they won't rust! I left SOS behind 40 years ago, when my mother was still "cleaning" her oven! Brillo is the best, and it doesn't disintergrate rapidly like SOS does. I don't think you get as many in a box, but who cares. A rusty SOS is an awful thing to pickup!
October 28, 2009
0

found this helpful
These are very helpful. I'll try them.
February 28, 2011
0

found this helpful
Depending on what they are made of, you could soak them in hot, soapy water for awhile, scrub them, and then put them in the dishwasher.
Do you have broiler pans or cookie sheets that have build up on them so bad that no matter how hard you scrub them it will not come off? Don't worry, my husband showed me a way to clean them where I don't even have to touch them. Do you have a oven with a self cleaning feature? Well if you do, the next time you fire that puppy up, place your broiler pan, cookie sheet or any solid metal pan in there before you start (no nonstick please) and let the oven do all the work for you.

When the oven is done, just let the pan cool and wipe with a damp cloth. There ya go, shiny as the day you bought it. It costs so much in electricity to clean your oven you might as well get more bang for your buck.

<b>Editor's Note:</b> Lightweight or non-stick pans may be damaged by high heat.
I put my old cookie sheets in the self cleaning oven to clean them. Now I have black spots all over them. What do I do to get rid of them?
Thanks.
May 24, 2015
0

found this helpful
Best Answer
In the past, I have used a paste of either Bon Ami or Barkeeper's Friend, and a bit of elbow grease, to scrub spots and baked on stains from aluminum and steel cookie sheets. Just sprinkle some of the powder on the spots, moisten with a drop or two of water, and scrub with a sponge, scrubber or whatever. It usually works.
I washed my Wilton cakepans in the dishwasher now they are discolored are they safe to use now?
By Rick
August 29, 2015
0

found this helpful
Best Answer
They are just discolored and will still work fine. I wouldn't put them in the dishwasher anymore, or any aluminum because the dishwashing detergent can not only discolor the metal, but create "pits" in the surface. You want to keep the surface smooth so they are as easy to clean and as "non-stick" as possible. But the discoloration is only a cosmetic effect.
Related
© 1997-2016 by Cumuli, Inc. All Rights Reserved. Published by
ThriftyFun
.
Page
generated on September 25, 2016 at 10:07:53 AM on 10.0.0.74 in 5 seconds. Use of this web site constitutes acceptance of ThriftyFun's
Disclaimer
and
Privacy Policy
. If you have any problems or suggestions feel free to
Contact Us
.