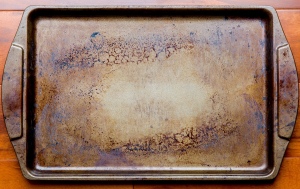 Aluminum ccookie sheets and other types of bakeware can be frustrating to clean, especially the baked on grease and cooking sprays. This is guide about cleaning cookie sheets and bakeware.
Ad
---
Product Recomendation
Where to Buy Non-Stick Silicone Baking Mats
After you get your bakeware clean, use these silicone mats to keep them clean. The non-stick material is BPA free and allows you to bake with less fats.
Solutions: Cleaning Cookie Sheets and Bakeware
Read and rate the best solutions below by giving them a "thumbs up".
Put the old cookie sheet in the sink add a little water and add some baking soda and peroxide. Leave it soak for about 1 hour and the grime should wipe right off.
By coville123 from brockville, ontario
I have two young boys and a very busy life, I found keeping nonstick foil on my cookie sheets and storing them in the oven to be both a money and time saver. I have two cookie sheets; one large and one smaller one. I store them lined with nonstick foil at all times in the oven.
I take them out to preheat the oven and then put whatever I am cooking directly on them and this saves on time since they are always ready to go, space in my cabinets and since I can just re-use them without washing, or remove the foil if it is dirty, and then not have to wash the cookie sheet. This tip saves money and time.
By Cheryllynn from Smithsburg, MD
I was making coffee cake muffins and the brown sugar dripped down into the cups. I filled the tins with water and stuck it back in the hot oven until the oven cooled. Then I took the tin out and washed with soap and water. The baked on sugar was removed with ease.
I even used the method with the bread pans. It works great when you spray them, it loosens the grease and gets rid of the greasy sticky feeling.
By Alice from West Brandywine, PA
Do you have broiler pans or cookie sheets that have build up on them so bad that no matter how hard you scrub them it will not come off? Don't worry, my husband showed me a way to clean them where I don't even have to touch them. Do you have a oven with a self cleaning feature? Well if you do, the next time you fire that puppy up, place your broiler pan, cookie sheet or any solid metal pan in there before you start (no nonstick please) and let the oven do all the work for you.

When the oven is done, just let the pan cool and wipe with a damp cloth. There ya go, shiny as the day you bought it. It costs so much in electricity to clean your oven you might as well get more bang for your buck.

<b>Editor's Note:</b> Lightweight or non-stick pans may be damaged by high heat.
Aluminum cookie sheets do much better if you just wash them in the sink. Do not put in dishwasher ever or scrub hard with a metal scrubber. After awhile, your cookie sheets will turn black and be "seasoned" like cast iron and will be practically non-stick.
By littlegamma from Southern, AL
Give a "thumbs up" to the solution that worked the best! Do you have a better solution? Click here to share it!
Questions
Here are questions related to Cleaning Cookie Sheets and Bakeware.
I have heard that you can put your cookie sheets in your self-cleaning oven with no problem and they come out as good as new. Is this really safe? My pans have a lot of black residue on them from constant use and my new oven gets really hot when it cleans. I do not want a flash fire in my oven when I clean!

Thanks for your help,
Marion from Ontario, Canada
AnswerWas this interesting? Yes No
Ad
---
---
Best Answers
By Grandma Margie (Guest Post) 04/09/20060 people found this helpful
I've never heard of that, but then I'm sure there are a lot of things I've never heard of! LOL, I'm too chicken to try it on my oven. I saved for too long to get a self-cleaning oven and I'd be sick if I messed it up!

I use soap filled steel wool pads to scrub off burned on grease most of the time. The hint someone gave about putting a used pad on a piece of aluminum foil to prevent rust has to be my all time favorite hint! It really works!

I also use a foam sanding block (fine grit) to scrub away stubborn burned spots on pizza pans and cookie sheets. They're in the paint accessory aisle next to the regular sandpaper at Wal Mart! About 25 years ago, you could buy these little squares of foam with something similar to wet/dry sandpaper attached to one side. I'd find them near the SOS pads and Scotchbrites. They've disappeared from the stores. The sanding blocks work just as well, they're just bigger! DON'T use steel wool or the sanding blocks on teflon or similar non-stick bakeware! You'll ruin the finish! I'm personally starting to phase out any teflon type cook and bake ware. I'm beginning to doubt they are absolutely safe to use.
---
By Robin (Guest Post) 04/10/20060 people found this helpful
Try either SOS pads, which will work best, or else Comet in the powder formula. Both have worked great for me!
---
By Teresa 5 28 04/11/20060 people found this helpful
EZ Off oven cleaner
---
By Aaron D. (Guest Post) 12/14/20080 people found this helpful
I took the chance and cleaned mine in my self-cleaning oven. It worked way better than I hoped. It is almost entirely spotless. I didn't feel like there was anything at risk by doing this and the cookie sheet is still in great shape.
---
How do you get off cooked on grease from the new ceramic bakeware and off of Corningware bakeware? I do not use a cooking or baking spray on these, but the grease always seem to fly and bakes on the rim and the outside of the pans.
I just burnt my grandmother's new cookie sheets while baking cookies. How can I clean them?
By MaKenzie from Norwood, MA
AnswerWas this interesting? Yes No
Ad
---
---
Best Answers
By Carly St.Clair 7 80 04/30/20100 people found this helpful
Make a paste of 1/4 cup baking soda, 1/2 cup salt, and 1/4 cup dish soap (Dawn would be good). Scrub and scrub and it will come off.
---
By Debb 1 01/08/20110 people found this helpful
Brillo doesn't rust! Leave it on the sink, in the sink, in a dish; they don't rust. The pads in the pink box next to the SOS. You can use them for days and they won't rust! I left SOS behind 40 years ago, when my mother was still "cleaning" her oven! Brillo is the best, and it doesn't disintergrate rapidly like SOS does. I don't think you get as many in a box, but who cares. A rusty SOS is an awful thing to pickup!
---
I put my old cookie sheets in the self cleaning oven to clean them. Now I have black spots all over them. What do I do to get rid of them?
Thanks.
By Tim B. [1]
AnswerWas this interesting? Yes No
---
Best Answer
By Pixiedust7 7 829 05/24/20150 people found this helpful
In the past, I have used a paste of either Bon Ami or Barkeeper's Friend, and a bit of elbow grease, to scrub spots and baked on stains from aluminum and steel cookie sheets. Just sprinkle some of the powder on the spots, moisten with a drop or two of water, and scrub with a sponge, scrubber or whatever. It usually works.
I washed my Wilton cakepans in the dishwasher now they are discolored are they safe to use now?
By Rick
AnswerWas this interesting? Yes No
---
Best Answer
By Jenny 10 08/29/20150 people found this helpful
They are just discolored and will still work fine. I wouldn't put them in the dishwasher anymore, or any aluminum because the dishwashing detergent can not only discolor the metal, but create "pits" in the surface. You want to keep the surface smooth so they are as easy to clean and as "non-stick" as possible. But the discoloration is only a cosmetic effect.
Archives
Thrifty Fun has been around so long that many of our pages have been reset several times. Archives are older versions of the page and the comments that were provided then.
Is there any product that'll clean aluminum tin cookie sheets and pie pans like Easy Off cleans stainless steel and glass? I can't stand the baked on grime anymore!
Tressa
---
RE: Cleaning Aluminum Cookie Sheets
You will never get it clean. Aluminum is not a good idea too cook on. (08/15/2005)
By Joyce wis
RE: Cleaning Aluminum Cookie Sheets
Aluminum cookie sheets are hard to clean once the fat gets baked on. Depending on how much you value your cookie sheets, there are a couple of things you can try.
If you don't care too much about them, use steel wool on them. Under running water, very, very lightly scrub the dark brown surface until it flakes away. You'll be able to get most of the guck off. If you are very persnickety about your pans, use a Mr. Clean Eraser and do the same thing. It works more slowly, but you are less likely to scratch or gouge your pans with this product. (08/15/2005)
By Katie A.
I bought new baking sheets and baked some cookies and now the cookies have left stain marks. How do I get them off?
CyndiT from Plainfield, IL
---
RE: Cleaning Cookie Sheets
I have always used soap filled steel wool pads (SOS pads). If you do a quick light cleaning with them after each baking session your pans will stay nice for years. I'm still using plain aluminum pans and baking sheets I've had (and used continuously) for 30 to 40 years and they still look great. I'd rather have the very faint scratch marks in the aluminum from cleaning with steel wool than have the burned on grease that you get otherwise.
Here's a neat tip I picked up from a ThriftyFun post: place your used, wet SOS pad on a small square of aluminum foil and it will not rust. This works great. It's probably one of the favorite pieces of information I found on this web site. Another tip, do not put aluminum articles in your dishwasher with dishwasher detergent. It will turn them dark and rough. You can however put aluminum in your dishwasher and run a rinse with "water only" to get the surface gunk off. I do this when I'm cooking for a crowd and want to get a lot of pans rinsed so food won't dry on them before I can give them a good washing. They're out of sight, out of the sink and out of my way until after the meal is served. My kitchen is small, with limited counter space so this works very well for me. (12/24/2006)
By Grandma Margie
RE: Cleaning Cookie Sheets
Even though I have cookie sheets I prefer to buy wax paper and just line my cookie sheets; which cuts down on my clean up time and preserves my somewhat ungodly looking cookie sheet. Once you start cleaning your cookie sheet with any abrasive it looses its luster. (12/24/2006)
By Ms. Tamie
RE: Cleaning Cookie Sheets
Spray the warm sheets with oven cleaner, and place them back inside the oven as it cools. Then remove them and the crud should scrub off pretty easily. (12/25/2006)
By Linda
RE: Cleaning Cookie Sheets
There is a product on the market called "Dawn Power Dissolver". It is made by Proctor and Gamble. We use it in the elementary school kitchen to remove the burned on buildup of grease on all the baking sheets we use. I have used it at home as well, on my aluminum pots and pans. I found it in my local grocery store. It works great. (12/26/2006)
By Granny Sandy
RE: Cleaning Cookie Sheets
Sometimes vinegar will do the trick or the Magic Eraser. (01/05/2007)
By kimmcg
RE: Cleaning Cookie Sheets
I just ordered a product called Magic Sheets, it removed all the oil and grease from my new cookie sheets. it is all organic. I also had baked chicken and I didn't need to soak the pan for hours, it is great. You can find them at
magicproductsllc.com
. (01/27/2008)
By Kathy
RE: Cleaning Cookie Sheets
Not a cleaning solution, but a way to continue to use your cookie sheets that have baked on goo. Purchase one or more Silpats. They are marvelous. Buy one each month as they run around $20. They come in several sizes so price will go up, but they are worth every penny. Never grease another cookie sheet, ever. You can even buy one for your toaster oven. And a great way to prevent grease buildup on new cookie sheets. (05/10/2008)
By mozark
RE: Cleaning Cookie Sheets
Barkeeper's Friend (from Wal-Mart) is the best I've found for stuff like this. I use it all the time and love it. (01/21/2009)
By Abigail