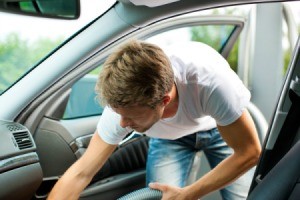 Fuel odors can be difficult to remove from the inside of your car. This is a guide about cleaning diesel fuel odors from inside a car.
Ad
---
Questions
Here are questions related to Cleaning Diesel Fuel Odors From Inside a Car.
My husband brought diesel home from the garage in a can and it spilt in the car. The result is the back seat is saturated and the car is absolutely stinking. Does anyone have any advice on how to get rid of odour and stain?

McConville
AnswerWas this interesting? Yes No
Ad
---
---
Most Recent Answer
By Sailor Al (Guest Post) 08/22/2006 Flag
I've heard that mothballs will neutralize (or mask?) the diesel smell. I've put mothballs in the bilge of my boat where there is always a little diesel fuel leakage and it does seem to help. But if I was in your situation, I would definitely get rid of the seat.
---
We recently left for 6 weeks and put the car in the garage. Unfortunately, it picked up a strong odor of diesel (the lawn mower was in there as well). The car has leather upholstery and it seemed to absorb the odor. So far the only thing that helps is leaving the windows down overnight, but it is cold and we get lots of storms this time of year. The odor comes back after the car is closed up. I am quite sensitive to this odor and do not want to have to get rid of the car! Please help.
By Mary R
AnswerWas this interesting? Yes No
Ad
---
---
Most Recent Answer
By Frugal Sunnie 11 1,677 12/19/2011 Flag
You can try a couple of things:

*small shallow bowls of straight vinegar set on the floorboards overnight (maybe for a few days if needed)

*cat litter (the absorbent kind) about three inches deep in a shoe box, again left overnight or even for a few days

I think, too, that there is a deodoriser wipe for leather, look in the car care section of a big-box store, or in an auto supply store.

Good luck, I hope if the thoughts I have don't work that you find something soon that will!
Solutions: Cleaning Diesel Fuel Odors From Inside a Car
Do you have knowledge about this guide topic? Feel free to share a solution!