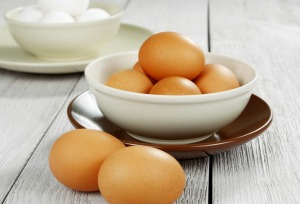 Commercial eggs are cleaned in the processing plants. However, if you buy farm fresh eggs you may be wondering how best to clean them. This is a guide about cleaning farm fresh eggs.
Solutions
Share a solution for this guide today!
Questions
Here are questions related to Cleaning Farm Fresh Eggs.
How do you clean farm fresh eggs?
By Kaydee from Mandan, ND
---
Most Recent Answer

By robinfrenchies12/05/2010
I have a very good book that is a guide in egg safety, what it states and I use it myself is because the bloom is washed off once you wash the egg you need to replace it. Discard any eggs that are truly spoiled or truly dirty, dipping the egg for 30 seconds in a solution with 1 teaspoon of bleach to 1 quart of water heated to 101*f, wipe the egg dry with a paper towel or clean rag and then rubbing the egg with vegetable oil before refrigerating prolongs shelf life. I hope this helps.