Cleaning Foggy or Hazy Headlights
Headlight covers over time can become yellowed or hazy. This is a guide about cleaning foggy or hazy headlights.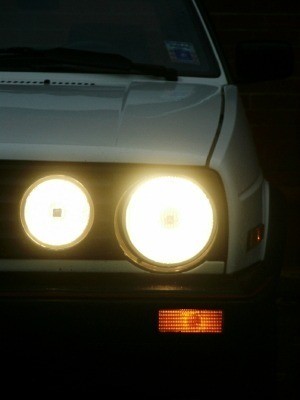 Filter

: All Articles
Sort

: Relevance
Someone was just asking about a remedy for yellowed dingy headlights so I thought I would share with everyone what ended up working for me. My car headlights were horribly yellowed after 12 years of ignoring them. I could barely even see when driving at night because that's how bad they were!
Headlight lens restoration kits are $20.00 or more and contain enough supplies for a one time only use. For about the same price you can purchase the items in larger quantity separately and will then have enough supplies leftover for future restorations, and even to use on other projects, plus you might already have some or all of the items needed already on hand to do the job.
Just follow these steps:
Wash the lenses very well with soapy water, rinse and wipe dry.
Dip a corner of a rag in denatured alcohol (you can purchase it at paint stores and most hardware stores), rub it on the lens in a circular motion, repeat if necessary, until the lens loses at least the majority of the yellow coloration and then rinse.
Quick soak a piece of 800 grit wet sandpaper in water, then sand the lens using small, circular motions until all yellowing is removed, then repeat using quick soaked 1,000 grit sandpaper and then again with quick soaked 2,000 grit sandpaper until lenses are smooth.
It is a must to apply a coat of car wax afterwards to protect the lenses! Rub the wax on in a circular motion with a clean rag and then buff out after a couple of minutes.
By Deeli from Richland, WA
Recently I noticed the headlights on both my car and especially my son's car were quite hazy, thus reducing visibility at night. I purchased a cleaning kit at the automotive store, (not cheap,) which involved several steps, but didn't notice much difference in clarity of the headlights on either car.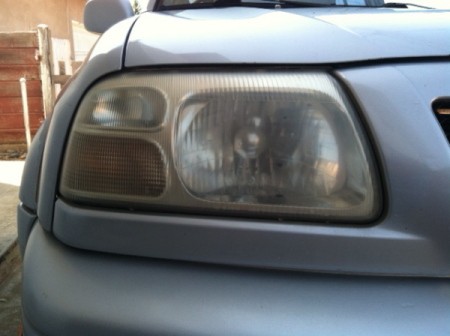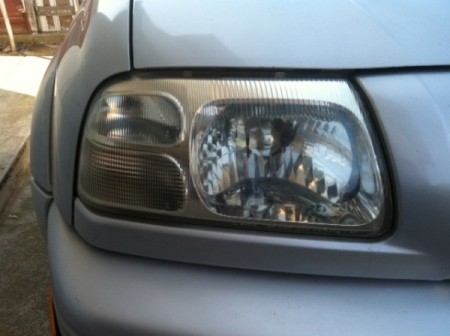 Two weeks ago, I was washing the cars and decided to use one of those white scrubber sponges you see advertised on TV. (Not mentioning any names, as the generic type work just as well, and are a good deal cheaper.) It looks like a little brick, and cleans just about anything. I had used one to remove tar and bug residue from my car exterior before, so thought I might give it a try on the headlights while I was at it. What a great idea! It did a wonderful job on the headlights of both cars, and took just a few minutes. My car was parked in the shade, so these pictures don't do justice to the before and after difference, but trust me, the small investment you make will be well worth it!
By Donna from San Diego, CA
Does anyone have a DIY solution to cleaning the dirt and yellow off headlight covers on cars? Mine are just so bad!
By Mary P
April 13, 2015
0

found this helpful
You could try coating it with hand sanitizer on a rag, let it sit for 10 minutes, and then rub off. Try a corner first, and if it works, do all the lights.
April 9, 2016
0

found this helpful
This is a two step process and its about as easy and cost saving as it can get. I started out with Turtle wax polishing compound (around 5.00 at walmart) ..Not the dark red rubbing compound, This is the white polishing compound which is still plenty enough abrasive to remove the oxidation and Yellow haze. Depending on the condition of the headlights, It may take awhile to to remove all of the funk. I used a soft cotton wash cloth to apply the polish and to polish the lens. Dip the cloth into the compound and apply in a circular motion. Fold the cloth so that you can cover as much surface as possible. Use enough so that it doesn't dry out while you're polishing the lense. after your finished, The lens will have a clear clean shine and you could just go with it at this point. But i took it a step further and used Meguires PasteX Plastic polish (arounf $7-8 at walmart. . I polished it with the PlasticX 5-7 times......... lightly rubbing the polish on the surface in circular strokes buffing it out with a soft dry cloth each time. By the time i was finished the lens literally looked like it did the day it was on the showroom floor! Brilliant shiny and super clear!. This is about as easy as i have seen it done. It will take some work. Remember that you are polishing with an abrasive and a mild solvent. So if you keep polishing any painted areas you can actually remove the paint. Just be mindful! I actually removed the lens from the vehicle. Not everyone can do that. If nothing else, tape the adjacent painted surfaces off to protect them. Or..just pay someone to do it. I recently saw where Maaco had it on their toke board at $40-50 per headlight. Good luck.
Could a Brillo pad be used to remove the film and oxidation that is on the headlight lenses? I have used the toothpaste method and the baking soda method and neither helped.
By Gary
August 19, 2011
0

found this helpful
If is on the inside why have companies made a product to restore the outside of the lens and not the inside of the lens.
March 30, 2016
0

found this helpful
I got so frustrated that I tried a brillo pad, now I have dingy and scratched headlights!
Could a Brillo pad be used to remove the film and oxidation that is on the lens? Also, I would not use much pressure, but the cloudiness seems to remain. I have used the toothpaste method and the baking soda method and neither helped. Thanks if you could answer this question.
By Gary
September 15, 2011
0

found this helpful
The cloudiness is caused by sun damage to the outer surface of the plastic lens which has to be removed. You could use 2000 grit, wet and dry paper auto cutting compound or auto cutting polish, and a bit of elbow grease will bring them up like new.
April 16, 2016
0

found this helpful
Try using the toothpaste with a small buffing wheel made to use with a drill gun. Use a 2000 or higher grit buffer pad and when finished use car wax solution to help keep the cloudiness from returning so quickly. You may have to use this process more than once to see better results. That's why I did and I am very pleased with the outcome shod cost around 10 dollars.
How you do remedy the dingy yellow film on vehicle headlight lens?
By Suzyn
October 25, 2012
0

found this helpful
I didn't want to pay the $20 or more dollars for the restoration kit and just put up with it for months on end. Then one day my friend and I were discussing the issue and she said that she read a tip on another site that said to use 'Soft Scrub' bathroom cleaner. I had some under my sink and thought "what the heck, it can't hurt." I used it and it made a tremendous difference! It didn't remove all of the yellow, but I can now see at night again! Maybe if you do it once a month or so, it might take all the yellow out eventually, but I'm happy with what it did to my lenses.
October 25, 2012
0

found this helpful
Clean a clouded headlight lens with toothpaste. Use a soft cloth.
If your automotive headlights get yellow or dirty, try to clean them with some rubbing compound. Just make a past and rub it into the headlight plastic covers and then wipe off. They will come clear like new.
Read More...
How do I clean automobile headlights? Mine are really stained. I know they have the kits, and the pros, thanks!
By Bella B from Houston, TX
February 5, 2012
0

found this helpful
The cloudy headlight is caused by oxidation and uv rays from the sun and a few other factors. Pam is not going to remove any oxidation. The best way is by abrasives that remove the oxidation and then polish. Oxidation of the lens is similar to oxidation of metal only that is called rust and Pam is not going to remove rust. It has to be abraded.
February 5, 2012
0

found this helpful
I have read about cleaning them with brake fluid. Have not tried it but I will try it first when need to. Good Luck.
What is the best and easiest way to clean the headlights on your car?
By GG
February 18, 2014
0

found this helpful
I haven't tried this myself, but read that a dull or dirty headlight/tail light can be cleaned with toothpaste. Slightly dampen a cleaning cloth (an old T-shirt will do!) Squeeze a small amount of toothpaste onto the cloth, and rub over the surface of the lens. Use a 2nd cloth to rinse the paste from the light lens. Wipe the light lens with a cloth or paper towel, or let air dry.
March 9, 2014
0

found this helpful
My husband and I, cleaned the headlights on my car just last week, using the toothpaste idea. Just keep in mind that it must be a toothpaste that contains a whitener. Worked great and my car is almost 8 years old!
Related
© 1997-2016 by Cumuli, Inc. All Rights Reserved. Published by
ThriftyFun
.
Page
generated on September 26, 2016 at 5:31:44 AM on 10.0.0.252 in 4 seconds. Use of this web site constitutes acceptance of ThriftyFun's
Disclaimer
and
Privacy Policy
. If you have any problems or suggestions feel free to
Contact Us
.