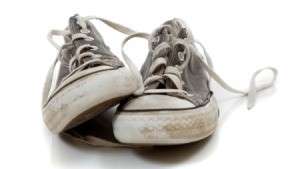 Shoes that have gotten wet or been in storage for a period of time may develop a musty odor. This is a guide about cleaning musty odors from shoes.
Ad
---
Questions
Here are questions related to Cleaning Musty Odors From Shoes.
HELP! I have just been given some faux fur lined suede boots by a friend. They are so lovely, but they have been in a cupboard that was a bit damp. It is not causing any problems to the actual boots, except they smell a bit musty. Has anyone any solution to how to make them smell a bit fresher please? Many thanks.

Monique from Somerset, UK
Ad
---
---
Most Recent Answer

By Mary (Guest Post)04/06/2008
Is musty the same as mildew? I know that mildew odors can be dissipated by using vinegar. If the boots are clean, then just set a sponge soaked in vinegar, and wrung out, under the boots and put the sponge and boots in a plastic bag and tightly close for a few days.
I have shoes and a bag that were in a box in my cellar. It was in a cedar box (I thought). How do I get rid of the odor from the cellar? I am hoping there aren't any bugs. Thank you.
Victoria
By Victoria from Fairview, NJ
Ad
---
---
Most Recent Answer

10/21/2009
Fill them with scrunched up newspaper and let them sit that way for a day or two. The carbon from the newspaper print usually gets rid of all odors and moisture too!
My sneakers got rain soaked and now have a musty smell. It is still there even after washing and drying. How can I get rid of the smell?
By G.B.
Solutions: Cleaning Musty Odors From Shoes
Do you have knowledge about this guide topic? Feel free to share a solution!