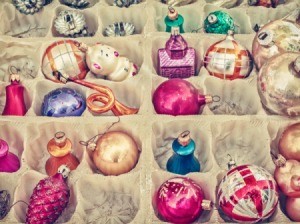 Did Megan from Sussex, New Brunswick, Canada ever try any of the cleaning suggestions to get rid of the musky odor on the Christmas bulbs she bought? We just bought similar types of Styrofoam, push pin bulbs with fabric coverings.
Like Megan's bulbs, ours are musky smelling. They are beautiful and we want to save them and are curious what was the best method she found to correct this problem.
Thanks
By Nels Andersen from Arlington, VA
Answers

April 12, 2011
0

found this helpful
Best Answer
Have you tried using ordinary charcoal briquettes, no additives to it, just plain charcoal, and put them and your ornaments. In a container and let it set for a few days. I know that charcoal is good for removing tough odors and my husband even used them when there was a death in the housing authority and the man had been gone for a week and when they found him it was terrible, but my husband set out the charcoal throughout the house and couple days later, the odor was gone. The housing authority was going to hire a professional to go in and get rid of the odor, but my husband told them what to get and it worked. Hope this helps.

April 12, 2011
0

found this helpful
Best Answer
The "Charcoal treatment' is probably a good idea, because many times these lights are manufactured in China and stores there.They have no health standards and the warehouses are really unsanitary and smell terrible. I own a flower shop and all of the Christmas decor that we import usually has this problem.
Try the charcoal, or do as we do, and store your Christmas decor with bags of potpourri, which you can purchase after the holiday on sale. When you unpack the decor next season it will "smell like Christmas" and the bugs and mice will not bother it while it is in storage. I wish you the best with your light issues. the plastic cords and sockets absorb the odors and it is hard sometimes to get rid of the smell.
Answer

this Question

How do I get rid of the smell from my garland and other indoor decorations that have been stored in a large plastic bag?
Answers

attosa
Diamond Post Medal for All Time! 1,246 Posts
October 13, 2019
0

found this helpful
You can use 1 part white vinegar 2 parts water in a spray bottle, spray and let them sit out. Usually works great for musty odors.

Judy
Gold Post Medal for All Time! 677 Posts
October 13, 2019
0

found this helpful
Use Nok-Out, a highly rated odor remover available on Amazon

poehere
Bronze Post Medal for All Time! 105 Posts
October 14, 2019
0

found this helpful
What we do here for odors like this is put the items out in the sun and let them air out and get plenty of sun. I know some people say to spray them with sprays but with garland this can destroy it and cause it to run or make a funny color. I would start off with the sun and let nature get rid of the odors naturally before I put any product on them at all.
If this does not work you may need to use some vinegar and water in a spray bottle and lightly spray them to get rid of the odor then put them in the sun to dry.
November 27, 2019
0

found this helpful
We live in the north where the temp is well below 0 if I put the tree outside it will freeze with the vinegar solution
Answer

this Question