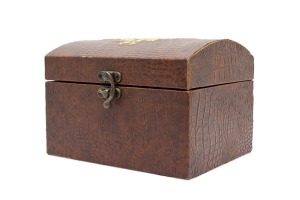 My wooden cupboard with dividers for trays and cookie sheets smells bad. It is a combination of rancid odor and mustiness. The odor has permeated the wooden serving trays.
So far I have used soapy water and Lysol inside of the cabinet. We washed the wooden trays and set them out in the sunshine. We are considering rubbing them with fresh lemon juice to remove odor.
What would you suggest?
By John F. Meinel from Phoenix, AZ
Answers

April 1, 2010
0

found this helpful
Best Answer
Spray them with pine oil and water. Mix 1/4 cup in a spray bottle with water (Windex) or get one from Dollar store for a dollar. I use it all the time in kitchen, good luck.

Lilac
Silver Feedback Medal for All Time! 450 Feedbacks
April 3, 2010
0

found this helpful
Best Answer
The lemon juice won't hurt but I suggest spraying a test spot with Easy Off oven cleaner. Wait a few minutes and if you see a cleaner spot when you wipe it off you will know that your wood has absorbed grease from your years of cooking.

April 3, 2010
0

found this helpful
Best Answer
I would try white vinegar and water solution, perhaps mix in a few drops of dish soap. Give it a good cleaning. Then I would place white vinegar in a bowl or if the drawers are small a votive holder and leave it in overnight.
(Close up the drawers when you do this.)

July 14, 2010
2

found this helpful
Best Answer
You might want to try this. Go to your nearest pet store and buy a package of activated charcoal (used in aquariums). Place an opened package in your cupboard overnight or longer, with the doors closed. The charcoal should absorb the odors.
Answer

this Question
I bought a cabinet, that is old, for my bathroom and there is a musty odor inside. I have tried baking soda and vinegar and it didn't work. Please help.
Robinson in NC
Answers
By Terry R (Guest Post)
June 23, 2004
0

found this helpful
Best Answer
I have had luck with charcoal briquets in the back corners of a musty shelf, DO NOT use the self lighting charcoal
By Anya - guest (Guest Post)
October 1, 2004
0

found this helpful
Best Answer
I have a great old wooden hutch/cabinet that was musty. I tried baking soda in a pan, then a baking soda/water paste scrub, then ground coffee and nothing worked.
THEN, AHA! I sprayed the entire inside surface with cedar oil and no more musty smell! The cedar smell faded but the musty odor did NOT come back.
By Carol (Guest Post)
April 17, 2006
0

found this helpful
Best Answer
I found that if you put a container of Damp-Rid in your cabinet and empty often, then refill as needed with the granules, it will take out the musty smell. Try putting a clean cloth with vanilla (real extract) and it should also help. Also there is a carpet/freshener that is a powder vanilla scent that works great on carpet, could sprinkle that inside, it is made by Glade Carpet & Room deodorizer.
Answer

this Question

I am not 100% sure, but I think the cabinet is made from cedar. I need to get rid of the smell, but don't want to damage the wood.
It was made by my late father-in-law, but I can't use it for much because the smell is too much.
Answers

poehere
Bronze Post Medal for All Time! 105 Posts
January 27, 2020
0

found this helpful
Best Answer
In a lot of cases you can mix 1/2 vinegar with 1/2 water and start to wash the wood in the cabinet. When it is still a bit wet sprinkle some baking soda on this and rub it in really good.
Allow this to sit to absorb the order in the cabinet. You can wipe out the remains of the baking soda with a clean cloth.

Ana
Bronze Post Medal for All Time! 140 Posts
January 27, 2020
0

found this helpful
Best Answer
First give it a good cleaning with mild soap and water. Wipe down with vinegar or sit a bowl of vinegar in each section for 1 to 2 days to absorb smell!
Answer

this Question

I am going to a little place in the country (nothing fancy, so no point in talking to the management) for a much-needed, once-a-year holiday at the end of this week. The only bedroom furniture is a very old, wooden (maybe pine, not sure) dresser. The drawers are always terribly musty-smelling; it's suffocating!
I always end up having to leave them ajar, trying to air them out (it doesn't work!), and I hate putting my clothes in there. Please help! Does anyone know how to definitely get those drawers un-mustified so I can actually use them, this year? Thanks very much in advance.
By Anna
Answers
Why bother with the odor that you will not be able to eliminate in a short visit? Put some dryer sheets in the drawers and forget about using them, and at the very least, you won't have to smell the musty odor. Bring along some cord, rope, or even better, bungee cords and "S"-hooks to create a make-shift closet where you can hang your clothing. Not great for entertaining guests but hopefully you'll not have to do that while on retreat.
Have a nice trip!

(Guest)
Gold Post Medal for All Time! 846 Posts
August 4, 2011
0

found this helpful
I am with Pinksa and any clothing you don't need to hang up just keep them in your luggage. Why not just make life simple and enjoy your holiday instead of worrying about things that, in the whole scheme of things, really don't matter.
Am not trying to be mean but perhaps next year you should find a different place to stay where the drawer odors will not bother you.

Elaine
Bronze Post Medal for All Time! 172 Posts
August 4, 2011
0

found this helpful
Charcoal helps with this but I think it takes a while to work.

August 4, 2011
1

found this helpful
Bring along some of those products used for cancer patients to remove odors and spray drawers so room smells OK, but keep your clothes in your suitcase, just ask for a suitcase stand or set up on top of dresser. If I'm on retreat the look of the room is not the most important thing on my list. just "vegging" out. Oh yes, be sure to open the windows wide to air out the room, too. Fresh air does wonders for the soul, too.

August 4, 2011
0

found this helpful
What if, weather permiting, you set the drawers outside to air out for the night when you first get there, then sprinkle them with your favorite powder, or use a dryer sheet like Pinska suggested.

August 4, 2011
0

found this helpful
Charcoal, dryer sheets, baking soda, and good old free sunlight work. But like the other poster, just don't put your clothes in there. Best of luck to you on your trip!

August 7, 2011
0

found this helpful
I like to buy decorative lavendar soap at stores like Marshalls or Ross and put these in my drawers to make them smell nice. You could also try febreeze in the drawers and let them dry for a few hours before putting your clothes in them. Febreeze in good for carpets, upholstery and bedding you could probably use it just fine in a dresser drawer too.
Answer

this Question