Alcohol is an inexpensive alternative to commercial cleaners for many household cleaning jobs. This is a guide about cleaning with alcohol.
I bought a large mirror at the Goodwill several months ago. No matter what I tried to clean it with, it still had streaks and spots that would not come off. Several family members tried to clean it for me, but nothing worked. I thought I was going to have to replace it but then I remembered a old fashioned way to clean mirrors from years ago.
Just put some rubbing alcohol on a paper towel or soft cloth and rub on mirror. It will be clean and spot free with little rubbing. You can also clean your mirrors in the bathrooms and the faucets. It eliminates germs on many surfaces and cleans them for little cost. You can clean your phone, counter-tops, and many other things. You can get a bottle for less than a dollar. Try it, it really works!
By dwedenoja from New Creek, WV
I have a two fold tip here. The first is that you can almost always get rid of those annoying skips on your DVDs by gently using eyeglass cleanser and a 100% cotton cleansing cloth. The second is a homemade eyeglass cleanser recipe that will save you oodles of money, since you won't have to pay extra for store bought cleanser again.
You can use any small spray bottle or bottle that you can dispense drops from but make sure it's clean and dry first! All you have to do is mix 3 parts isopropyl alcohol with 1 part water and, voila!, there is your safe and inexpensive DVD scratch remover and eyeglass cleanser in one.
By Deeli from Richland, WA
Instead of spending money on high priced cleaners, to clean stainless steel appliances. Use plan old alcohol.

By mccallabetty
By Pat 1
I use rubbing alcohol for all kinds of cleaning jobs, full strength or diluted (I prefer full strength.)

For most cleaning jobs I keep it in a trigger spray bottle. I use it for cleaning glass and mirrors - it evaporates too NO STREAKS! It is the only thing I've found that will clean the hairspray build-up off the bathroom counters and the wall (won't hurt the wall paper either). Use it to clean and shine appliances, etc.

In the winter it works well to melt the frost on the windshield when your in a hurry! (I even add some to the wiper fluid tank in the car) - won't hurt the paint either.

I shine my stainless steel sinks with it and hundreds of other things too. Diluted with a squirt of dish soap and water it can be used to mop the floors - nicest of all it kills those nasty germs and it's not expensive!

By Pat K from Athens, AL
Rubbing alcohol (70% isopropyl alcohol) is very inexpensive to use. In our market you get two 16 ounce bottles for $.99. I use rubbing alcohol to clean up in the kitchen. It makes stainless steel shine and gives it a nice fresh smell. It is good for quick cleanup and works well when added to soap and water to clean floors.

It is wonderful to refresh a sponge or dishrag. Place the sponge or rag in a small bowl and pour alcohol over it. Let sit for 5-10 minutes and they will be clean and sweet smelling again.

The same method can be used to refresh string mops. Place damp mop in a bucket and pour alcohol over to nearly cover. Let stand for 5-10 minutes, wring out and dry. For complete cleaning, wash rag mop in washing machine and dry. Spray with alcohol before using again.

By June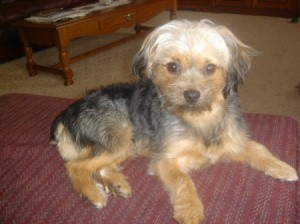 I have two small dogs. I have been cleaning urine spots on my carpet with a solution of 1 part rubbing alcohol and 2 parts water. It works so well. My dogs are always sniffing the floor. Will this have an effect on them if they inhale it all the time?
By BJO
---
Most Recent Answer
December 5, 2012
The alcohol can't be good for the dogs. I always use a solution of vinegar & water. It cleans well and gets rid of the smell completely.
---
I've seen a lot of tips about cleaning items with hand sanitizer. The thrifty alternative is plain old rubbing alcohol. The main (active) ingredient in hand sanitizer is alcohol. If you're using it on food preparation areas, just be sure to rinse afterward. It may not smell as good, but the smell dissipates quickly.
By Terri from Du Quoin, IL
Isopropyl Alcohol, also known as rubbing alcohol, is effective in many cleaning projects. Put it in a small spray bottle and it works well for cleaning and shining chrome faucets. It also can be helpful when trying to remove ink stains from fabric and upholstery. Always pretest the alcohol in an inconspicuous spot before using on a stain. Isopropyl Alcohol can be purchased in the grocery store or the drug store. It's usually in the first aid aisle. Look for sales and save.
By Irishwitch 390 18
About a year ago a Capri Sun got put on in my brand new recliner. I tried everything to remove the stain. My daughter told me to put equal amounts of water and rubbing alcohol in a spray bottle, spray it on the stain, scrub it, and let it dry. The stain is almost gone now!
This is a tip on cleaning fiberglass tubs. I found that pouring alcohol (plain alcohol or Japanese Saki works well) straight on stained areas of your fiberglass tub will make cleaning easier. The dirt and soap scums drips right off!
By Junray from Empire, CA
I have used rubbing alcohol to clean ink in my dryer. When will the dryer be able to be used as this stuff is flammable?

Denise from Vancouver, B.C.
---
Most Recent Answer
Can I use rubbing alcohol on a fabric sofa and how do I do it? Thank you.
By Leone S. from Stoke on Trent
Hairspray on eyeglass lenses is a tough one to remove. Take a rubbing alcohol pad (or a little on a cotton ball from the bottle) and rub over the lenses til they feel smooth again. Rinse well under running water and use a little Dawn detergent (this does not harm any anti-reflective coatings or scratch cote you may have on your lenses) as you do not want to place the glasses back on with the rubbing alcohol on them. Effectively drying your lenses with a microfiber CLEAN cloth with make them shine. Be sure and launder the cloths by hand with Joy or Dawn every so often as they get dirty and then, eventually, you're wiping dirt back ON your glasses.

Source: A/R Council recommends JOY or Dawn (not the anti-bacterial types) for effectively cleaning glasses with this type of night driving Anti-Reflective coating.
<div align="right">
</div>
Rubbing alcohol not only makes an amazingly simple cleaner, but it kills nasty germs around your house in the process. Rubbing alcohol is not just for medicinal purposes anymore; it can be used in all sorts of practical and cleaning applications around the home. Much cheaper than other cleaners (most drug stores and discount stores carry 16 ounce bottles of 70% rubbing alcohol for under $1), rubbing alcohol works just as well.
Use rubbing alcohol to:
Clean your dry erase boards with a cloth or paper towel dampened with rubbing alcohol. The alcohol removes the buildup from stubborn dry-erase markers.

Use alcohol to clean grimy phones, switch plates and doorknobs. Not only will the alcohol remove the oily dirt and dust, but it will also kill germs on these frequently handled areas.

Do dust and dirt collect on your tabletops? Wipe them down with a cloth saturated with rubbing alcohol to uncover a great shine. (Alcohol may not be suitable as a cleaner for all tabletop finishes, so be sure to do a spot test first!)

Need to keep an ice pack on hand for those sudden emergencies? Build your own inexpensive model by filling a freezer bag with one part alcohol and two parts water. Label it well, and pop it in the freezer. The rubbing alcohol will keep the water from freezing into an unmanageable block. When needed, the ice pack will have a moldable slushy form, which is perfect for forming around skinned knees and elbows and the odd-sized lump left behind after an unfortunate tumble.

Have any dusty decorative candles stored away? Before lighting, wipe the dust away with a cloth dampened with rubbing alcohol. The alcohol removes the dust without ruining the wick, as water often does. Be sure to let the alcohol evaporate completely before lighting the candles!

Use rubbing alcohol on a soft cloth to remove grime from household fixtures.. The alcohol will leave behind a nice shine.

Remove fresh ink stains by blotting with rubbing alcohol. This procedure also often works to remove permanent marker stains on carpet.

Rubbing alcohol makes a terrific, streak-free window and glass cleaner. Just dampen a cloth with a 50% mixture of water and alcohol and wipe glass clean.
Do remember that, although rubbing alcohol makes a fabulous, inexpensive cleaner, it is considered extremely flammable. To avoid any potential problems, make sure that you store rubbing alcohol in a cool, dry place away from anything that emits heat and/or sparks.
From my friend Deeli,
By Great Granny Vi from Moorpark, CA
Feedback:
Cleaning with Rubbing Alcohol
Shine your kitchen in a minute with rubbing alcohol! It removes grease easily, cleans sliding doors, mirrors, appliances, counter tops, canisters, and toasters. No harsh chemicals, no gloves, cheap, and it disinfects.
(03/16/2006)
By ELAYNE

Editor's Note: Although you can use rubbing alcohol without gloves, it might dry your hands.
RE: Cleaning with Rubbing Alcohol
Use rubbing alcohol for deodorant. Just put in a spray bottle, spray some in your hand and wipe. Dr A Weil says don't use deodorants, use alcohol. I spray the outside of my toilet and floor with alcohol then just wipe up with a paper towel. Use alcohol for a hand sanitizer...just spray some in you hand and rub your hands together. (03/16/2006)

By suzq
RE: Cleaning with Rubbing Alcohol
Excellent tips. I should have known all this but somehow didn't. Thanks for the info. (03/18/2006)

By patsAZ
RE: Cleaning with Rubbing Alcohol
Alcohol is also great to keep in your purse when you have to go to the grocery store, ride the bus, or whatever. Great way to sanitize. Carla (11/05/2009)

By nunley10