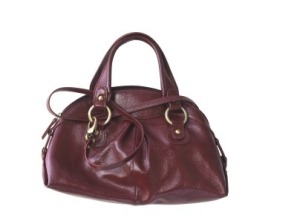 Using the proper cleaning method can leave your leather bag looking nearly new. This guide is about cleaning a leather purse.
Ad
---
Questions
Here are questions related to Cleaning a Leather Purse.
I have a Tignanello light brown purse that is genuine leather. How do you clean ball point pen marks off?

Catherine from Eugene, OR
Ad
---
---
Most Recent Answer

02/08/2010
If you want the purse to be worth something don't do anything to it. Trust me I had an old lamp my great grandmother got for her 16th birthday party. Me living across the road from an antique dealer went and showed him how I got it all cleaned up and ready for sale. He said you can't sell that now. The dirty looking old made it be an antique. So please be careful and see an antique dealer first. Good luck. Let me know how you make out. Thanks Linda (hercybaby AT yahoo.com)
How do you clean a leather purse?
By MaryEllen
Ad
---
---
Most Recent Answer

By gbk [45]10/22/2012
My ex husband made leather work and purses and I rode horses. Yes, you guessed it, I use saddle soap. It cleans softens and conditions all in one and you won't have to buy it more than once a year or two using it on purses. Even if it isn't pure leather but split leather, it will work. Remember if it is a light color, it will darken a little because of the oil needed to soften.
My niece gave me a real leather bag which I use heavily. It now has an ashy grey look. I tried cleaning it with alcohol and methylated spirits. However when it dries the bag looks worse. How do I get back the color?
By Jo from Bridgetown, Barbados
---
Most Recent Answer

By janghaj07/08/2013
Ever tried saddle soap?
I recently purchased a leather antique purse and wallet; I would like to clean and protect them. Any advice would be greatly appreciated. Thank you.
By Laurie57 from Sunbury, PA
---
Most Recent Answer

10/08/2009
Don't do it. I use to have a lot of antiques. I tried to clean this one lamp as it looked horrible the way it was. I took it to a dealer and he told me never ever clean antiques. It is worth nothing when it is cleaned. The dirty look gives it the antique look. He also told me that if I had to clean something to use orange cleaner. I would try that on your purse but that is it.
How can I clean a leather purse?
By ourkar
---
Most Recent Answer

By Kay [22]09/29/2009
A good thing for cleaning leather is Saddle Soap. It is usually found where the shoe polish is in stores.
I have an aqua colored leather Coach bag. Is there a way to remove the black scuff marks from the bottom? Also how can I clean some light wearing on the handles?
By Laura
I have an orange leather purse and a black leather purse faded on it. Is there anything that will take this out?
By JA
I need help removing a henna stain from my Cole Haan purse.
By F I
Solutions: Cleaning a Leather Purse
Do you have knowledge about this guide topic? Feel free to share a solution!
Archives
Thrifty Fun has been around so long that many of our pages have been reset several times. Archives are older versions of the page and the feedback that was provided then.
I have several very expensive handbags and the leather is dull and dirty. How can I clean these leather purses and restore the shine. They were too expensive to throw away. I am ashamed to carry these purses because of the condition they are in.
Thank you,
Coni
---
RE: Cleaning a Leather Purse
I know that cornmeal and a brush will clean suede. Just apply dry and crush softly in . Let it set and brush out(quote)(/quote) (07/05/2005)
By mitzi
RE: Cleaning a Leather Purse
If it is a shiny or semi shiny leather - use Alberto VO5. Rub all over and buff it dry with paper towels or a soft cloth. It does a lovely job. I touch up my leather shoes with it as well. (07/05/2005)
By Annie
RE: Cleaning a Leather Purse
What about Son-of-A-Gun that is used in cleaning leather upholstery in a car! I have tried it on other leather items and it works very well. Happy cleaning! (07/05/2005)
By Connie.
RE: Cleaning a Leather Purse
Saddle soap (07/05/2005)
RE: Cleaning a Leather Purse
Use Avon's Skin So Soft. Apply it and then wipe it off. It works, even worked on my Leather Coat. Cleaned it right up. Works on purses and shoes, too. Skin so Soft is very versatile. Good luck (07/06/2005)
By Jackie
What can I use to clean a tan leather purse? I do not want to buy expensive leather cleaner.
Lois from Pittsburgh, PA
---
RE: Cleaning a Leather Purse
I have used Mr. Clean Magic Eraser on my light colored leather purse. Worked great. I would test it on an inconspicuous area if it is a dark color, just to be careful. (09/01/2006)
By Jill from IA
RE: Cleaning a Leather Purse
I had almost forgotten about using hair spray on leather. Years ago, my then toddler son used a ball point pen on a leather-topped desk. I called a local furniture store and was told about the hair spray fix. I just sprayed the pen damage/marks and like magic they disappeared. Any brand/type of hair spray will do. (02/17/2009)
By Rachel
I have a beautiful soft leather purse I do not want to give up because of a stain. I'm not sure what the spot is. Is there something I could use that won't make the spot bigger and not leave a water mark on the leather?
By Ivorylov from Ocala, FL
---
RE: Cleaning a Leather Purse
My aunt uses Vaseline to make her purses new again. Not sure if it will take the stain out, but it won't hurt. (04/22/2009)
By anelson825
RE: Cleaning a Leather Purse
A brilliant website is www.shoestringuk.com. They sell a range of products called loving my bag, which will also work on your leather purse. Also they have a facebook profile, so if you need to ask any questions on leather care, you can post them on there and get free advice. (06/17/2009)
By charlie1239
How do I clean a Lucky Brand Jeans leather purse?
By Nicole6780 from Delaware City, DE
---
RE: Cleaning a Leather Purse
You can email Lucky Brand Customer Service here: customerservice@luckybrand.net and ask for cleaning instructions. (06/29/2009)
By Fortunately