Cleaning a Thermos
Solutions
Share on ThriftyFunThis guide contains the following solutions. Have something to add? Please share your solution!
To clean a thermos easily, drop in four Alka Seltzer tablets and let soak 1 hour or more, then rinse.
By duckie-do from Cortez, CO
November 21, 2010
0

found this helpful
Alka Seltzer in an aspirin base, product rather expensive. One cheaper is to use dental cleaning tablets. I drop them into vases, thermos's, anything needed cleaning with a small opening/hard to reach.
Read More Comments
June 1, 2016
0

found this helpful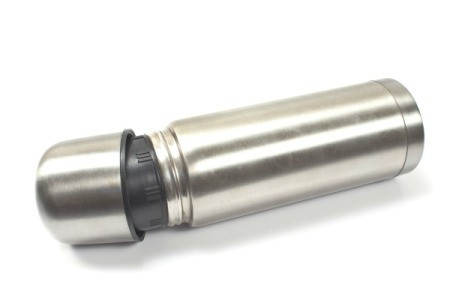 This is a guide about cleaning a stainless steel thermos. Tea and coffee are common beverages kept in a thermos. Both can leave stains inside.
Read More...
Both the Clorox Bleach company Customer Service and Oxiclean Customer Service say not to use their products to clean a stainless steel thermos. Why? Using products that contain bleach can cause damage to the metal. I contacted the company that makes "Simple Green" and was told that their product will not damage a stainless steel thermos.
Here is the email response from Simple Green:
Simple Green All Purpose Cleaner is safe and effective for cleaning the inside of a stainless steel thermos. The product can be used at about a 1:10 dilution ratio. To insure that there is no residue remaining, rinse thoroughly with clean water.

Customer Service and Business Support Manager
Sunshine Makers, Inc./ Simple Green
15922 Pacific Coast Highway
Huntington Beach, CA 92649
562-795-6091
I was able to purchase Simple Green at Ace Hardware. It is likely that it is available at other hardware supply stores. And yes, it does work.
September 17, 2013
0

found this helpful
We love using Simple Green and it's the only cleaning product we use to clean floors, counters, etc. It isn't harsh like the other products and it cuts through dirt making the job easier and faster. We have used it for years and wouldn't think of changing products.
Questions
Ask a QuestionHere are the questions asked by community members. Read on to see the answers provided by the ThriftyFun community or ask a new question.
How do you get the hot chocolate flavor out of a thermos?

March 11, 2017
0

found this helpful
If it is a stainless steel thermos, use baking soda and hot water. Otherwise, use diluted white vinegar and let it dry out.
March 11, 2017
0

found this helpful
I would use baking soda and let it air out for a few days as well.
March 11, 2017
0

found this helpful
Wash with soap and water, and rinse well. Then fill it back up with a water and vinegar mixture and let that sit in it for about 8 hours, then rinse back out and let it air dry.
Read More Answers
February 11, 2010
1

found this helpful
I have a pop top thermos that doesn't come apart, but I need to clean it. I use it everyday and I need to figure out how to clean this. I don't want to buy a new thermos. Can you help me? Thank you.
By Yvonne
February 13, 2010
0

found this helpful
I purchased a baby bottle brush and have found it to be very useful.
February 15, 2010
0

found this helpful
Add some uncooked rice & a little water & shake that should break up any sort of residue that formed. The chipped ice works really well on coffee pots.
February 15, 2010
0

found this helpful
Maybe a denture cleaning tablet and warm water placed inside the thermos could clean the inside.
Those denture tablets are not expensive at the dollar-type stores. They can be used to clean a number of items; such a a vase, even to cleaning the toilet bowl. (I learned about these denture tablets right here on Thrifty Fun!)
Read More Answers
Does anyone have some tips on cleaning a dirty (coffee) thermos?
By Sushila
October 18, 2011
0

found this helpful
Denture tablets will clean it up quickly also.
October 18, 2011
0

found this helpful
Depending on how dirty it is, fill with hot tap water and add one or two denture tablets. Leave setting in the sink, preferably over night. The next morning put your hand over the now cooled top and shake it up and then pour it down the drain. If it didn't get all the 'crud' out then repeat the same procedure a second time-leaving until the water has cooled so it doesn't burn your hand.
When you rinse it well it should be as clean as when new. I cleaned a stainless steel one this way that looked completely black inside. After two cleanings it sparkled. Now I just periodically clean with one denture tablet and it is good to go for another month or so.
Good luck!
October 18, 2011
0

found this helpful
Vinegar; cleans coffee pots
Read More Answers
May 9, 2011
0

found this helpful
How do you remove a metallic taste from a stainless steel thermos?
By ERC
May 10, 2011
0

found this helpful
The taste is probably not coming from the stainless steel. It is probably coming from the cap or plug which is lined with plastic or rubber. The best thing to do is not cap the thermos between washings. Leave it opened and the plug and cap opened to the air.
May 11, 2011
0

found this helpful
I have the same problem with a stainless steel thermos, and it is a stainless steel taste, not plastic or rubber. I'm hoping someone posts a good solution.
May 12, 2011
0

found this helpful
I have used a stainless steel thermos for years, and have no problem with metallic taste. I have found that decaf coffee doesn't keep a fresh taste and taste metallic, but that is the nature of the coffee. Regular coffee is fine. My son has a stainless steel water bottle; he has no trouble with off taste. What are you carrying in your thermos?
Read More Answers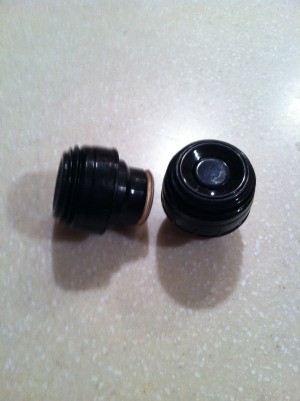 How do you thoroughly clean the pop top (pourable) lid to a stainless steel thermos? I don't see any way to take it apart, but it smells and needs some serious cleansing.
I have tired soaking in dishwater, bleach, and dishwasher detergent. I have wedged it open and put it through the dishwasher. Nothing helps.
By Marnie L.
April 22, 2012
0

found this helpful
Have you tried submersing it in hydrogen peroxide for a good, long time? The advantage of hydrogen peroxide is that, in small quantities it is not toxic to people but it can really clean things quite well. So, if there is a trace amount left, you are not going to poison anyone. And works best when it is cold or in room temperature. That would be an important factor when you are dealing with a plastic object to clean. Good luck!
April 22, 2012
0

found this helpful
Another good option would be a denture cleanser tablet. Totally safe since it's a product for dentures and used in the mouth. Will bubble up a lot of yucky stuff.
April 24, 2012
0

found this helpful
Maybe vinegar will do the trick its an odor eater for rooms and laundry. You may be able to soak it in vinegar, I do know when you mix apple vinegar and baking soda it causes a chemical reaction and foams maybe it will get in the crevasses and eat away the film causing odor. It will eat hair and unclog drains my mom also uses salt and lemon juice to do some cleaning like the garbage disposal try that as well.
My thermos has black scale in it and I hope someone out there can help solve my problem. How can I remove this?
By Julie Z. from Kamloops, BC
June 29, 2013
0

found this helpful
I just use the denture tablets. Put a couple in the bottom of the thermos and pour boiling water over them and shake the thermos with the cover on. Let sit for an hour or so and repeat this procedure till the water runs clear.
July 3, 2013
0

found this helpful
We use dishwasher soap, since we always have it on hand. Just put a little in the thermos and fill with water. After about 10 minutes it will look brand new.
October 14, 2005
0

found this helpful
My son left a new stainless steel thermos in a friends car for several days with a small amount of hot chocolate in it. I cleaned out the mold by soaking with bleach but some odor still remains. How do I get out the remaining moldy odor?

Kim from Canada
October 14, 2005
0

found this helpful
Try dissolving a denture cleaning tablet in the thermos with very hot water and let it sit for a while, overnight if possible. Then rinse, and the moldy odor will probably be gone. I use cheap denture cleaning tablets from the dollar stores for a variety of cleaning and deodorizing jobs. They are great for getting hard water stains out of flower vases and other glassware, too.
Tori from Pittsburgh, PA
October 16, 2005
0

found this helpful
Try filling the thermos with plain white vinegar and let it set overnight. Then empty it out in the morning and rinse well.
By guest (Guest Post)
October 19, 2005
0

found this helpful
Thanks for the tips. I'll give them a try and will let you know what works.
Read More Answers
November 20, 2014
0

found this helpful
My husband has a flourishing thermos, but somehow the lid with spout now smells and tastes like burnt coffee. How do we get rid of it?
By Suzie D
October 14, 2014
0

found this helpful
I used baking soda and ice cubes to clean the coffee residue from inside my glass lined thermos. Within thirty seconds of swirling it exploded, what did I do to get that?
By TV from Spring Hill, FL
Related Content