I have a pop top thermos that doesn't come apart, but I need to clean it. I use it everyday and I need to figure out how to clean this. I don't want to buy a new thermos. Can you help me? Thank you.
By Yvonne
February 13, 2010
0

found this helpful
I purchased a baby bottle brush and have found it to be very useful.
February 15, 2010
0

found this helpful
Add some uncooked rice & a little water & shake that should break up any sort of residue that formed. The chipped ice works really well on coffee pots.
February 15, 2010
0

found this helpful
Maybe a denture cleaning tablet and warm water placed inside the thermos could clean the inside.
Those denture tablets are not expensive at the dollar-type stores. They can be used to clean a number of items; such a a vase, even to cleaning the toilet bowl. (I learned about these denture tablets right here on Thrifty Fun!)
January 22, 2016
0

found this helpful
Here are a couple of ways to clean your thermos
Baking soda and vinegar. Put about 1 of vinegar into the bottom of the Thermos (cider vinegar works best as its the most acidic) and add 1 tablespoon baking soda for every 2 cups that the Thermos holds. Quickly fill the Thermos with boiling water. Itll foam a little but not as much as the denture tablets or dishwashing powder; the rest of the directions are the same as above dont cap, let sit, scrub and rinse.
This is a great fall-back method, as almost everyone has the supplies on hand. It takes more scrubbing than the methods above, but its significantly better than just dishwashing soap.
Baking soda and hydrogen peroxide. If you dont have vinegar, you can use hydrogen peroxide in its place; same instructions. Do not use lemon juice as a substitute for vinegar in a stainless Thermos, Ive read that it can damage the welds (but I dont know from personal experience).
Read More Answers...
Does anyone have some tips on cleaning a dirty (coffee) thermos?
By Sushila
October 18, 2011
0

found this helpful
Denture tablets will clean it up quickly also.
October 18, 2011
0

found this helpful
Depending on how dirty it is, fill with hot tap water and add one or two denture tablets. Leave setting in the sink, preferably over night. The next morning put your hand over the now cooled top and shake it up and then pour it down the drain. If it didn't get all the 'crud' out then repeat the same procedure a second time-leaving until the water has cooled so it doesn't burn your hand.
When you rinse it well it should be as clean as when new. I cleaned a stainless steel one this way that looked completely black inside. After two cleanings it sparkled. Now I just periodically clean with one denture tablet and it is good to go for another month or so.
Good luck!
October 18, 2011
0

found this helpful
Vinegar; cleans coffee pots
October 18, 2011
0

found this helpful
Denture cleaning tablets work the best. They also work good on cleaning jewelry, wedding rings; anything that can get wet. The tablets from the dollar store, work just fine. Also remove tea stains from cups.
Read More Answers...
How do you remove a metallic taste from a stainless steel thermos?
By ERC
May 10, 2011
0

found this helpful
The taste is probably not coming from the stainless steel. It is probably coming from the cap or plug which is lined with plastic or rubber. The best thing to do is not cap the thermos between washings. Leave it opened and the plug and cap opened to the air.
May 11, 2011
0

found this helpful
I have the same problem with a stainless steel thermos, and it is a stainless steel taste, not plastic or rubber. I'm hoping someone posts a good solution.
May 12, 2011
0

found this helpful
I have used a stainless steel thermos for years, and have no problem with metallic taste. I have found that decaf coffee doesn't keep a fresh taste and taste metallic, but that is the nature of the coffee. Regular coffee is fine. My son has a stainless steel water bottle; he has no trouble with off taste. What are you carrying in your thermos?
May 13, 2011
0

found this helpful
I have a new stainless water bottle that I recently used to put iced coffee in. I ended up dumping it out because it tasted so bad, bitter & metallic. This was a new bottle I'd never used either. I washed it & air dried it without the lid on it too. I'm disappointed, hope someone else has an idea on it, I just figured I wasn't going to be able to put coffee in it.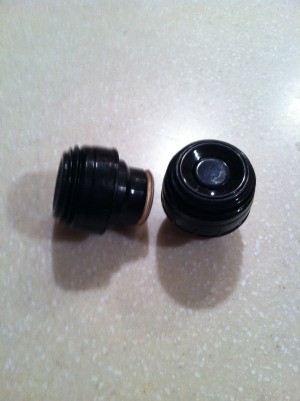 How do you thoroughly clean the pop top (pourable) lid to a stainless steel thermos? I don't see any way to take it apart, but it smells and needs some serious cleansing.
I have tired soaking in dishwater, bleach, and dishwasher detergent. I have wedged it open and put it through the dishwasher. Nothing helps.
By Marnie L.
April 22, 2012
0

found this helpful
Have you tried submersing it in hydrogen peroxide for a good, long time? The advantage of hydrogen peroxide is that, in small quantities it is not toxic to people but it can really clean things quite well. So, if there is a trace amount left, you are not going to poison anyone. And works best when it is cold or in room temperature. That would be an important factor when you are dealing with a plastic object to clean. Good luck!
April 22, 2012
0

found this helpful
Another good option would be a denture cleanser tablet. Totally safe since it's a product for dentures and used in the mouth. Will bubble up a lot of yucky stuff.
April 24, 2012
0

found this helpful
Maybe vinegar will do the trick its an odor eater for rooms and laundry. You may be able to soak it in vinegar, I do know when you mix apple vinegar and baking soda it causes a chemical reaction and foams maybe it will get in the crevasses and eat away the film causing odor. It will eat hair and unclog drains my mom also uses salt and lemon juice to do some cleaning like the garbage disposal try that as well.