Whether stainless steel or glass, these insulated containers need to be rid of prior food or beverage odors. This guide is about cleaning a thermos.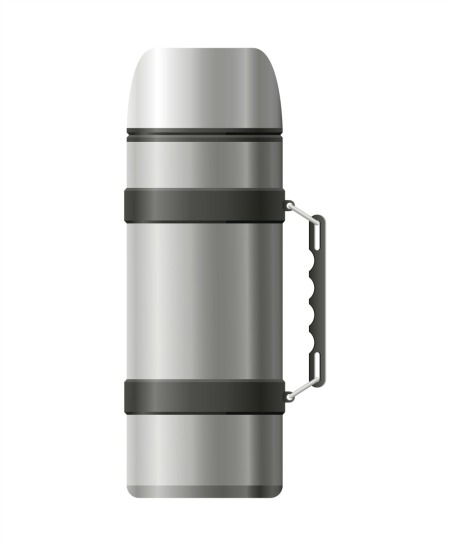 By sheela 4
Does anyone have some tips on cleaning a dirty (coffee) thermos?
By Sushila
---
Most Recent Answer
October 18, 2011
Denture cleaning tablets work the best. They also work good on cleaning jewelry, wedding rings; anything that can get wet. The tablets from the dollar store, work just fine. Also remove tea stains from cups.
---
I have a stainless steel thermos and had always cleaned it with Crystal dish soap and had no problem. I was always using tea, however this time I used liquid dish soap. The man used coffee with the cream in it and the coffee came out tasting sour. What happened?
W2W
---
Most Recent Answer
By N.Adams_Bob 1 Flag
October 17, 2010
Went online this morning to ask if it was safe to clean a stainless steel thermos using bleach. What I got was suggestions to use hydrogen peroxide mixed with baking soda and water or, dishwasher detergent (Cascade) and boiling water. I chose the "Cascade" method. This worked wonderfully; cleaned my coffee blackened, large thermos to a like new finish in 15 minutes with just two rounded tablespoons of detergent. Thank you David K., JMRoss, Susan from ThriftyFun, and others who suggested this method. Thank you also, Sandy, for letting me know bleach was a bad idea, that it would damage the seal/weld.
---
By Monica 296 58
To clean a thermos easily, drop in four Alka Seltzer tablets and let soak 1 hour or more, then rinse.
By duckie-do from Cortez, CO
I have a pop top thermos that doesn't come apart, but I need to clean it. I use it everyday and I need to figure out how to clean this. I don't want to buy a new thermos. Can you help me? Thank you.
By Yvonne
---
Most Recent Answer
February 15, 2010
Maybe a denture cleaning tablet and warm water placed inside the thermos could clean the inside.
Those denture tablets are not expensive at the dollar-type stores. They can be used to clean a number of items; such a a vase, even to cleaning the toilet bowl. (I learned about these denture tablets right here on Thrifty Fun!)
---
My son left a new stainless steel thermos in a friends car for several days with a small amount of hot chocolate in it. I cleaned out the mold by soaking with bleach but some odor still remains. How do I get out the remaining moldy odor?

Kim from Canada
---
Most Recent Answer
By guest (Guest Post) Flag
November 22, 2008
What is the best way to remove coffee stains from my thermos?
---
How do you remove a metallic taste from a stainless steel thermos?
By ERC
---
Most Recent Answer
By Judy = Oklahoma 60 750 Flag
May 13, 2011
I have a new stainless water bottle that I recently used to put iced coffee in. I ended up dumping it out because it tasted so bad, bitter & metallic. This was a new bottle I'd never used either. I washed it & air dried it without the lid on it too. I'm disappointed, hope someone else has an idea on it, I just figured I wasn't going to be able to put coffee in it.
---
By Marnie L. 1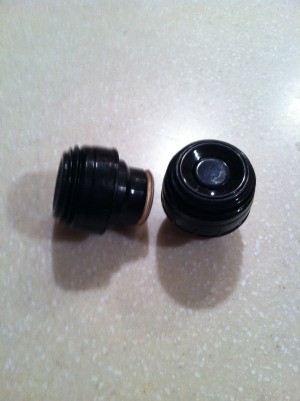 How do you thoroughly clean the pop top (pourable) lid to a stainless steel thermos? I don't see any way to take it apart, but it smells and needs some serious cleansing.
I have tired soaking in dishwater, bleach, and dishwasher detergent. I have wedged it open and put it through the dishwasher. Nothing helps.
By Marnie L.
---
Most Recent Answer
By MOOSKIELITTLE 1 8 Flag
April 24, 2012
Maybe vinegar will do the trick its an odor eater for rooms and laundry. You may be able to soak it in vinegar, I do know when you mix apple vinegar and baking soda it causes a chemical reaction and foams maybe it will get in the crevasses and eat away the film causing odor. It will eat hair and unclog drains my mom also uses salt and lemon juice to do some cleaning like the garbage disposal try that as well.
---
By Julie Z. 4 3
My thermos has black scale in it and I hope someone out there can help solve my problem. How can I remove this?
By Julie Z. from Kamloops, BC
---
Most Recent Answer
July 3, 2013
We use dishwasher soap, since we always have it on hand. Just put a little in the thermos and fill with water. After about 10 minutes it will look brand new.
---
By janebirk 1
Both the Clorox Bleach company Customer Service and Oxiclean Customer Service say not to use their products to clean a stainless steel thermos. Why? Using products that contain bleach can cause damage to the metal. I contacted the company that makes "Simple Green" and was told that their product will not damage a stainless steel thermos.
Here is the email response from Simple Green:
Simple Green All Purpose Cleaner is safe and effective for cleaning the inside of a stainless steel thermos. The product can be used at about a 1:10 dilution ratio. To insure that there is no residue remaining, rinse thoroughly with clean water.

Customer Service and Business Support Manager
Sunshine Makers, Inc./ Simple Green
15922 Pacific Coast Highway
Huntington Beach, CA 92649
562-795-6091
I was able to purchase Simple Green at Ace Hardware. It is likely that it is available at other hardware supply stores. And yes, it does work.
My husband has a flourishing thermos, but somehow the lid with spout now smells and tastes like burnt coffee. How do we get rid of it?
By Suzie D
I used baking soda and ice cubes to clean the coffee residue from inside my glass lined thermos. Within thirty seconds of swirling it exploded, what did I do to get that?
By TV from Spring Hill, FL