Cleaning the Dryer Lint Trap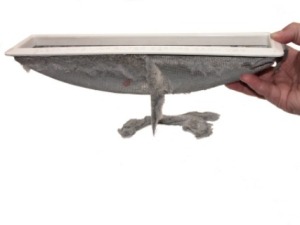 Having a clean dryer lint trap improves the efficiency of your appliance. This guide is about
cleaning the dryer lint trap
.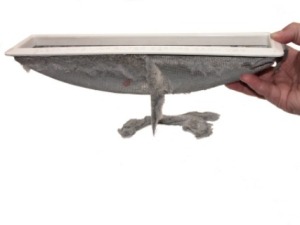 Solutions
Share on ThriftyFunThis guide contains the following solutions. Have something to add? Please share your solution!
A great way to clean the lint out of your dryer: Tear a sheet of the sticky paper off of a dog hair or lint remover roll. Wrap the sheet around your 4 fingers (less your thumb) and swipe your hand through your lint catcher and around the surrounding areas of your dryer, including the wires that lint and spider webs gather on! Even get wild and wrap a few sheets around the end of a Swiffer mop and wipe off your fan blades or hard to reach ceiling corners- lint, fuzz, hair, dust and spider webs stick to this stuff instantly.
By Ohevyisrael from Bradenton, FL
November 18, 2010
0

found this helpful
I got this tip from my washer/dryer repairman. He told me to take the lint screen out and take it to the sink. He said to run warm water over it and notice how the water pools on the screen instead of running through. This is caused by the chemicals on the dryer sheets we all use. He told me to squirt some dish soap on it, then take a scrub brush (I found a great one at the dollar store and keep it next to the sink to use for many kitchen duties, including dishes) and scrub the screen on both sides. Then rinse thoroughly and wipe dry.
You can test to see if it's gotten clean by simply running water over it again. The water should run straight through now. This only takes a couple of minutes to do and is so easy. And no cost other than less than a penny's worth of dish soap! He told me to do this every six months but I find if I do it weekly it's much better. But he told me this will not only make my clothes dry faster, thereby lowering my electric bill, but it will also make my dryer last years longer.
So far it's lasted over 13 years with no problems.
Read More Comments
Re-use your just used dryer sheet to remove the lint from the lint-screen. It grabs the lint easily and it will help preserve your manicured nails!
By tahloolabelle from Ventura, CA
June 26, 2010
0

found this helpful
Don't manicure my nails but, have been using spent dryer sheet to clean lint trap and top of dryer-works rather well.
Read More Comments
A build up of residue especially from fabric sheets is hard to remove from the screen of you lint tray for your dryer. I found a bleach stick at the dollar store and squirted the gel on the screen. The tube of get comes with a plastic brush. Rub the gel over the whole screen to break down the grime. Use the brush to rub off the residue. Rinse well. Dry.
Related Content
(article continues below)
By Tuna from Billings, MT
September 19, 2011
0

found this helpful
Great idea. Those screens are such a bugger to clean. I will have to try this. Thanks :)
Here's a tip I got from my repairman when he came to do the yearly maintenance on my clothes dryer. He said to take the lint screen out of the dryer and get all the lint off of it.
Read More...
I had a wonderful morning, the heating unit went out of my dryer! Why does everything seem to fall apart this time of year!? The guy that fixes things went in to the dryer and pulled out the lint filter. It was clean. We always clean the lint from the filter after every load of clothes.
Read More...
I have a narrow lint trap space in my dryer. I have found that the new Swiffer Duster with the extension handle works really well for going down into the lint trap, after I have removed the trap screen. It also works really well getting under the dryer too! By Mastiffs
Read More...
Many people don't know it but using dryer sheets, especially Bounce, can actually start dryer fires. To prevent this every couple weeks, remove your dryer lint trap and wash it with dish soap and warm water and then let it dry.
Read More...
Be sure to clean out your dryer's lint trap, after each use. Forgetting to do so, might cause a fire. It's better to be safe than sorry.
Read More...
Do you use fabric softener sheets in your dryer? Every once in awhile, take your lint trap and wash it in hot water and dry. Dryer sheets can clog your lint trap.
Read More...
Questions
Ask a QuestionHere are the questions asked by community members. Read on to see the answers provided by the ThriftyFun community or ask a new question.
I just moved into an apartment with a super old dryer. I am not sure what year it is. I've checked the inside and outside of the dryer for a lint trap and I can't seem to find it anywhere. I haven't removed lint from the dryer since I moved in maybe a month ago. Also, the dryer takes forever to dry anything! Any suggestions on what to do or where to look next for a lint trap? I'm sure it's way over due for a cleaning.
January 13, 2017
0

found this helpful
See if you can find and write down the make and model and even serial number. Contact the manufacturer (if they're still in business). You may have to hunt down re-manned (re-manufactured) parts or investigate making a substitue.
As to heating? Check everything's hooked up the way it's supposed to be (with no gaps in the ductwork / venting). The heating portion may be worn out. Talk to your landlord about replacing it with a newer, second-hand appliance?
January 13, 2017
0

found this helpful
Maybe someone could help if you could give us the make of your dryer.
I would seriously consider not drying clothes until you find the lint trap.
Have you called your landlord? I think he would be very glad to try and help so that a fire may be avoided.
January 13, 2017
0

found this helpful
Can you post a picture of the dryer? Inside and out? Look on the top, outside sides and in the wall of the dryer on the front side. What kind is it? I had one years ago where it slid out the side of the dryer, on the outside.
Read More Answers
Archives
ThriftyFun is one of the longest running frugal living communities on the Internet. These are archives of older discussions.
Keep Your Dryer Lint Free
Get in the habit of cleaning the lint screen in your dryer between each load. Your dryer will run more efficiently when the lint screen is cleaned.

By Fisher
Use Lint To Remove Lint
The dryer in our house has the lint trap on the top. Sometimes these things are hard to clean. For a quick and easy way to clean the trap, I just pick up a piece of lint and use it to collect the rest. If there is lint on top of the dryer the little ball of lint will pick that up too!

By Juanita

Answers:
Removing Lint from the Dryer
Not cleaning the lint trap in your dryer can result in a household fire. I've never experienced this myself, but I've heard of it before. Why chance a fire, when all it takes is less than 2 minutes to clean it out, each time your dryer is used? (09/15/2006)

By badwater
Removing Lint from the Dryer
Yes dryer fires are the second leading cause of household fires, grease fires being the first. (09/15/2006)

By PICO
Removing Lint from the Dryer
Excess lint can cause a fire to start, too, so this more than just a frugal tip!(09/15/2006)

By
Removing Lint from the Dryer
But, don't forget to occasionally pull out your dryer and pull the exhaust hose off of the wall to empty it of lint too! If your clothes are taking longer to dry or are carrying a "musky" odor, odds are you have a thick back up of lint back there too. This is where the real fire hazard potential is. And just to be safe, never run your dryer when you're asleep or away from home! (09/15/2006)

By mef1957
Removing Lint from the Dryer
A quick vacuum will clean up the lint from the hoses and the top quickly also. (12/01/2008)

By azurite4me
Does your clothes dryer take longer than it should to dry your clothes when set on auto-dry? Ours would be running when we got up in the morning. It had run all night! Remove the lint filter, and take it to the sink. Wash it gently with soap and water. Rinse well. Problem solved!

By Grandma Jo from Louisville, KY
Answers:
Clean Lint Trap To Improve Dryer Efficiency
The lint trap should be emptied after every load. A build up of lint is a fire hazard. (A lot of people use lint as a firestarter when camping!) You don't have to use soap and water each time. Once a year I actually open up the dryer where the lint trap and vent is and vacuum it out. It's amazing how much of a difference it makes! (11/05/2008)

By Toolgirl
Clean Lint Trap To Improve Dryer Efficiency
I always make sure that our dryer isn't running when I go to bed, and if my husband is up later than I am, I always tell him to make sure that it is off before he goes to bed. (11/05/2008)

By Maryeileen
Clean Lint Trap To Improve Dryer Efficiency
You can thank your lucky stars it did not burn your house down. When the bricklayers were bricking our house, some of guys were also firemen. They told us that, at their station, one of the firemen's wife had gone to town, leaving the dryer on. When she returned, their home had burnt down. She had not been cleaning the lint trap. They said you should never leave a dryer running when you can not check on it. Please do not go to bed and leave the dryer on. Something is wrong if a dryer runs all night. Get it checked out or buy a new one. Cheaper than losing a home or you life. (11/05/2008)

Clean Lint Trap To Improve Dryer Efficiency
Don't check just the lint screen - check the whole thing all the way to the outside. We got our dryer and the venting new ten years ago. Recently my cats chasing one another bumped the hard pipe and knocked part of it down. I was amazed that the inside of the pipe was almost half dryer lint. We replaced all of it and now my dryer doesn't have to be on the nuclear setting to dry the clothes! (11/06/2008)

By Lynn
© 1997-2017 by Cumuli, Inc. All Rights Reserved. Published by
ThriftyFun
.
Page
generated on February 24, 2017 at 3:35:52 AM on 10.0.1.80 in 4 seconds. Use of this web site constitutes acceptance of ThriftyFun's
Disclaimer
and
Privacy Policy
. If you have any problems or suggestions feel free to
Contact Us
.