This dough is very easy to make and my kids love it. It's even kinda cold when you are working with it. My daughter loves making snowmen with her dough. It's a big hit.
Total Time: 5 minutes
Yield: About 4 cups.
Source: Pinterest-inspired
Supplies:
4 cups of baking soda
6 oz (1/2 of a 12 ounce can) of shaving cream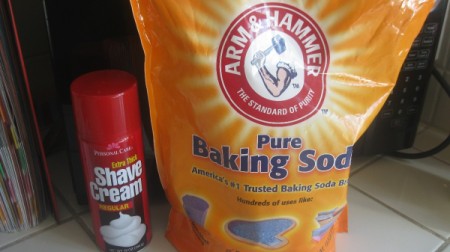 I got my shaving cream from the Dollar store.
Steps:
Fill a bowl with shaving cream. I used about 1/2 of the can and it filled up my bowl.
Add baking soda. Stir to mix. The consistency is similar to pie dough before you form it into a ball. You may need to add more baking soda or shaving cream to get it how you like it, but it seems pretty forgiving with the measurements.

Have fun making snowmen and whatever else your kids come up with!
March 27, 2015
0

found this helpful
This reminds me of a popular product in the stores that my kids always wanted but it was too expensive so I never got it. Longest sentence ever!:) I think it's moon sand. I will definitely have to make this for them and maybe they'll forgive me.
Make colorful artwork using shaving cream and paint. Then transfer them to paper!
Approximate Time: 10 to 15 minutes
Supplies:
shaving cream
acrylic paint, in a few bright colors
old cookie sheet or tray
spatula
white card stock paper
toothpicks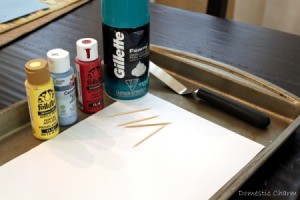 Instructions:
Spray the shaving cream onto the tray or cookie sheet and spread to the size of the paper you have.
Next drop some of each color of paint on top of the shaving cream.

Using toothpicks have your child swirl the colors around in the shaving cream.
When they are finished creating their colorful artwork, place the card stock paper over top and press gently to make sure it touched all of the paint.
Next lift up the paper and using the spatula scrap the shaving cream off of the paper.
The paper should have the colorful designs on in now. Let it dry and you can use the colorful paper for another craft in the future display your child's art work as it is!
By Domestic Charm from Arizona
January 28, 2012
0

found this helpful
Thanks for sharing! I will definitely give it a try.
January 29, 2012
0

found this helpful
I'm going to pick up a can of cheap shaving cream and let the grandkids have a go at it. I think they're gonna love this idea! thanks for sharing this very creative project :D
My Dad, is on a genealogy kick. He's been going to a lot of old cemeteries, documenting old dates and info for births, deaths, marriages, number of children, etc. One problem he kept having was the dates not coming through on his camera, since the older tombstones turn dark with dirt, mold, etc. Now he carries a can of spray foam men's shaving cream with him, just for this very purpose. He'll spray it on the tombstone, smears it into the crevices of the wording and then wipes off the excess. Thus, leaving all the info he's in need of clear for the reading, which appears nicely in the photographs.

Source: Not sure where Dad got this info, but it works beautifully for him. Hope this can help others checking into their ancestry roots, too!

By Terri from NV
June 13, 2008
0

found this helpful
That's a REALLY GOOD idea!
Thanks!
June 19, 2008
0

found this helpful
Well what a great tip. My husband and I used to trek to some out of the way cemeteries out here in MO and I would take photos and had that
problem. Now I will gladly pass this tip to him as he very dedicated to his work on his family history.
By guest (Guest Post)
Flag
February 8, 2009
0

found this helpful
Brenda, This may work well on granite tombstones, but it NOT a good idea for older limestone, marble or slate tombstones. Shaving creme leaves acids in the stone which helps accelerate breakdown of the stone. Better to bring a cheap 24 x 30 plastic mirror, and use reflection from the sun to illuminate the markings. Check out www.gravestonestudies.org for some good non destructive methods for cleaning and documenting old tombstones.