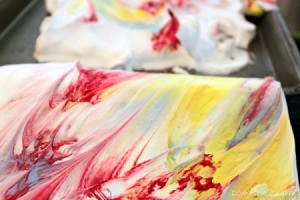 Shaving cream has its place in the craft supply cabinet. This is a guide about craft uses for shaving cream.
Ad
---
Solutions: Craft Uses for Shaving Cream
Read and rate the best solutions below by giving them a "thumbs up".
Mix shaving cream and a tablespoon or so of Kool-Aid to make a tinted, scented finger paint material for small children. A cookie sheet makes a good table on which to mix paint colors and serves as a play surface for the kids to swirl the shaving cream. Use different flavors of Kool-aid to achieve different colors. This finger paint washes off very easily. Kids like to squish the cream through their fingers and move it around on their work surface.
By wishy from Clinton, TN
Make colorful artwork using shaving cream and paint. Then transfer them to paper!
Approximate Time: 10 to 15 minutes
Supplies:
shaving cream
acrylic paint, in a few bright colors
old cookie sheet or tray
spatula
white card stock paper
toothpicks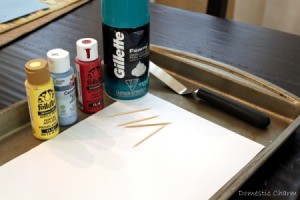 Instructions:
Spray the shaving cream onto the tray or cookie sheet and spread to the size of the paper you have.
Next drop some of each color of paint on top of the shaving cream.
Using toothpicks have your child swirl the colors around in the shaving cream.
When they are finished creating their colorful artwork, place the card stock paper over top and press gently to make sure it touched all of the paint.
Next lift up the paper and using the spatula scrap the shaving cream off of the paper.
The paper should have the colorful designs on in now. Let it dry and you can use the colorful paper for another craft in the future display your child's art work as it is!
By Domestic Charm from Arizona
My Dad, is on a genealogy kick. He's been going to a lot of old cemeteries, documenting old dates and info for births, deaths, marriages, number of children, etc. One problem he kept having was the dates not coming through on his camera, since the older tombstones turn dark with dirt, mold, etc. Now he carries a can of spray foam men's shaving cream with him, just for this very purpose. He'll spray it on the tombstone, smears it into the crevices of the wording and then wipes off the excess. Thus, leaving all the info he's in need of clear for the reading, which appears nicely in the photographs.

Source: Not sure where Dad got this info, but it works beautifully for him. Hope this can help others checking into their ancestry roots, too!

By Terri from NV
3-D finger painting! Perfect for preschoolers and elementary children. Try finger painting with equal parts of washable finger paints and shaving cream (the white, foamy, spray kind). Mix lightly together, then have your little one finger paint on paper. Dries in 24 hours with a 3-D effect. Have fun!

Kerry from Flat Rock, MI
Give a "thumbs up" to the solution that worked the best! Do you have a better solution? Click here to share it!