Here is a list of things I plan to do in the future because after buying remnants at Walmart, I have fallen in love with certain fabrics and want them all around me all the time. The fabric I am talking about here is a red, gold, and brown fabric with the words "Faith and Hope" written on it.
I had covered a spiral notebook for myself, and I decided I would go on from here and I am never looking back!
Here we go:
Cardboard square for drafts in the window or to decorate the top half of the window curtain. These can even just be laid around for an interesting look.
A square of the fabric can be put into a small frame and three of them or more can be hung together. I am thinking six would be nice.
Patio chairs can be decoupaged with pictures of fabric and things you like. I am going to cut out heart shapes of fabric and glue them on.
Patio tables that are plastic, like the chairs, can be decoupaged with cut out pictures. I am going to find a way to decoupage the plastic lawn chairs and the plastic lawn tables.
Foam door hangers can be covered in or have the fabric glued onto them to make a matching accessory.
Pot holders can be made out of the fabric and coasters as well can be glued or otherwise put onto plastic circles to make coasters.
A clear plate can have the piece of fabric glued onto the back of it and placed where you can see it.
A pencil holder can be covered in the fabric and put on the desk to hold items.
One side of a blanket can be lined with the fabric of choice.
A bulletin board can be made.
Pillows can be sandwiched between two sheets of fabric, rubber banded and tied with a ribbon on each of the four ends of the "sandwich". I love this!
Strips of fabric can be made and then tied onto a laundry basket.
A wreath can be made out of a foam wreath, super glue, push pins, and fabric bows on the wreath. The super glue is put on the end of the push pins to hold little bows all around the wreath.
Bows, big and little alike, can be tied anywhere you like, including on pens and pencils, where the clip is to hold them onto a pocket.
Lots of jars can be set around with bows tied to them and glued to hold different items.
A nicely finished strip of fabric can be hung diagonally from wall to wall to hold artwork up with clothespins or to dry little items of laundry.
I could go on and on with this. I am in love with fabric~:)
By Robyn from Hampton, TN
November 5, 2010
0

found this helpful
I was just at Wal-mart yesterday, buying a yard and half of blue fleece in our school color. It was $1.50 per yard, and the entire cost was under three dollars. I made the scarves thicker than the ones at the store. Also I fringed the ends, since the kids wanted them that way. I was able to make four scarves for less than three dollars, and they were thick and wide. The store wanted five dollars per scarf on the rack but the scarves at the store were not made out thick fabric, I guess they were more for decoration.
Robyn
Read More Comments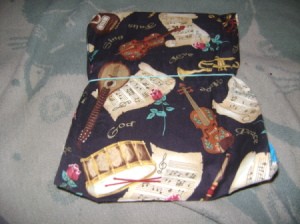 I like to get remnants from Walmart and cover little notebooks and notepads and keep them in my purse. I love fabric remnants, and I have this piece of fabric (in the photo below), which has covered a simple notepad that I keep in my purse.
I either use duct tape to match the fabric or a glue gun. I could make it with lace and such, but I mainly use them for a book cover. I am going to cover a puzzle book I am working on now. It makes the paper notepads and other books stay together and not get torn. I have matching rubber bands of different colors that I like to use with these little notepads.
There is a fundraiser sale going on soon and I am going to make up the cute little notepads and sell them for the local shelter.
By Robin F. from Hampton, TN