Besides canning and storing foods, there are ways these jars can be used or reused for crafts. This guide is about creative uses for canning jars.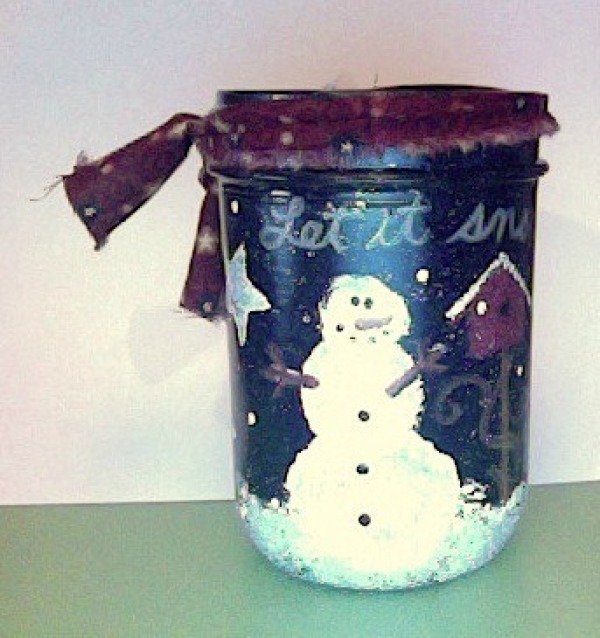 Filter

: All Articles
Sort

: Relevance
Use an old or new wide mouth jar as your holiday candy holder. Paint any design with acrylic paints. Spray with a sealant like clear varnish spray. Add a touch of whimsy with a fabric tie. Add treats.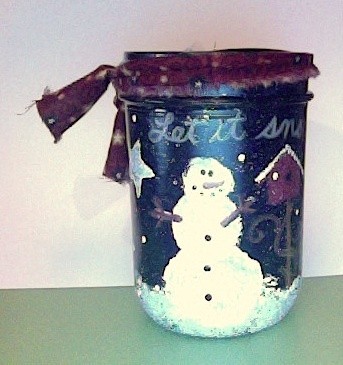 Directions:
Anyone have any creative ideas on how to use mason jars as centerpieces at my reception? They are blue perfect mason jars. I was thinking a bouquet with floralytes.

Jenny from Belle Plaine, MN
Answer
Was this helpful?
Helpful?
Yes
I used mason jars at my wedding with whatever flowers I could get my hands on. They were just the clear straight sided ones and I tied a copper ribbon on each one. I thought they were beautiful.
Reply
Was this helpful?
Helpful?
Yes
Read More Answers...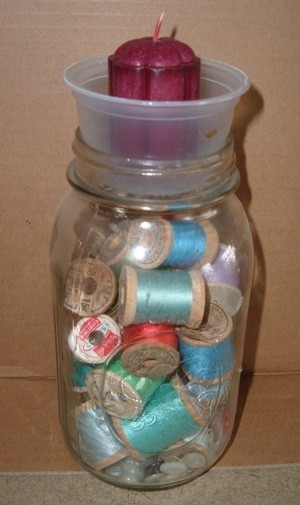 Taking just about any canning jar, you can decorate the outside or inside, and put a candle safely in the top.
Approximate Time 30-120 minutes
Supplies:
canning jar with wide mouth
old craft items like thread or
- pretty shells or
- decoupaged advertisement or
- Dollar Tree colored rocks or
- 16 bean dried beans mix or
- food colored water or
- pretty colored sand...
used plastic container from flavored applesauce 6 pack
emergency or votive candle
buttons, etc.
Pringles lid
hot glue gun, optional
Instructions:
Decoupage items will be needed if you choose that form of decoration. If not, simply fill the jar with water and food coloring, rocks, pretty sand, shells, old craft items, buttons, beans or anything you want. If your items are messy, you may want to put some hot glue around the top of the jar and set your applesauce container down and make it a permanent fixture. If not, simply set it on top and light the candle. You can always keep the lid to the jar to seal it when not in use, or just cover the candle with a Pringles lid.
By Sandra from Salem OR
Editor's Note: We worry about the flammable nature of the applesauce cups. It works well for displaying a candle, but with lighting the candle, the plastic might burn. An old custard cup or glass or metal small candle holder might be safer, if you plan to light the candle.
I get recipes for cookies, brownies, cakes, chili, or whatever I can find and then put all the dry ingredients into the jar. I then decorate the jar with raffia ties, paint, material, or whatever I can find. Last year I tied bells and candy canes on the outside and gave these as gifts at Christmas.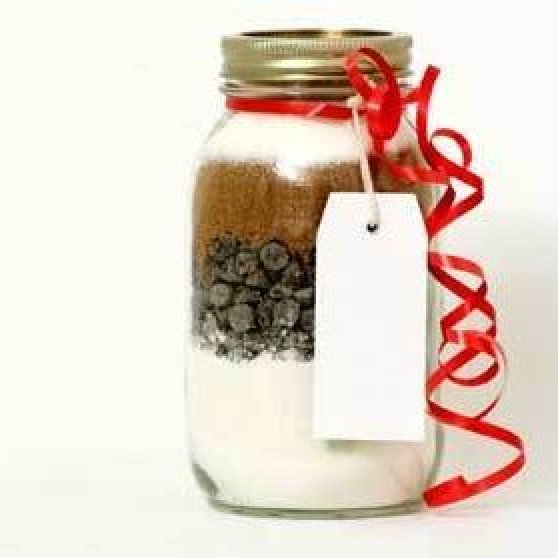 I need some ideas for old jelly jars.
By Pam
Answer
Was this helpful?
Helpful?
Yes
You could put some homemade bath salts, milk bath or bath fizzies or bath bombs in them & give as a gift. Or make a piggy bank out of it & put the name of whatever you are saving for on it.
Example: expensive dinner out or craft fund or new shoes & just drop loose change in it. Also make candles in them or put hot cocoa mix w/marshmallows inside.The possibilities are endless! Good luck with whatever you choose & keep on crafting! : D
Reply
Was this helpful?
Helpful?
Yes
Read More Answers...
Use a glass mason jar as a measuring cup for liquids. It has all the markings listed on the side.
By tami333 from Auburn, GA
Supplies
pint canning jar and lid
lamp oil
candle wick
pre-assembled wick and ball
potpourri *
ribbon or raffia
punch or screwdriver
Directions
Punch hole in center of lid. Bring wick up through hole. Secure wick with washer on underside of lid.
Fill jar with potpourri. Add lamp oil.
Tie a ribbon bow around neck of jar. Cut the ribbon very short so it is not near the flame.
*I put colorful autumn leaves and twigs in the jar for the fall and pine cones and foam snowflakes with potpourri for the winter. Adjust decorations according to the seasons.
By Laurie from Pahrump, NV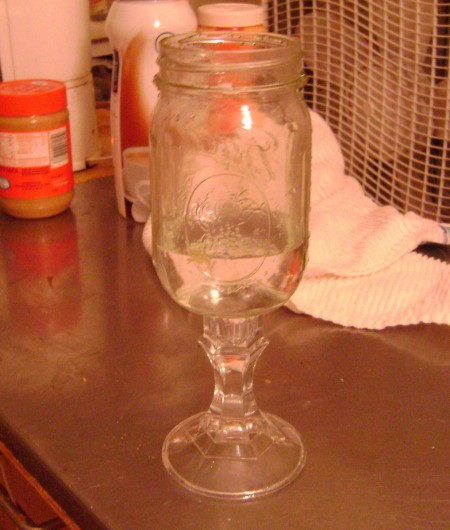 Photo Description
Redneck wine glass made out of candle holder and Mason jar ( with E-6000 glue).
Photo Location
This was from my friend for Christmas, I love them. You don't put them in the washer though, you hand wash them. They have to be sanded on the bottom before they are glued together. It is a small Mason jar.
Comment
Was this helpful?
Helpful?
Yes
I always have canning jars around. At Christmas, I fill some with assorted Christmas colored candy; those star brite mints, gold and silver foil wrapped candies, etc.