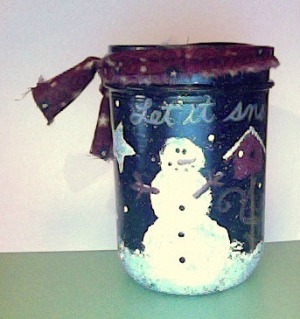 Besides canning and storing foods, there are ways these jars can be used or reused for crafts. This guide is about creative uses for canning jars.
Ad
---
Solutions: Creative Uses for Canning Jars
Read and rate the best solutions below by giving them a "thumbs up".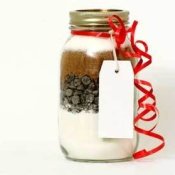 Here are some ideas for making gifts using canning jars. Feel free to post your ideas.
Gifts In Canning Jars
Years ago when we decided to make a 110' x 50' garden and we bought about 20 cases of canning jars. We didn't get what we thought we would from the garden. We didn't realize high mountain growing was so difficult. We have tried every year to make the garden produce mass amounts of veggies to can but have not had too many produce for us. Just enough to get us though the summer.
Since we ended up with so many jars I decided to use them for gifts. I get recipes for cookies, brownies, cakes, chili, or whatever I can find and then put all the dry ingredients into the jar. I then decorate the jar with raffia ties, paint, material, or whatever I can find. Last year I tied bells and candy canes on the outside and gave these as gifts at Christmas.
I love giving gifts and since I'm on a limited budget I can purchase the dry ingredients all year long and be able to make many gifts and always have one handy in case I forget someone. It's lots of fun to come up with ideas to put into the jars. One year I made cookies and candies and gave those. Most jars only end up costing $2 since I always buy in bulk. Hope you have fun!
By RoseMarym
Falling Leaves Jar
Because I have boxes of mason and ball jars, I'm always on the look-out for crafts to make with these. Here is a site I rely on for a few ideas. I'll be making this 'Falling Leaves Jar' to give to my friends. and the best part? It has a recipe for making breakfast bars!
http://splash.homecanning.com/news/fall/falling_leaves_jar.php
By Laurie from NV
Decoarting Jars With Scrapbooking Supplies
Recently I saw in a magazine or online, can't remember where, where they had used canning jars for other gifts as well.
They had taken some of the scrapbooking type of decorations and glued them to the outside of the jar. One picture was of a duck and there was scrapbooking borders glued around the top and bottom of the jar, not covering the place for the jar lid. They filled it with baby washrags, tiny baby toys, etc. and had it decorated for a baby gift.
They had a few other ideas as well. It sure opened my eyes to another use for the canning jar. You could probably go one step further and carefully cut a slit in the top of the lid and they could use it for a piggy bank as well.
By Tawnda
Magic Reindeer Food
I was looking on the internet and i found something so cute for a gift jar! It's called magic reindeer food. Can be used for a great decoration!
You need:
oatmeal
sugar
red or green sugar crystals (used on cakes)
christmas cloth (for the top of the jar)
and a sparkle ribbion (for around the jar)
Then layer them. Makes a great holiday gift!
Here's the poem that goes with it:
Sprinkle on the lawn at night
the moon will make it sparkle bright
as Santa's reindeer fly and roam
this will guild them to your home!
ENJOY
By Ashley
Chocolate Chip Cookie Gift Mix
Ingredients:
1 3/4 cup flour
3/4 tsp. baking soda
3/4 tsp. salt
1 1/2 cup chocolate chips
3/4 cup packed brown sugar
1/2 cup sugar
Directions:
Combine flour, baking soda, and salt in small bowl. Place flour mixture in 1 quart jar. Layer remaining ingredients in order listed above. Pressing firmly after each layer. Seal with lid and decorate with fabric and ribbon.
Attach to Jar:
Preheat oven to 375*
Beat 3/4 cup Softened butter, 1 egg and 3/4 tsp. vanilla in large bowl until blended. Add cookie mix and 1/2 c nuts (optional) mix well, breaking up any clumps.
Drop by rounded teaspoonfuls onto ungreased cookie sheet. Bake 9-11 minutes or until golden brown. Makes 2 dozen.
By Imaqt1962 from Illinois
Related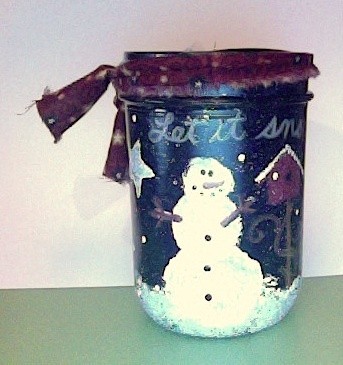 Use an old or new wide mouth jar as your holiday candy holder. Paint any design with acrylic paints. Spray with a sealant like clear varnish spray. Add a touch of whimsy with a fabric tie. Add treats.
Directions:
Use a glass mason jar as a measuring cup for liquids. It has all the markings listed on the side.
By tami333 from Auburn, GA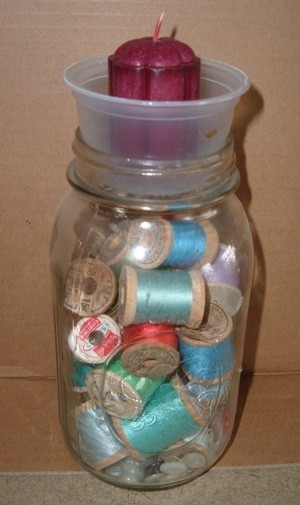 Taking just about any canning jar, you can decorate the outside or inside, and put a candle safely in the top.
Approximate Time 30-120 minutes
Supplies:
canning jar with wide mouth
old craft items like thread or
- pretty shells or
- decoupaged advertisement or
- Dollar Tree colored rocks or
- 16 bean dried beans mix or
- food colored water or
- pretty colored sand...
used plastic container from flavored applesauce 6 pack
emergency or votive candle
buttons, etc.
Pringles lid
hot glue gun, optional
Instructions:
Decoupage items will be needed if you choose that form of decoration. If not, simply fill the jar with water and food coloring, rocks, pretty sand, shells, old craft items, buttons, beans or anything you want. If your items are messy, you may want to put some hot glue around the top of the jar and set your applesauce container down and make it a permanent fixture. If not, simply set it on top and light the candle. You can always keep the lid to the jar to seal it when not in use, or just cover the candle with a Pringles lid.
By Sandra from Salem OR
Editor's Note: We worry about the flammable nature of the applesauce cups. It works well for displaying a candle, but with lighting the candle, the plastic might burn. An old custard cup or glass or metal small candle holder might be safer, if you plan to light the candle.
Supplies
pint canning jar and lid
lamp oil
candle wick
pre-assembled wick and ball
potpourri *
ribbon or raffia
punch or screwdriver
Directions
Punch hole in center of lid. Bring wick up through hole. Secure wick with washer on underside of lid.
Fill jar with potpourri. Add lamp oil.
Tie a ribbon bow around neck of jar. Cut the ribbon very short so it is not near the flame.
*I put colorful autumn leaves and twigs in the jar for the fall and pine cones and foam snowflakes with potpourri for the winter. Adjust decorations according to the seasons.
By Laurie from Pahrump, NV
I always have canning jars around. At Christmas, I fill some with assorted Christmas colored candy; those star brite mints, gold and silver foil wrapped candies, etc.

Use pinking shears to cut circles of lace, netting, or Christmas printed fabric. What I use depends on how much time, money or imagination I have. Use the circle of material in place of a canning lid and secure with a shiny new rim.

I set them around the house and they make handy gifts for those unexpected visitors or the mailman, parking attendant, etc.

Linda
Give a "thumbs up" to the solution that worked the best! Do you have a better solution? Click here to share it!
Questions
Here are questions related to Creative Uses for Canning Jars.
Anyone have any creative ideas on how to use mason jars as centerpieces at my reception? They are blue perfect mason jars. I was thinking a bouquet with floralytes.

Jenny from Belle Plaine, MN
Ad
---
---
Most Recent Answer

By Jess [119]04/17/2009
I used mason jars at my wedding with whatever flowers I could get my hands on. They were just the clear straight sided ones and I tied a copper ribbon on each one. I thought they were beautiful.
Photos
Below are photos related to this guide.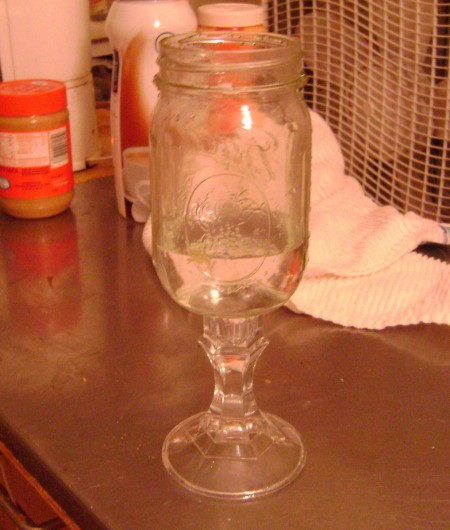 Photo Description
Redneck wine glass made out of candle holder and Mason jar ( with E-6000 glue).
Photo Location
This was from my friend for Christmas, I love them. You don't put them in the washer though, you hand wash them. They have to be sanded on the bottom before they are glued together. It is a small Mason jar.
By Robyn [366]