Anyone have any creative ideas on how to use mason jars as centerpieces at my reception? They are blue perfect mason jars. I was thinking a bouquet with floralytes.

Jenny from Belle Plaine, MN
By guest (Guest Post)
Flag
September 14, 2008
0

found this helpful
I know I want to use the mason jars that I have. I am thinking about floating lights in them and setting them on some kinds of cloth with some decorations around them. My soon to be mother in-law makes oil candles out of them, she uses a photo of whatever you want then put burning oil and a wick in the lid and you have a photo oil candle!
By guest (Guest Post)
Flag
March 2, 2009
0

found this helpful
I had the idea of using a terra cotta clay pot for my main centerpiece with mason jars with votive candles surrounding it. im trying to go for an english garden theme. How does this sound? and one have more i could add to it?
April 17, 2009
0

found this helpful
I had a French country/English garden themed wedding myself last June. I used the blue/aqua colored mason jars (hard to find sometimes - so the clear are pretty too). I used old watering cans filled with hydrangeas, calla lilies, peonies and ivory roses as the main centerpieces. I bought all different styles and different metals/material of old watering cans. Some were new so I had to "age" them and then I put the mason jars around the water cans with votives in them. White votives looked the best!
Also - for my ring bearer and flower girl, I did not buy a traditional basket and pillow. Instead I used an old grapevine basket and tied calla lilies to the side with ivory tulle and for the ring bearer pillow I used an actual small throw pillow with an ivory and chocolate brown damask print and tied the same ivory tulle around it. (very cute touch!)
As wedding favors I used mini terra cotta pots, tied with ivory tulle and planted different annual flowers in them with "thank you" tags and gave those to each guest. My bridesmaids wore very pretty/delicate sun dresses in different shades of ivory, chocolate brown and robins egg blue.
Congrats and Good Luck!
April 17, 2009
0

found this helpful
I used mason jars at my wedding with whatever flowers I could get my hands on. They were just the clear straight sided ones and I tied a copper ribbon on each one. I thought they were beautiful.
Read More Answers...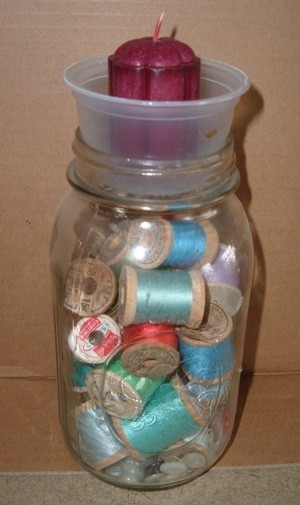 Taking just about any canning jar, you can decorate the outside or inside, and put a candle safely in the top.
Approximate Time 30-120 minutes
Supplies:
canning jar with wide mouth
old craft items like thread or
- pretty shells or
- decoupaged advertisement or
- Dollar Tree colored rocks or
- 16 bean dried beans mix or
- food colored water or
- pretty colored sand...
used plastic container from flavored applesauce 6 pack
emergency or votive candle
buttons, etc.
Pringles lid
hot glue gun, optional
Instructions:
Decoupage items will be needed if you choose that form of decoration. If not, simply fill the jar with water and food coloring, rocks, pretty sand, shells, old craft items, buttons, beans or anything you want. If your items are messy, you may want to put some hot glue around the top of the jar and set your applesauce container down and make it a permanent fixture. If not, simply set it on top and light the candle. You can always keep the lid to the jar to seal it when not in use, or just cover the candle with a Pringles lid.
By Sandra from Salem OR
Editor's Note: We worry about the flammable nature of the applesauce cups. It works well for displaying a candle, but with lighting the candle, the plastic might burn. An old custard cup or glass or metal small candle holder might be safer, if you plan to light the candle.
I need some ideas for old jelly jars.
By Pam
July 9, 2012
0

found this helpful
You could put some homemade bath salts, milk bath or bath fizzies or bath bombs in them & give as a gift. Or make a piggy bank out of it & put the name of whatever you are saving for on it.
Example: expensive dinner out or craft fund or new shoes & just drop loose change in it. Also make candles in them or put hot cocoa mix w/marshmallows inside.The possibilities are endless! Good luck with whatever you choose & keep on crafting! : D
I always have canning jars around. At Christmas, I fill some with assorted Christmas colored candy; those star brite mints, gold and silver foil wrapped candies, etc.