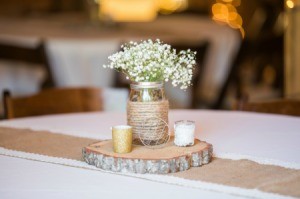 Anyone have any creative ideas on how to use mason jars as centerpieces at my reception? They are blue perfect mason jars. I was thinking a bouquet with floralytes.
Jenny from Belle Plaine, MN
Answers
By Jill from Iowa (Guest Post)
April 20, 2006
0

found this helpful
Best Answer
I think that white daisies with raffia tied around the mouth would be very sweet. You could sprinkle some of the daisy heads around the base, or something like jewels or glitter in your colors.
I like the idea of putting the "Bride and Groom" on the jar. You could also apply these with "Hodge Podge" type stuff to gloss the photos over and have them stick smoothly to the glass.
Another thought would be to put your pictures on a stick or florist pick and have them coming out of your bouquet. (You could put 2 different photos, front and back.) You might want to have different pictures on each table. You could include pictures of you 2 dating, pictures of your families, pictures of your attendants... People would have fun going around from table to table to check them all out. A good way to get people to mingle!
Have fun and Congratulations!
By (Guest Post)
January 31, 2008
0

found this helpful
Best Answer
I used mason jars for centerpieces for my rustic themed wedding and they got so many compliments. My colors were a dark teal blue, a spring green, and touches of orange. I found a store that sold bulk burlap and bought several yards of the same teal color. I cut those into squares and frayed the edged. Each centerpiece then had a half gallon ball mason jar with a 2x6" candle in it with flat green colored marbles (available at any craft store or in the fish department of a pet store). I then took 2 orange roses and set them right beside the jar for just a hint of bright color. I also used the smallest jars to hold tea lights around the venue. These were super easy to make and the great part was that we resold all the pieces on ebay after the fact so we didn't incure a lot of cost for the event and didn't have 30 mason jars sitting around!
By (Guest Post)
February 2, 2008
0

found this helpful
Best Answer
Oh Oh I Just had an idea. My theme is out of and acorn grows a mighty oak. Marzipan acorns on the cake. I think I will put my extra Mason Jars inside plastic plant tray, and hot glue green moss around the space between mason jar and walls of tray then hot glue acorns on moss and put some kind of twigs or such to look like branches in the far with an electric tea light.
This will give a nice woodsy scene. Good for a spring wedding with green. Hope this helps. I just thought of it. Jana

April 17, 2009
0

found this helpful
Best Answer
I had a French country/English garden themed wedding myself last June. I used the blue/aqua colored mason jars (hard to find sometimes - so the clear are pretty too). I used old watering cans filled with hydrangeas, calla lilies, peonies and ivory roses as the main centerpieces. I bought all different styles and different metals/material of old watering cans. Some were new so I had to "age" them and then I put the mason jars around the water cans with votives in them. White votives looked the best!
Also - for my ring bearer and flower girl, I did not buy a traditional basket and pillow. Instead I used an old grapevine basket and tied calla lilies to the side with ivory tulle and for the ring bearer pillow I used an actual small throw pillow with an ivory and chocolate brown damask print and tied the same ivory tulle around it. (very cute touch!)
As wedding favors I used mini terra cotta pots, tied with ivory tulle and planted different annual flowers in them with "thank you" tags and gave those to each guest. My bridesmaids wore very pretty/delicate sun dresses in different shades of ivory, chocolate brown and robins egg blue.
Congrats and Good Luck!
Read More

Answers