Crockpot Red Beans and Rice Soup
This hearty crockpot soup is easy to make and delicious!
Approximate Time: 5-6 hours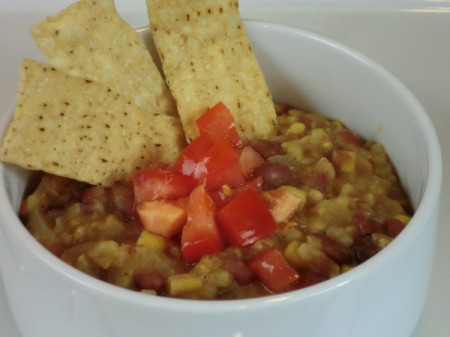 Ingredients:
2 (15 oz.) cans small red beans, drained and rinsed
1 (15 oz.) can corn, drained
3/4 cup brown rice
1 medium onion, finely chopped
1 1/2 tsp salt
1 tsp cumin
1/2 tsp garlic powder
1 tsp black pepper
1/2 tsp cayenne powder
6 cups vegetable broth
1 tomato, chopped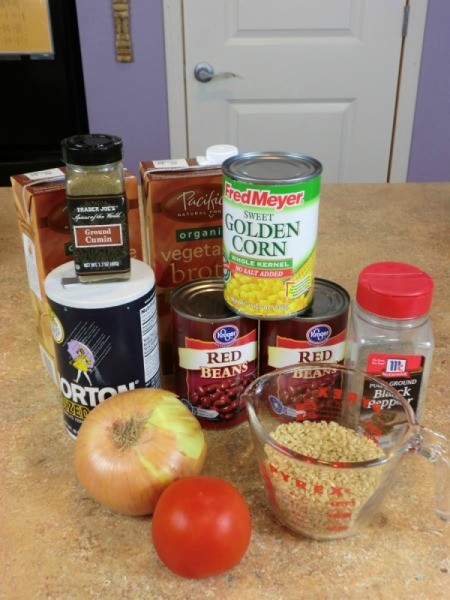 Steps:
Empty one can of beans into the crockpot and mash them with a fork.
Chop onion and add to crockpot.
Add other can of beans and can of corn. Then add brown rice.
Pour in vegetable broth.
Add salt, pepper, garlic powder, cayenne, and cumin. Stir to combine.
Turn crockpot to LOW and cook for 5-6 hours, or until rice is cooked. You can cook it a little longer on HIGH to thicken your soup to whatever consistency that you like.
Chop tomato and garnish your soup with it. It tastes great with tortilla chips!
By lalala...
Feedback
Read feedback for this post below. Click here to post feedback.

By
10/05/2012
When I saw this yesterday morning it looked SO good, so I decided to make it. I used what I had on hand, so instead of using vegetable broth I used home canned turkey broth. This was AMAZING! DH loved it. Thanks so much for posting it!

By
10/04/2012
Thank you for this awesome recipe! Am putting it together when I get done here! And the pics are very helpful! I'm a "visual" type!! God bless!

By
10/04/2012
This sounds delicious, economical and healthy so I can't wait to make it tonight. In fact, it looks too hearty to be a mere soup (almost like a stew or porridge), and can make an entire meal with the addition of some protein. I plan to add a little meat, or if I want to stay vegetarian, some tofu (I prefer extra firm).

Two suggestions:
1) Please put in the serving amount this makes. It's hard to guess since the rice expands and a lot of the liquid evaporates
2) Consider omitting the photos, except for the finished product. None are essential (they don't show a technique) but they waste a lot of ink when printing the recipe. They're great for viewing online though. Too bad the website doesn't allow us to print without photos.

Thanks for the recipe.

By
10/02/2012
Yes! Looks great and I have all these ingredients already, except for the cumin. I am sure I can substitute something else. Thanks for sharing!
Post Feedback
Add your voice to the conversation.
Related Guides
Related Posts