Decorating old and worn, or plain and uninteresting, new lampshades can change their entire look and complement the room's decor. This is a guide about decorating lamp shades.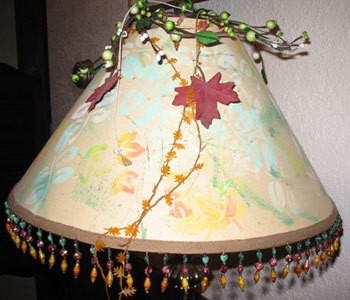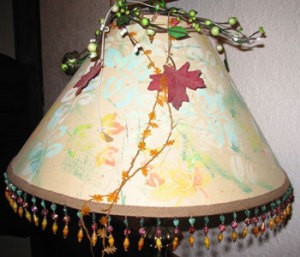 Outdoorsy looking lamp shades are a fun way to celebrate the great outdoors from the comfort of your easy chair! The fringe at the bottom is from a popular mega center and is hand stitched on to secure it.
I save my junk mail and trim it for deco hole punches, like you see hanging down the shade. They are tiny leaves that I carefully strung and then crocheted a chain stitch to make the cord which could be used for any number of things, like gift wrap.
The 2 bigger leaves, I found in my craft stuff and tied them to a plain cord by their stems. There's another crocheted cord that's harder to see that I handcut the small pink suede flowers by hand then strung on cord and crocheted.
There's also a piece of green glass junk jewelry clipped to the top that was once part of a pair of clip on earrings.
The stamps I used came from a dollar store and were like a foam stamp pad and the paint is rubber stamp ink pads of various colors.
The leaf/berries at the top with stems is another dollar store find and was intended for use with a candle. The possibilities are endless when you decorate with nature!
By melody_yesterday from Sedalia, MO
By pgaines 1
Is it safe, possible to paint the inside of a lampshade? I have a pair that I love, but the inside is very glossy and the glare they give off when lit is blinding.
---
Most Recent Answer
August 12, 2009
If it's just too shiny and the colour is ok... I'd just sand it lightly to dull the shine.
---
By suzanne 277 750
The perfect accessory for a little boy's room is a transportation-themed lampshade. Just spray paint a lampshade black to look like asphalt. Randomly arrange roadway and street-sign stickers, then hot glue a few toy cars onto the shade. An airplane is affixed to the harp of this lamp with spring wire so it will have some bounce and movement.

By IMAQT1962 from IL
By suzanne 277 750
The perfect accessory for a little girl's room is a pink dress lampshade. Wrap a baby girl's dress around a lampshade, tuck it underneath and then glue it onto the bottom. A little pink trim and some beads add the finishing touch.
Featured Trash to Treasure Products with Brenda and Tom Weber.
By MJo 1
I have white glass lamp shades on my kitchen chandelier. I want to remove them, and spray paint them a "color".
My question would be, what is the best paint to use, where to purchase it, and if anyone has painted glass lamp shades with "success"? I am a huge fan of "spray paint", but never used it on glass shades.
By MJo from Spencerport, NY
---
Most Recent Answer
By Mary Lou 14 765 Flag
February 2, 2011
If you use a faux glass paint like Gallery Glass by Decoart, please follow the prep instructions that come with the paint. It does not come in spray that I know of, you may have to paint it on by hand. Or you could try spattering it on with an old toothbrush. Be sure do this technique inside a paint tent. These can be made from a cardboard box with one side cut out.
---
By maureen 1
How do I cover a lampshade?
By Maureen from Anna, IL
---
Most Recent Answer
---
By lavonneann 6 214
I have painted a few lamp shades with spray paint with good success
By pam munro 522 790
I just touched up the edges of a "found" lampshade with black permanent marker, sponged it off, and it's amazing how respectable it looks now. I found the shade on trash day on an old corroded brass lamp and rescued it. I had seen a decorating tip about sprucing up your white, or other colored, lampshades with colored marker. They used to have a lot of decoration on lampshades in the old days (see old movies) and this is a very simple modern way to do some decorating.
By pamphyila from L.A., CA
I painted my living room lamp burgundy and dry brushed the design in gold. I also painted the shade a brown. What a mistake. I am thinking about covering the shade with wallpaper (damask print) in burgundy and gold.
My living room colors are a really nice creamy gold (not yellow) with one wall in wine. I have medium beige carpet and wood floors as you come in the front door. Any other ideas for the lampshade?
By dr0725 from Belle, WV
Feedback:
RE: Covering a Lampshade
Gold fabric is really nice, because it gives off such a wonderful, candle light-like glow (either real gold, like lame', or a gold-toned fabric, maybe with a bit of a shimmer). Burgundy is pretty dark, so it will not give off as much light. You could also use a dusty rose damask/brocade (fabric). If you do choose wallpaper, then light will only come out the bottom and top. If you choose this way, why not punch little pinholes all along the wallpaper design so the light can trickle through? (08/12/2009)

By Cyinda
RE: Covering a Lampshade
I've seen lampshades that are covered with ribbon. Just purchase a spool in a color you like and wind it around the shade top to bottom, starting at the top and just keep looping it around the shade until it's covered then glue the end piece in place. (08/14/2009)

By chef4u
Peel off the old fabric and any foam padding. Use a razor blade to carefully scrape off any residue of glue or foam. Use leftover wallpaper to create a new cover for the shade. Use a paper bag to create a template, then trace it onto the wallpaper. Double check your fit before wetting the wallpaper then apply wallpaper following manufacturers instructions. We used self adhesive wallpaper. Let dry and trim upper and lower edges. Get out your glue gun and apply some cording to finish the upper and lower edges to complement your decor. Voila, you've got a new lampshade for next to nothing!

By Katie in NY