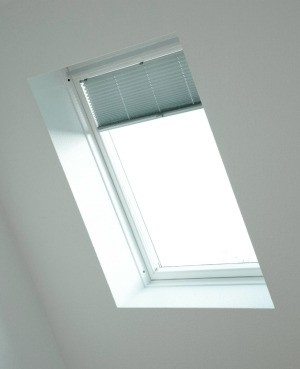 I have two skylights in my living room that let in way too much heat this time of year. Since I don't have an air conditioner, I would love inexpensive ideas for covering my skylights to make it cooler in here.
Mysti from Colorado Springs, CO
Answers
By tammy (Guest Post)
May 30, 2006
0

found this helpful
I would probably buy and inexpensive roll up blind, unroll it, neatly cut off the excess at the hardware end and with small thumbtacks attach the shade to the outside framework, you would only need a few thumbtacks, the shade is light, usually paper or some sort of nylon or something,
that would leave light in but help the heat. I hope.
tam

May 30, 2006
0

found this helpful
You could use fabric held up with hook and loop tape.
By chris (Guest Post)
May 31, 2006
0

found this helpful
I have been consideringthe same thing...and was thinking of using small spring tension rods. Two per window, and either buying "door panels" or making curtains out of sheer fabric - with a rod pocket at both ends.
The spring rods wont damage the surrounding framework, and can be removed at any time.
By Tom Mann (Guest Post)
May 31, 2006
0

found this helpful
I took apiece of 2inch thick styrofoam insulation and cut it to the size of the skylight. Covered the sides with duct tape, and it slips in perfect. I used the white kind so it still lets in some light.
Quite a difference.
By Annie (Guest Post)
May 31, 2006
0

found this helpful
I also have this problem and I used two spring form rods with a fabric of your choice. It works very well.
Measure fabric so it fits very close to the edge of the skylight and you will be very pleased. Of course this requires a very tall ladder but I keep mine up until fall.
By sandy (Guest Post)
May 31, 2006
0

found this helpful
i got some wonderful stuff from either mileskimball . com or lillian vernon . com. anyway it is like cling on material but it looks like sunglasses-see thru gray.
i have put it on 3 windows that get lots of sun. i hope it works. look under window or curtain on line at those sites.

May 31, 2006
0

found this helpful
Hi there my mom is using dollar store/tree umbrellas to put in her skylights says it works great, just cannot be superstitous about opening an umbrella in the house. Good luck they are available in lots of neat designs or solid colors.

May 31, 2006
0

found this helpful
If you want to go fancy they do sell shades made for sky lights.
Here's a few links for you. Obvously they'll have different price ranges but at least you'll have a better clue of what's available out there. Hope they help you figure out your best option.
www.draperinc.com/.../Skylight_FlexShades.htm
www.sunporch.com/Content.aspx?pageid=OptionsClimateControl

badwater
Silver Post Medal for All Time! 263 Posts
April 10, 2007
0

found this helpful
What we used till we got a new and tinted sky light installed over the older & clear one, when we got our new roof, was a piece of cardboard cut just a bit past the size of the skylight. We pushed the cardboard into the skylight & it hung there perfectly, till we took it down. Very inexpensive!!!

June 13, 2016
0

found this helpful
Did this cause any problems with trapping heat behind the cardboard?
Answer

this Question

We will be moving my daughter into a room with a recessed skylight. Any thrifty ideas for an inexpensive shade or blind? The blinds on line are nearly $200. In my own bedroom, we have the same light, and I hooked up a curtain on two rods, but we can't actually open it or it falls off. I want something in her room that we can close and open. Thanks!
Natasha from Exeter, NH
Answers

lalala...
Gold Post Medal for All Time! 899 Posts
April 11, 2008
0

found this helpful
What if you make a curtain the way you did in your room but you use two panels. You could push them to either side to "open" them.
They would probably side easy enough on the two rods to do that! Good luck! :)

pam munro
Gold Post Medal for All Time! 519 Posts
April 11, 2008
0

found this helpful
Couldn't you put a piece of cloth over rope? then you could manipulate the opening/closing of the skylight area easily. (You could also use shade cloth... or a bamboo roller blind used sideways)

April 12, 2008
0

found this helpful
Velcro on 3 sides, fixed on the 4th? Sticky velcro is awesomely easy.
By SweetEvilWoman (Guest Post)
June 24, 2008
0

found this helpful
Here is a couple of fixes for a skylight.
Fabric fix - make a curtain
Measure the opening and cut your choice of fabric 2 inches wider then width of opening and 6 inches longer than the length of the opening. Hem width sides by folding 1/2 inch over twice and topstitch at the outside edge and the folded under edge. For the length, fold over at 3 inches top and bottom and stitch as close to the outside edges as you can. Take the unfinished edge of the fabric and fold under 1/2 inch and topstitch laying flat so the you have a tube like tunnel with open edges at both sides. Purchase correct size of compression rods for the skylight opening, slide thru tube ends and install your fitted fabric curtain.
Plastic Fix - make it look like a light and still get some light
Purchase Crushed Ice plastic replacement lens from Home Depot or other home supply company and purchase enough 1/2 inch quarter round stock to completely encircle opening. Measure and cut the crushed ice to fit inside the opening. Measure & cut the 1/2 inch quarter round stock, miter corners to fit the four sides of the opening. Check the fit of both the plastic and the wood pieces BEFORE you do the finished installation. Put your plastic into the opening first and attach each wood strip with screws, keeping the edges flush with the edge of skylight opening to hold the plastic in place.
We did the 'plastic fix' on our kitchen skylight and LOVE IT! We still get daytime natural light and it keeps heat from escaping in winter and keeps kitchen cooler in the summer. Hope this helps!

February 19, 2010
0

found this helpful
www.thehis.com/solarus_sun_shades_overview.html for professinal skylight shades. But you could do it yourself- go to the hardware store and buy window screen frames- the thick kind- make sure... go online and buy some solar fabric- and screw the frame in or hold it in place with swivel hooks- should run you about $40 for all of it.
Answer

this Question