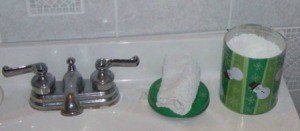 If baking soda can subdue the odor of a cat litter box, imagine what it can do under your arms. Yep. All by itself, or if you want, you can add talc or other powder to it at a ratio or half and half. Put it in a tin and keep it in the bathroom.
After you shower, pat dry your underarms and apply the powder with a dry washcloth or piece of a dishrag. The only time this is not a good plan is when you are wearing something sleeveless.
By Susan from WV
Read 17 Comments
Does anyone use a deodorant that really masks the odor? The last few years my deodorant doesn't work and I am trying all different brands.
July 5, 2015
0

found this helpful
I would suggest using an anti-perspirant & deodorant. Simple deodorant only masks the odor while an anti-perspirant prevents the sweat. I have used "Sure" brand for years. It comes in scented and unscented. I use unscented so as to not conflict with a perfume I might have on. Another try would be "Gold Bond" powder or even powdering on corn starch. Good luck and hope this helps you to stay 'Cool, calm, collected" and dry....Gale from Calif.
July 6, 2015
0

found this helpful
If you have been using antiperspirants and still have problems, a dermatologist can help to identify your specific difficulty and prescribe a solution that will help. Sometimes over the counter offerings just do not work.
July 7, 2015
0

found this helpful
I've had success with Lady Speed Stick. I like the "powder fresh" scent the best.
Does anyone know what form of deodorant/anti-perspirant is the cheapest or lasts the longest? Is it roll-on, spray aerosol, solid, gell? Any homemade forms?

Thanks in advance.
coolchinchilla
Related Content
(article continues below)
May 28, 2005
0

found this helpful
the powder ones leaves white residue the gel leave sticky clothes the spray is ok
March 7, 2006
0

found this helpful
ADUH!! OLD SPICE BABY
May 29, 2006
0

found this helpful
There is a deoderant you can buy from health food stores called Lavilin, it's imported from Isreal and will cost you 15 bucks or so but it works. You only apply it once a week, depending on your chemistry. I need to apply it about every four or five day's. It's in a small container and at first you'll think man I was ripped off but you use only a small amount and you only apply it at night. Hope this works for you it does for me and before I started using it I smelled like a goat.
March 28, 2008
0

found this helpful
I hear that ban deodorant lasts a long time, but is more expensive.
June 13, 2008
0

found this helpful
I use Lady Speed Stick and that worked great for me, but lately I was beginning to not feel so clean and the lingering smell was always bothering me. So I bought the same make but in Orchid Blossom - for some reason that did not do anything for me. I felt more smelly, and it was leaving she smell on my clothes. So now I am in search for a good one, but I think I will buy couple and see what works- I was recommended Certain Dry. Let's hope that works!
December 7, 2008
0

found this helpful
i think baking soda would work the best!!!!
for 1.its thick an will absorb the sweat
its just wat i think
February 1, 2009
0

found this helpful
I use Degree and it has never failed me yet! I found the others mentioned here like Suave, piddled out before I did. I remember one of my PE coaches told us girls once, women don't sweat, they perspire. Well this woman sweats like a pig! But I don't stink, thanks to Degree solid.
February 24, 2009
0

found this helpful
Vinegar helps me with B.O. After the bath I put some under my arms, then the deodorant. Good luck.
Read More Answers
I need a dependable underarm deodorant.
By Fatso
April 17, 2009
0

found this helpful
Dove is my favorite! It does not clump and is so silky smooth.
April 17, 2009
0

found this helpful
Unfortunately, what works for one person may not work for another, but I'm a "Secret" fan...love the fresh scent.
April 21, 2009
0

found this helpful
I have a bad problem with not being able to use just anything. I find that Mitchum works the best. Most clog my pores this doesn't. Plus after you use it for about a week if you happen to skip a day. You are pretty safe lol ' I found this out when I was waiting for my grand daughter to be born. Debbie
April 22, 2009
0

found this helpful
I use Degree (womens) Ultra Clear, Pure Rain scent, and it never fails me. I work outside a lot doing gardening, woodworking, etc., and Degree hasn't failed me yet.
Pat Tin Nevada
April 23, 2009
0

found this helpful
Dove deodorant is great.
April 25, 2009
0

found this helpful
LOL! I actually read all of the posts all the time wondering if ANYone used 'lowly' avon?! I've been using avon roll-on @ years. It's very economical. I actually buy it @ ebay and save even more. I even agree with your favorite scents. :-)
April 27, 2009
0

found this helpful
When I was dating my husband, his armpits were red no matter what deodorant he used. I got him to use Almay and he has never had red armpits again.
July 16, 2009
0

found this helpful
Try Drysol. One of my friends is using it and he claims it works for him.
Read More Answers
I have read that applying baking soda can eliminate underarm odor because of its odor-eating ingredient. When I tried, yes it did, there was no unpleasant smell, but it did darken my skin as if it was burnt. Can you help me get rid of underarm odor while whitening the same area?
By Mar B.
August 18, 2011
0

found this helpful
It sounds like your skin might be irritated by the baking soda. Try using a mix of two parts corn starch to one part baking soda and see if that helps. If you still have a reaction you could try using corn starch on its own, too.
August 20, 2011
0

found this helpful
I don't know about whitening but plain old alcohol will stop underarm odor.
I am allergic to commercial deoderants and have found that cleaning my underarms with alcohol after shower and before I leave the house works very well. After all bacteria are what causes the odor and alcohol kills bacteria.
August 21, 2011
0

found this helpful
Alcohol works well. Time will get your underarms back to their right color. I tried baking soda once. It burned and turned my skin red and it took over a week for the redness to go away.