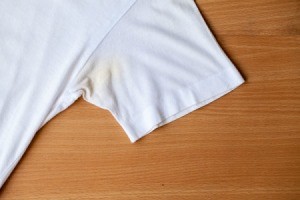 Does anyone know how to remove the built up hard yellow stuff in the armpits of shirts? I have been told it is a deodorant/antiperspirant buildup. It is unsightly and uncomfortable to wear as it is very hard, let alone looks dirty, even if just laundered. Any hints and help is appreciated!
By Beau from Vancouver, WA
Answers

September 21, 2009
0

found this helpful
Best Answer
I wear a lot of black. Unfortunately the antiperspirant that works best for me is a white solid kind. As Megan F. mentions, try rubbing the underarm areas with a pantyhose when damp before drying. The texture of the pantyhose works better than anything I've found so far.

September 21, 2009
0

found this helpful
Best Answer
I use Mean Green on the underarms of my husband's shirts and it helps with deodorant buildup. However, I have only tried this with white shirts. The spray recommends you test it on an inconspicuous area first if you are in doubt about it discoloring something.
I've heard that you can drop a couple of plain aspirin in the wash with new white tee shirts to prevent buildup in the first place.

September 27, 2009
0

found this helpful
Best Answer
Make a paste of baking soda and white vinegar and place this on damp clothing (area like under arm). Or put white vinegar on shirt then baking soda and add a bit more vinegar till it fizzes, then scrub away and wash.
If you can hang it out in the sunshine, that will help too. They also sell "whitener" the people who make RitDye has these and use in the yellow areas to get the dingy color out.

December 5, 2009
1

found this helpful
Best Answer
I had a black polyester Nike work-out shirt that had the white caked anti-perspirant in the under arms. I boiled a full tea kettle of water and poured it through the fabric, then laundered as usual and the build-up is gone now.
Answer

this Question